If you're looking for natural ways to stay healthy during cold and flu season, you'll want to keep some of these DIY essential oil rollers for immune support around.
These essential oil blends are convenient to have around the house and easy to apply. I use a combination of 5 different essential oils all known to have disease fighting properties.  As soon as you feel any symptoms of a cold coming on – you'll want to use this immune support essential oil roller to fight it early and quickly!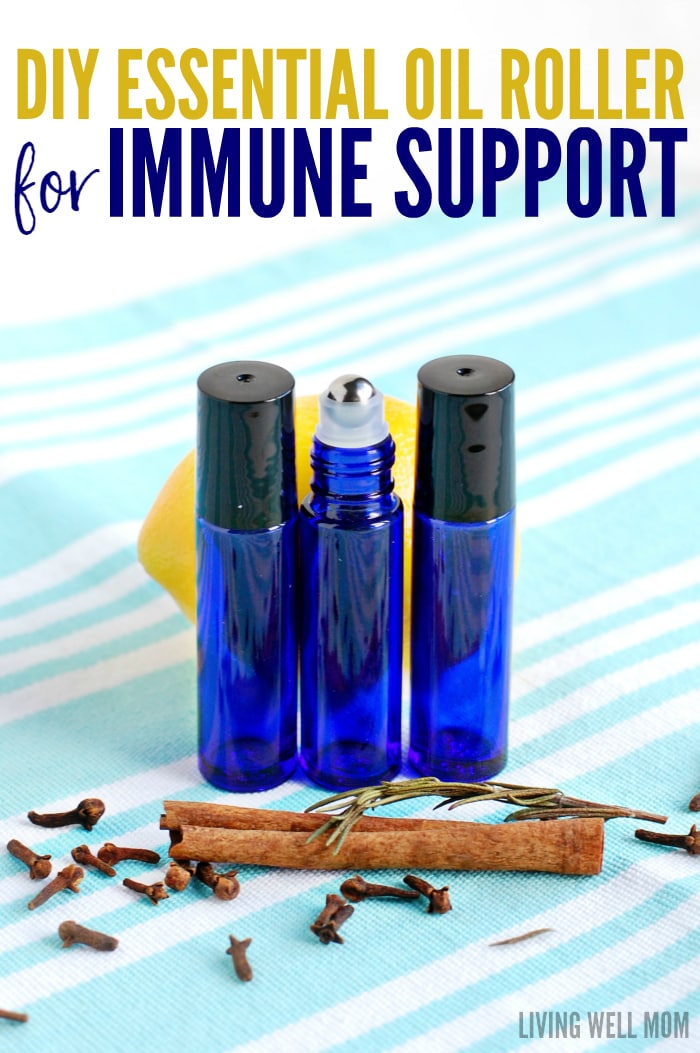 I am not a medical professional and the information presented here is merely for educational purposes and not intended to replace medical advice. It is your responsibility to do your own research, consult with your doctor, and make safe decisions for yourself and your family.
If you're familiar with "Thieves" – a blend of "immune boosting" essential oils from Young Living, this DIY essential oil immune support blend is very similar.
What You'll Need for DIY Essential Oil Roller for Immune Support:
Note: I love purchasing essential oils from Rocky Mountain Oils because they offer high quality at reasonable prices. I've linked to both RMO and Amazon above so you can see both options.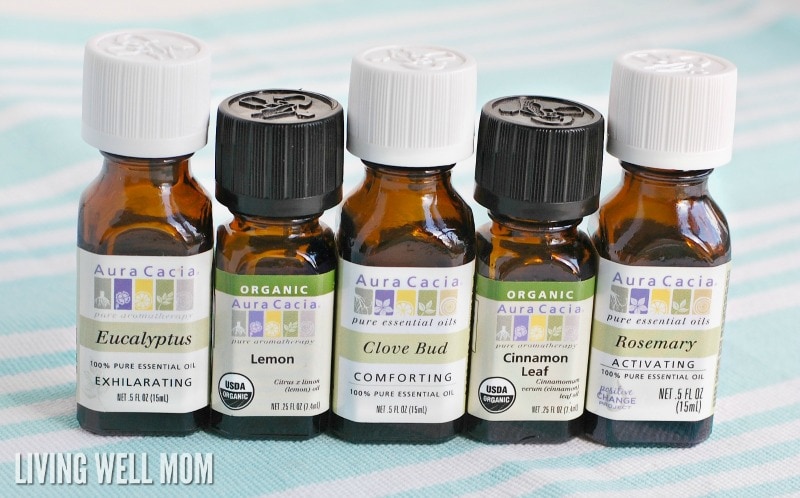 Cinnamon, Clove, Eucalyptus are known for their anti-bacterial and anti-viral properties.
Lemon (or citrus oils in general) contain antiseptic and anti-viral properties.
Rosemary is anti-bacterial and an expectorant.
These essential oils sound like the perfect natural immune system booster we need to fight off cold and flu symptoms!
If you start feeling any symptoms – a sore throat, sinus headache, stuffy nose, etc., you'll want to apply this DIY Immune Booster right away because the sooner you use it, the faster and more effectively your body can help to fight off whatever is attacking your immune system.
How to make this DIY Immune System Booster:
Add 2-3 drops of each of the 5 oils – Eucalyptus, Lemon, Clove, Cinnamon & Rosemary – to a glass roller bottle.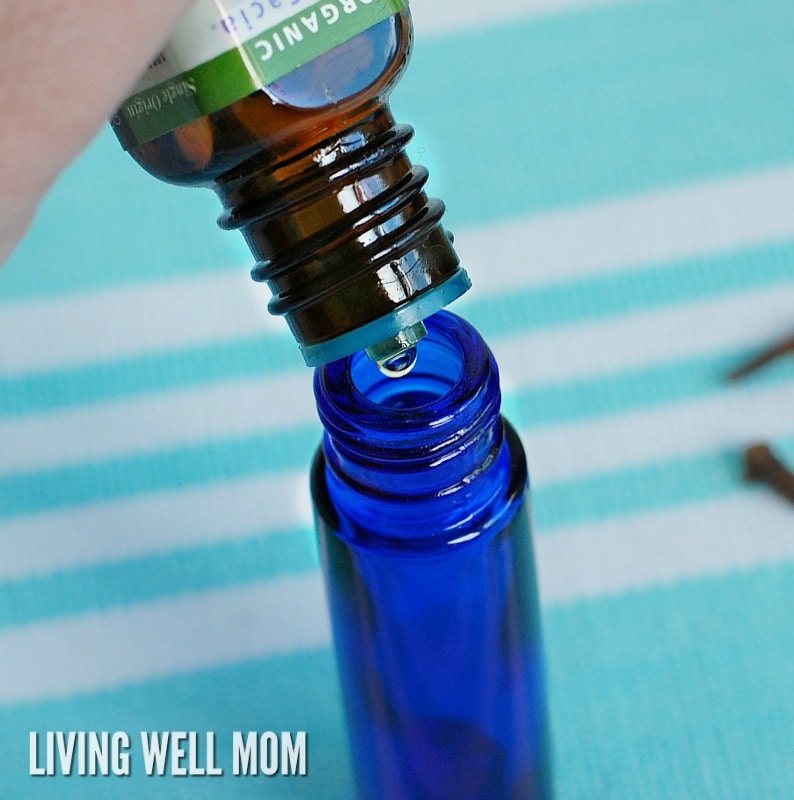 Your bottle will be a little more than half way full.  Top the bottle off with a carrier oil.  I personally used olive oil, but fractionated coconut oil can also be used to dilute your blend.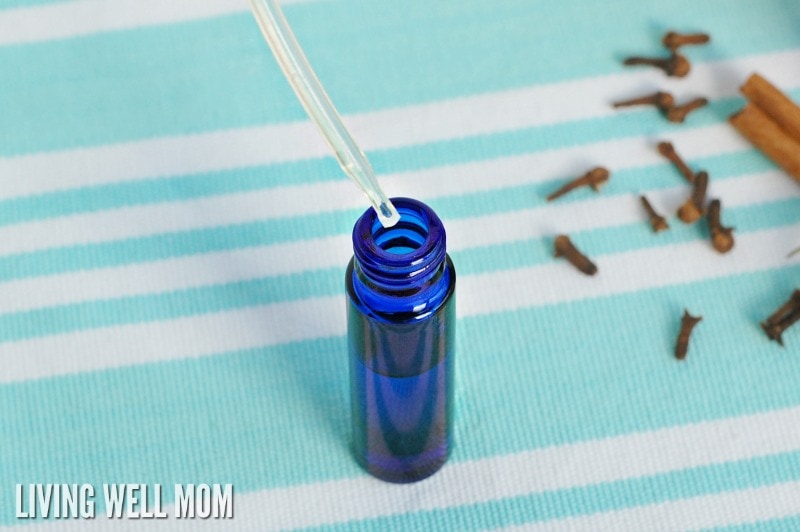 After your bottle is full, you then take the steel roller ball and push that into the glass bottle.  Be sure it is pushed all the way in and fits snugly in order for the roll-on bottle to work correctly and not leak.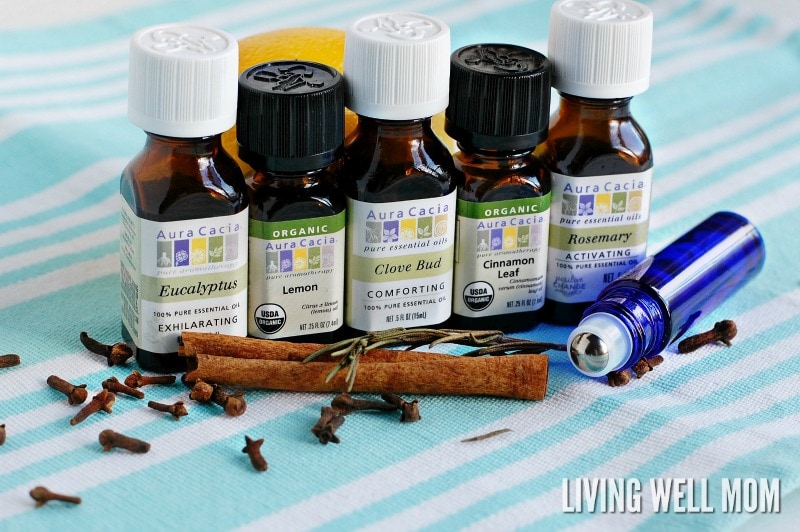 I like to apply this blend to my feet.  I know some who put it right on their lymph nodes on their neck.  Be cautious as you use it the first time. Some people have been known to have irritated skin if they use on their neck, but no issue on their feet.
Apply this a few times a day as soon as you feel any cold or flu symptoms coming on.
I was so glad when I started using the roller bottles because they are more convenient to use in my opinion that the traditional drip essential oil bottles!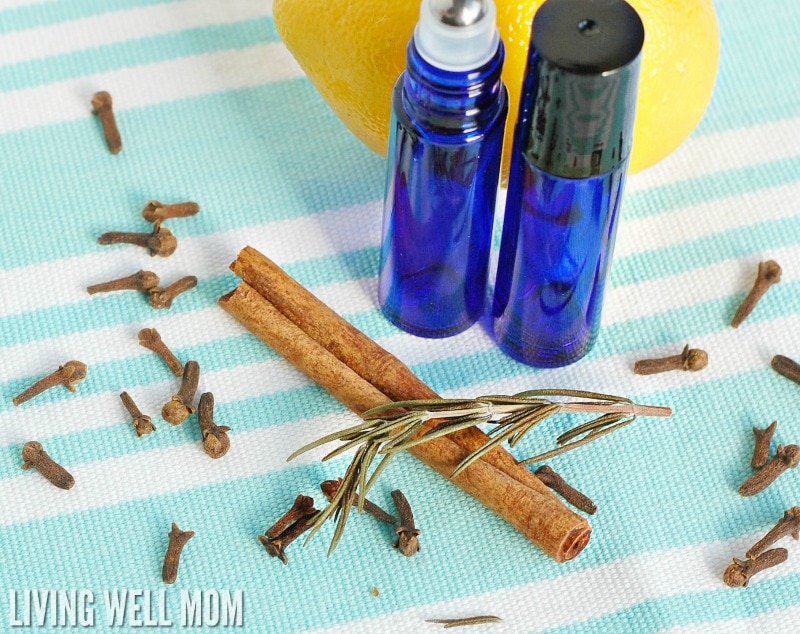 Just as a side note, you can use this same combination of 5 oils and add this to a room diffuser.  You can keep that running all day, all winter long to help keep your house purified from disease-causing microbes!
If you take a peak in my purse, you'll find not just one of these blue immune system booster essential oil rollers, but also this Easy Homemade Natural Hand Sanitizer!  This immune system booster essential oil blend is not the only tool to have on hand during this cold & flu season.  I also recommend you check out these 15+ Natural Cold & Flu Remedies that work!
What are your favorite natural cold & flu remedies that you have in your arsenal of tools to keep you and your family healthy this winter?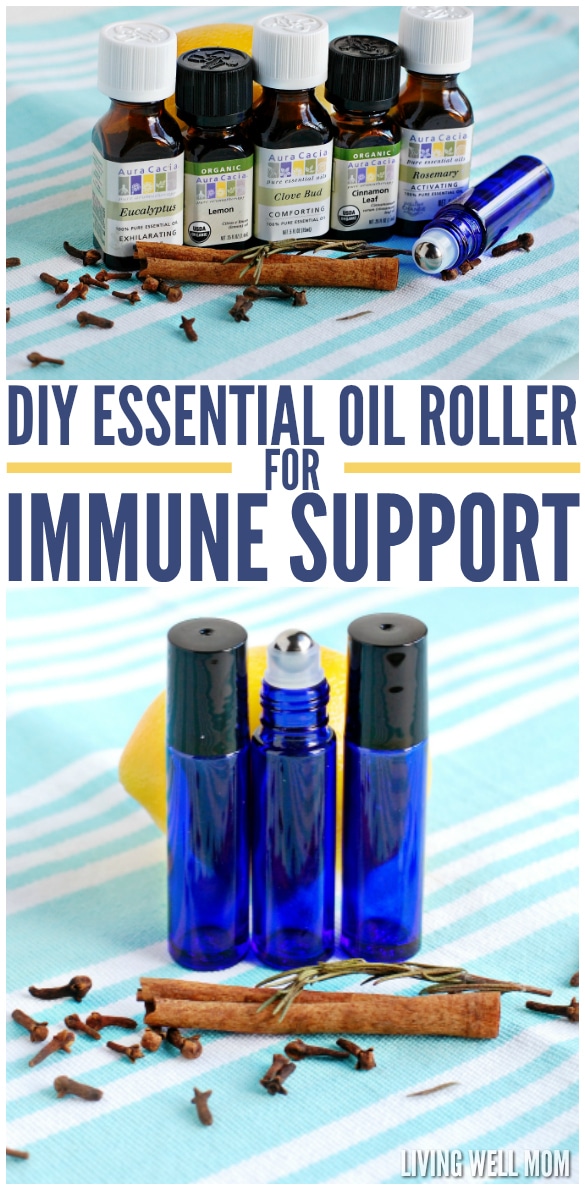 *Please note that some of the essential oils in this blend are not considered "safe" for children under the age of 10. Here is a great article with more information on the safety of essential oils with children. I am not a medical professional and am simply sharing my thoughts on what has worked for me and my family. Always seek the advice of your own physician if you have any questions or concerns.