Have you been exposed to the flu? It seems like everyone has this year, but it doesn't mean you and your family are doomed to catch it.
There are many things you can do to naturally promote a healthy immune system and hopefully prevent catching it in the first place. And if you do begin to experience symptoms, there are ways to help your body fight it naturally while even possibly reduce the severity and duration of symptoms.
One of my favorite natural methods is using essential oils.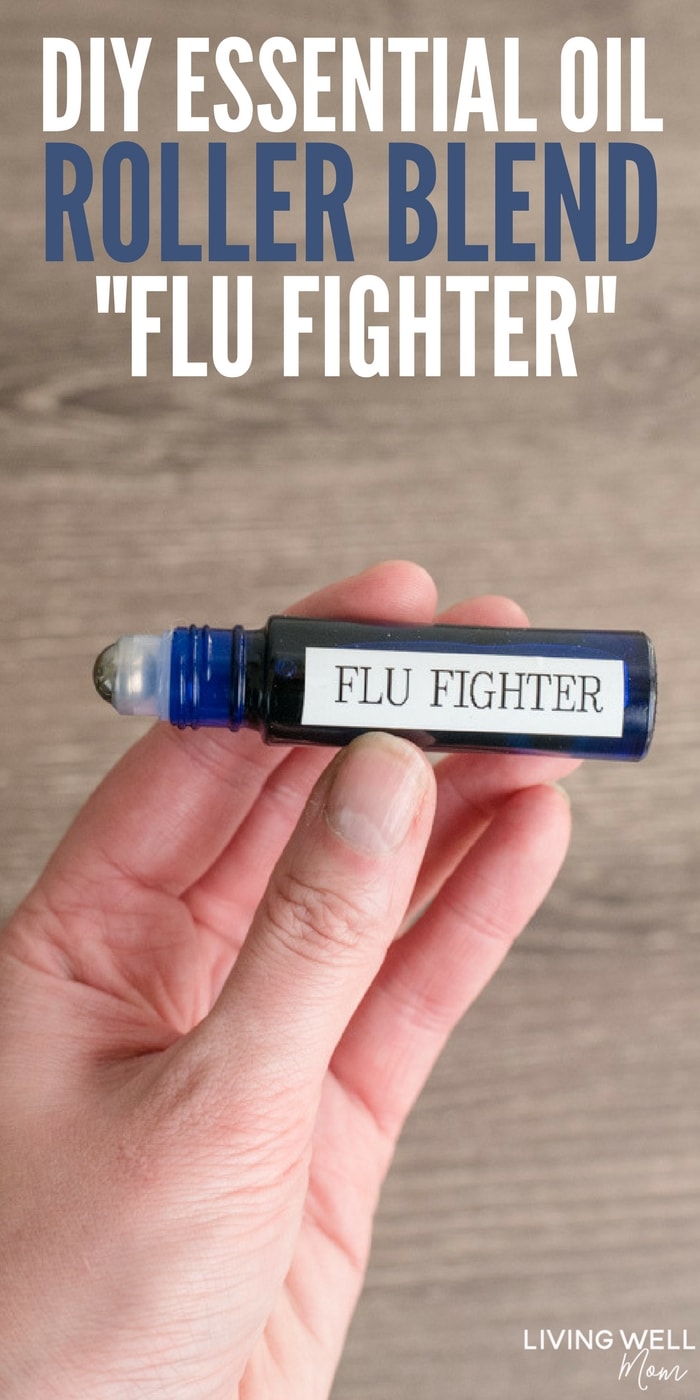 Read this post here about 12 Essential Oils for Fighting the Flu and a diffuser blend.
I've put together an easy recipe for a little DIY essential oil roller blend I like to call "Flu Fighter" and that's what I'll share with you here today. There are two versions you can choose from.
This essential oil roller blend contains essential oils that are known for their antiviral properties.
Note: This post is based on my research and personal experience using essential oils with myself and my family. Neither essential oils nor is this post a substitute for seeking advice from a healthcare professional. Please check with your doctor if you have questions or are ill. Please read my post on essential oil common sense safety before using this blend or other essential oils.
DIY Essential Oil Roller Blend: "Flu Fighter"
You'll need:
a 10ml glass roller bottle (I use this)
fractionated coconut oil or your preferred carrier oil (I use this)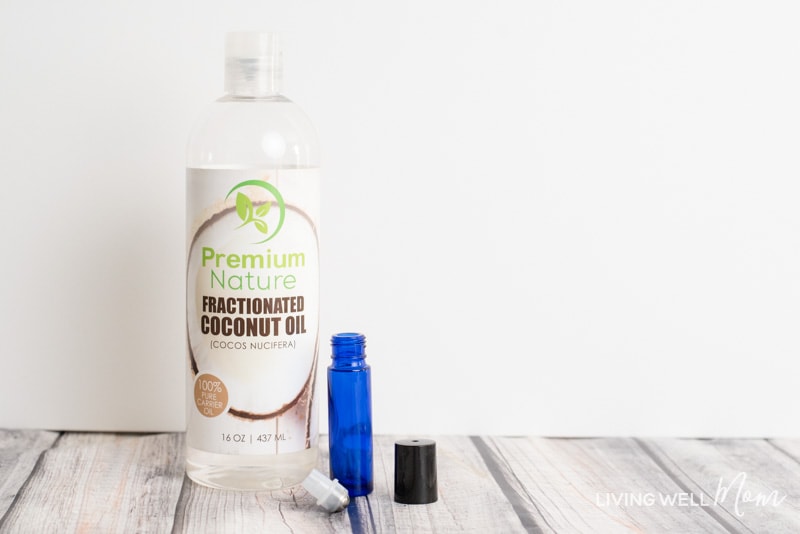 Essential Oils used in this blend: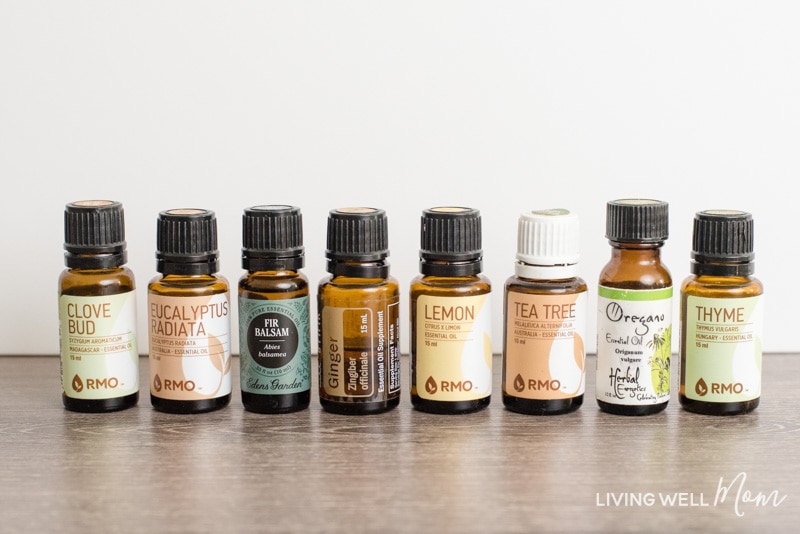 "Flu Fighter" Roller Blend #1
This version is perfect if you don't have many of the oils on the list above and don't wish to buy so many.

5 drops Rocky Mountain Oil Immune Strength (this blend contains 5 of the "flu fighter oils" including eucalyptus, ginger, clove, thyme, and oregano)
2 drops fir needle essential oil
2 drops lemon essential oil
1 drops Tea Tree (Melaleuca) essential oil
Add the oils to your roller bottle and top with your carrier oil. Cap and shake to distribute the oils.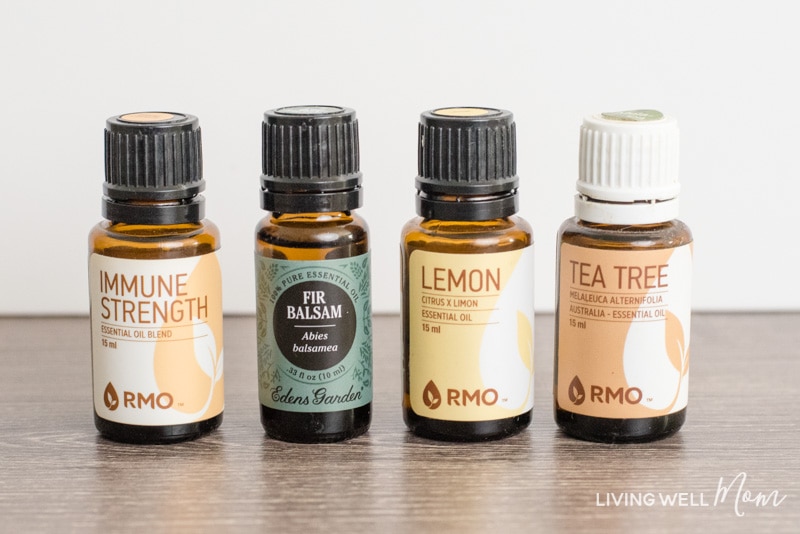 "Flu Fighter" Roller Blend #2:
1 drop eucalyptus essential oil
1 drop fir or balsam needle essential oil
1 drop ginger essential oil
1 drop clove essential oil
2 drops lemon essential oil
1 drop Tea Tree (Melaleuca) essential oil
1 drop thyme essential oil
1 drop oregano essential oil
Add the oils to your roller bottle and top with your carrier oil. Cap and shake to distribute the oils.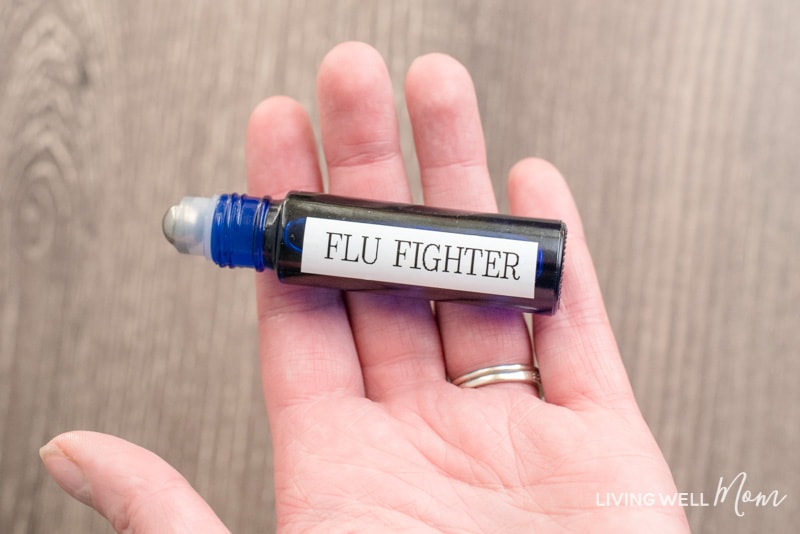 I recommend beginning with a higher dilution rate (less essential oils, more carrier oil), especially if you're new to oils. Remember essential oils are very potent and a little goes a long way. If you don't see benefits from this "Flu Fighter" roller blend, you may choose to slowly increase the number of drops.
How to Use "Flu Fighter":
For the best results, roll onto the soles of your feet particularly your middle toes and around the balls of your feet and across to the other side of the sole of your feet. See this reflexology chart: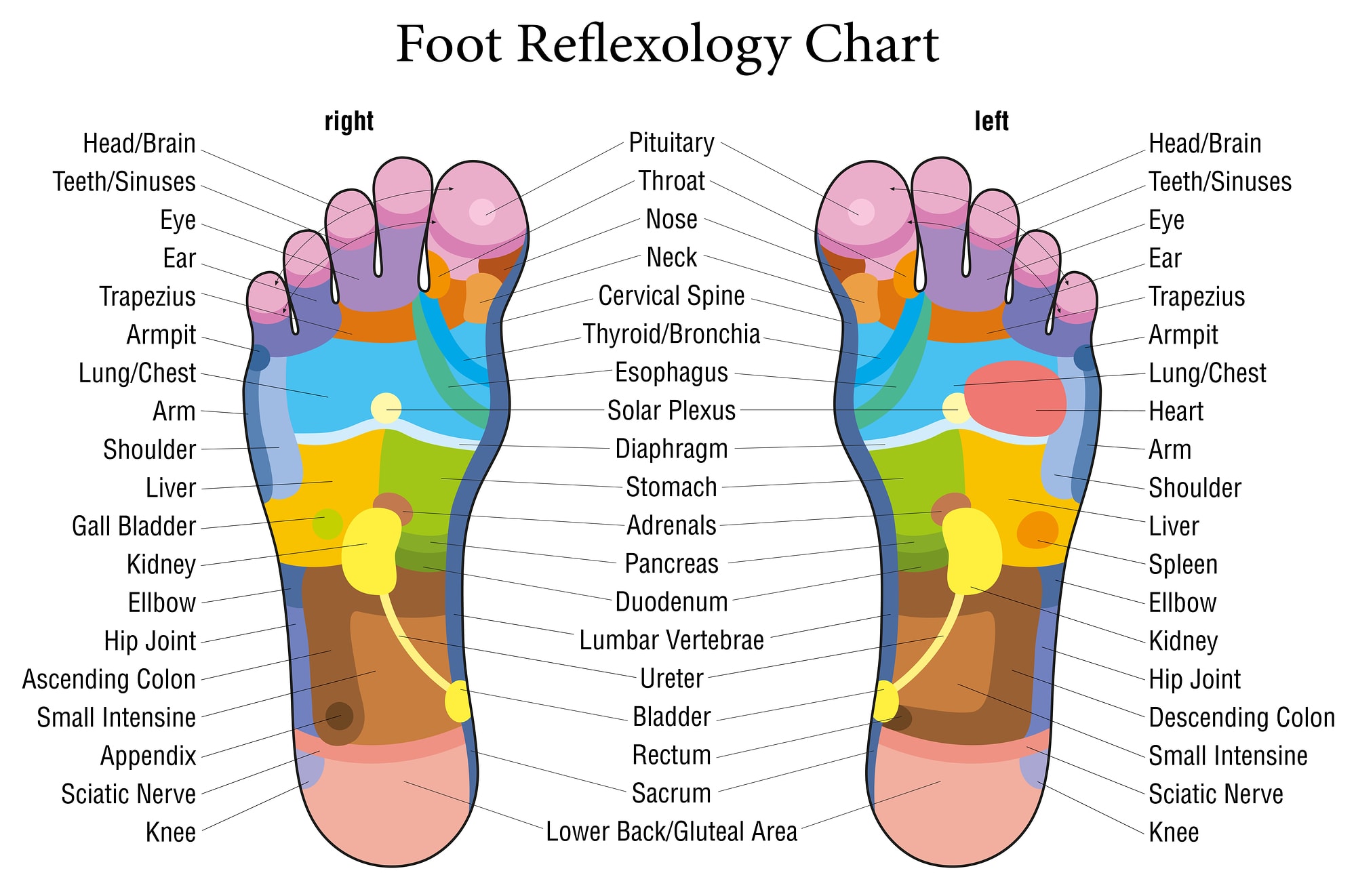 You can also roll on your chest, back and front of your neck (outside of your throat) and/or lymph nodes. However, I recommend starting with your feet.
Tips:
Natural remedies, including essential oils, work the best when used at the very first sign of illness.
Don't wait until you're passed out in bed with a 104-degree fever to start. That's not to say that you shouldn't use any natural remedies if you're already down-and-out sick – you absolutely should – however, it's much easier if you start before the virus has had time to settle in.
Pay attention to your body and if you notice something amiss, particularly if there's a good chance you've been exposed to the flu recently, use this essential oil flu fighter roller blend right away. Roll it on every 1-2 hours for a few hours or until symptoms have decreased.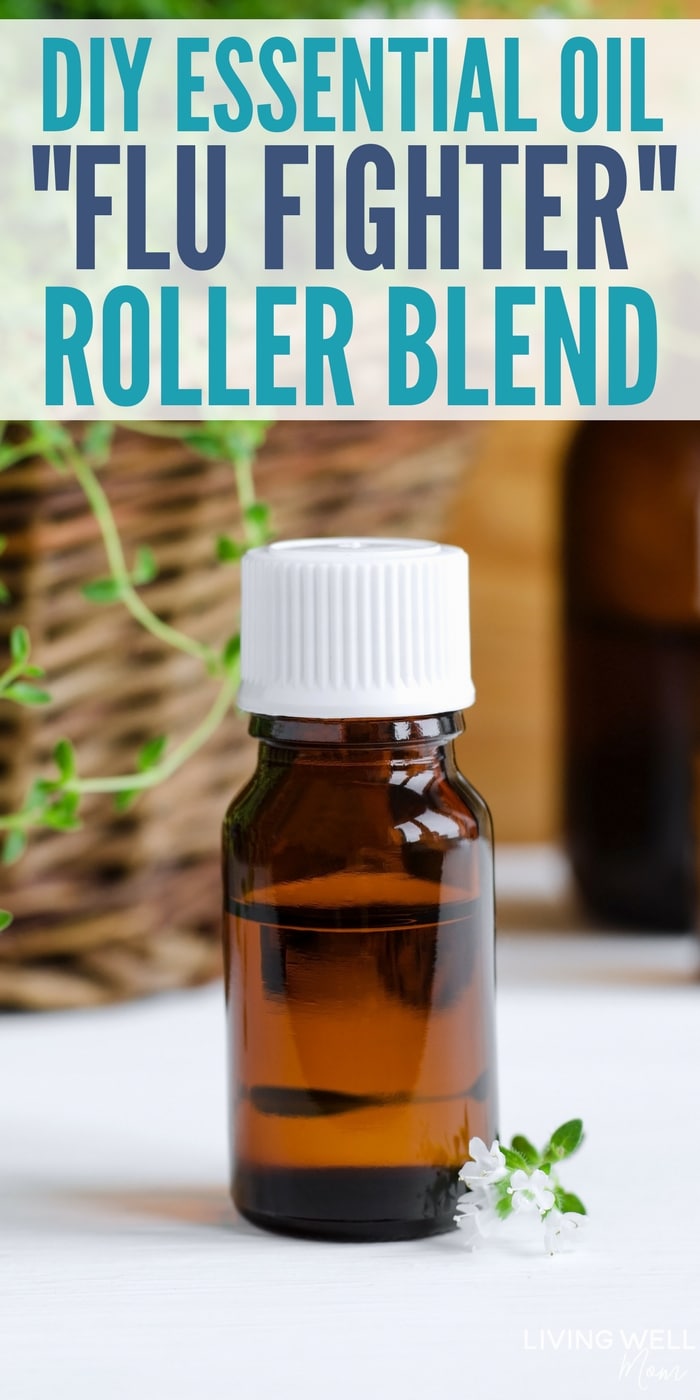 Get plenty of rest, stay hydrated (ginger tea is especially helpful), and avoid sugar as that decreases your immune system, the last thing you want!
For me, I pay attention to my body and increase any immune-boosting, flu-fighting measures at the first sign of illness. That includes a hint of a scratchy throat, a "frog" in my throat, I start sneezing or my nose turns slightly runny.
Your symptoms might be different, so pay attention to your body.
If you do have flu symptoms, I recommend using this flu fighter blend every hour and particularly roll it on the soles of your feet as directed above.
How "Flu Fighter" Helped Me:
I was exposed to the flu recently (my sister had a confirmed case of the flu and I had been with her for HOURS while she was coughing, sneezing, had a high fever, etc. ) and 2 days later, I noticed what felt like a frog in my throat. It definitely wasn't normal. I have no way to say for sure whether it was the flu trying to creep in or simply a common cold, but regardless, I didn't want any part of it!
I increased the number of drops in this Flu Fighter roller blend to 6 drops eucalyptus, 6 drops fir needle, 5 drops ginger, 4 drops clove, 4 drops lemon, 4 drops melaleuca, 4 drops thyme, and I also added 4 drops Manuka essential oil. (Read this post – essential oils for the flu – to learn about the benefits of this interesting oil.) Yes, that's a lot and I don't recommend that for everyone straight away. In my case, I have used essential oils extensively and knew my body was fine with a higher quantity of oils for the short time I used it. And it did work.
After applying this DIY flu fighter essential oil roller blend every couple of hours, particularly on the soles of my feet, I went to bed and woke up feeling 100% the next morning with no further symptoms.
I have not used this blend on my children, however, I wouldn't hesitate to do so using a higher dilution rate (fewer drops of oils) if they were to show signs of illness.
Stay healthy, friends!