If you don't want to wait until chicks lay an egg or start to crow, use these clues to tell whether they are a rooster vs hen. When they're young, determining a chicken's sex is never 100%, but their size, colors, feathers, and other traits can be good indications early on.
One of the first questions people will ask when it comes to chickens is: "Is that a hen or rooster?" Or, as some people put it: "is that a chicken or a rooster?"
Sometimes, telling the difference is simple, like when a rooster struts across the yard and crows. But other times, especially when your chickens are very young, it's much more difficult.
Today, I'll show you how to sex a chicken, including the few ways you can tell rooster vs. hen chicks.
Roosters vs hen | Cockerels vs pullets
What's the difference between a hen and a rooster and a chicken?
Roosters ARE chickens (but not every chicken is a rooster), so that question won't clarify much for you. Most people actually mean "hen" when they say "chicken."
Hen refers to a female chicken, while rooster refers to a male.
Are all males roosters? Not exactly.
Let's get a little more detailed by looking at the difference between hens, roosters, cockerels, and pullets.
A male chicken is considered a cockerel before one year of age. After one year, he is considered a rooster.
A female chicken is considered a pullet before one year of age. After one year, she is considered a hen.
Jill is one of our pullets. She is a bantam (small) black cochin.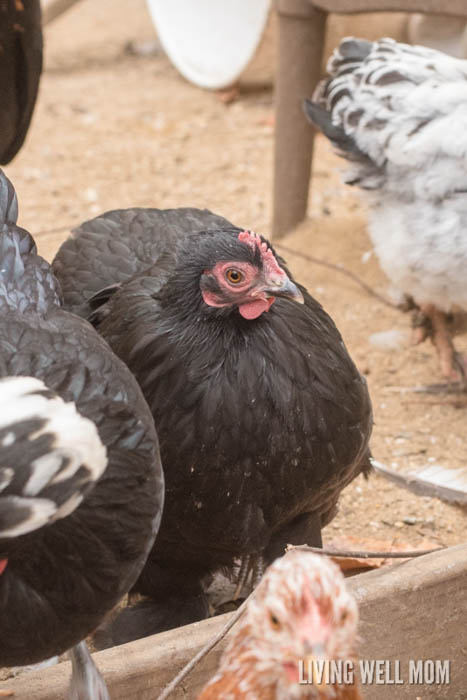 And here is Jack, her cockerel brother. He is also a bantam black cochin.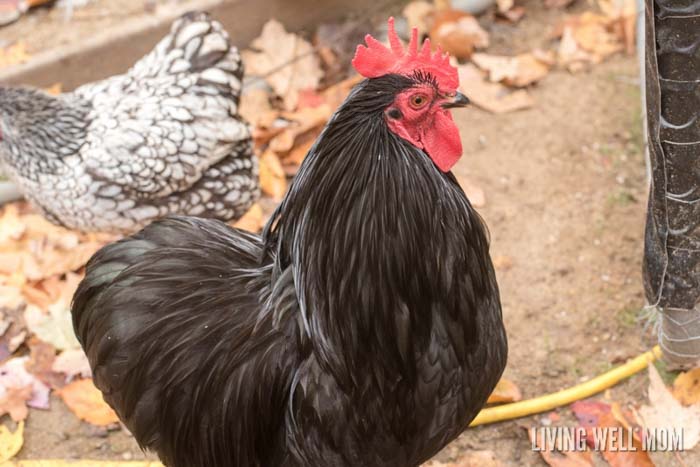 Now, the next time you hear someone talking about pullets, you know they mean young female chickens!
How to sex a chicken
Several methods for identifying a chick's sex have developed over time, with some being more effective than others at distinguishing between rooster vs hen chicks.
It's difficult for the average person to determine a young chick's gender (referred to as sexing).
In most cases, even experienced chicken owners will not be able to tell whether they have cockerels or pullets until the chicks are at least 2-3 months of age. And even that number can often be longer for some breeds like Silkies.
These are two of our Silkie hens with their young chicks.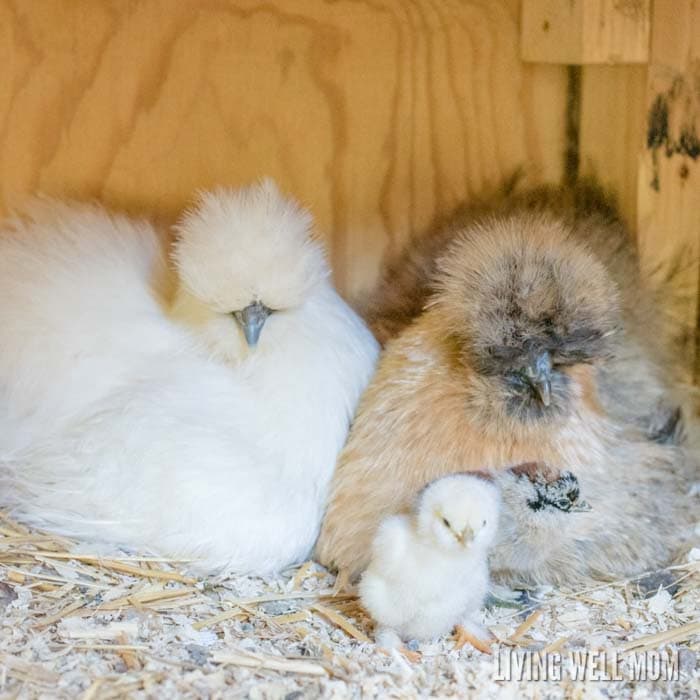 Rooster vs hen vent sexing
The most common form of sexing is called "vent sexing," but if it's not done correctly, it could kill a chick. And even then, the odds are about as good as a coin toss when it comes to accuracy with this method unless it is someone very experienced.
This is why the average backyard chicken keeper should not attempt this. I have not and will not, and I highly recommend you don't either.
In fact, typically, the only places you can buy "vent sexed" chicks are hatcheries, where they have highly trained professionals to do it. Even then, hatcheries are only accurate about 90% of the time.
This means that if you order female chicks from a hatchery or your local feed store (they usually buy from hatcheries, too), you still have a chance of ending up with one cockerel (or more.)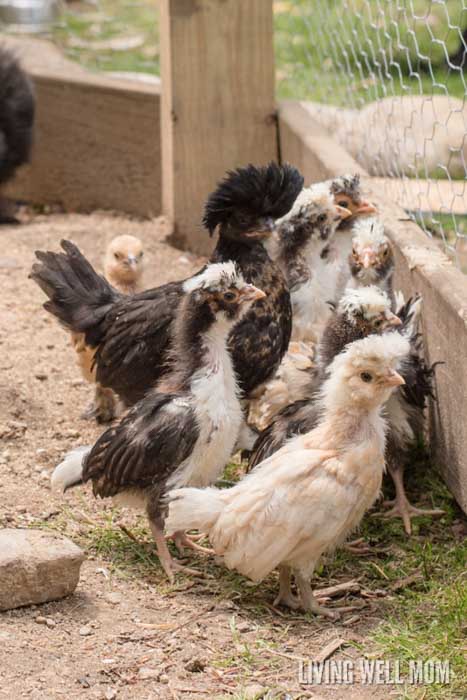 Here is a great article from Backyard Poultry that talks about sexing baby chicks.
Straight run chicks
If you buy chicks from a local chicken breeder, they will likely sell you "straight run" chicks.
Straight run means the gender is unknown, and chicks are not sexed (again, because it's nearly impossible), and your odds of having boys or girls are usually 50/50.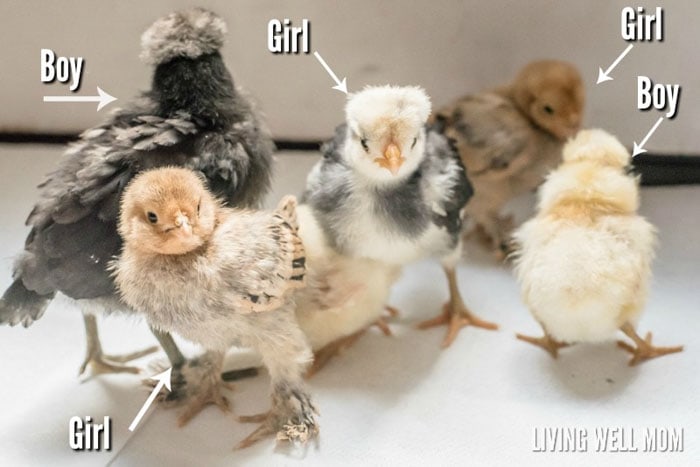 There are some crossbreeds, known as sex links, and a few other chicken breeds where you can tell the gender right away after hatching based on their colors.
You can read more about sex links down below or here. That being said, you cannot tell the gender of day-old chicks in the majority of chicken breeds.
6 Physical characteristics that can help identify pullet or cockerel
We all wait anxiously to see if our chicks are boys or girls. We can guess all we'd like, but as many people who raise chickens like to say, you won't know for sure until they crow or lay an egg!
That can be anywhere from 12-30 weeks of age. Occasionally, though, you might have a little cockerel who makes himself known by crowing very early. We had a young Silkie start crowing at just 6 weeks of age!
Still, it's fun to guess the sex of a chick and see if you're right later.
For older chickens, typically 3-6 months of age, there are a few characteristics you can look for.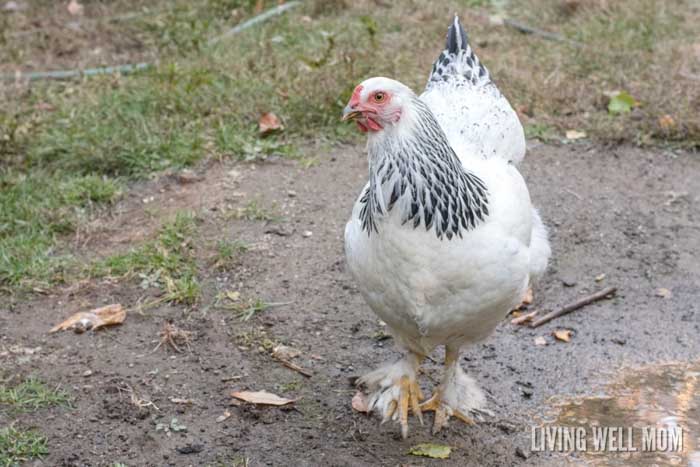 1. Size and color of combs and wattles
A chicken's comb is the crest-like growth on top of a hen or rooster's head. As chickens begin to mature, their comb will grow in size and darken in color. A cockerel will usually have a larger and brighter comb than a hen.
It's the same thing with their wattles (aka the "skin" that hangs down from under the beak or neck). Much like combs, a male chicken will have a brighter and larger wattle than a female.
This is Wolf, our light Brahma cockerel when he was very young. You can see his comb and wattles beginning to get bigger and brighten.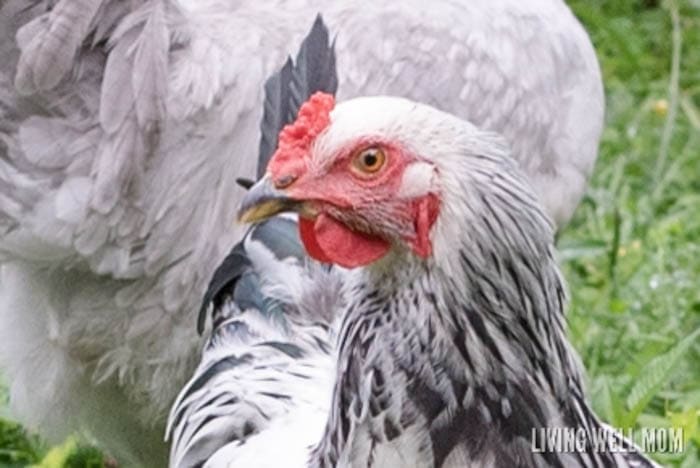 Here's a photo I took of Wolf today. See how his comb and wattles are bigger now? Wolf is still considered a cockerel because he is 7 months old.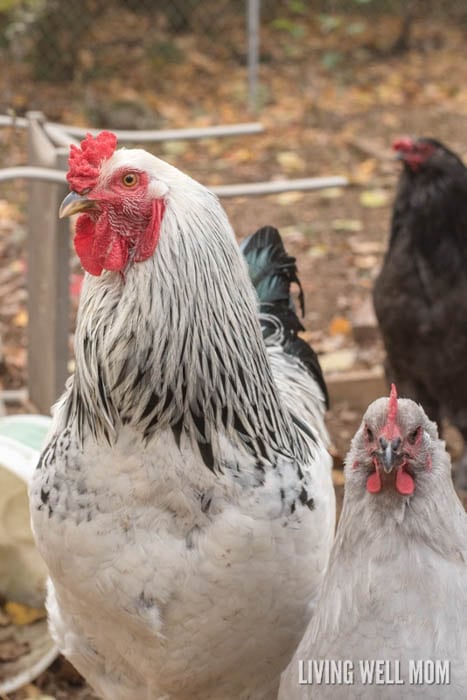 On the other hand, here is "Fireball," our light Brahma pullet. She is also 7 months old. Do you see the difference?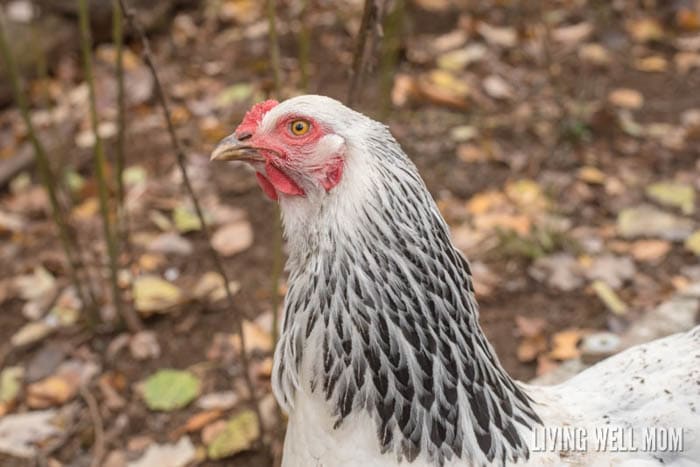 Fireball and Wolf belong to my oldest, Nathan. Their names are from Minecraft. 🙂
Sometimes you will see a young chick begin to develop a larger comb earlier than the others, and this is sometimes (but not always) a clue as to its gender – usually a male.
2. Feather sexing rooster vs hen
Hackle feathers are another word for neck feathers. A hen's neck or hackle feathers will be round and short when compared to a rooster's, which are longer and more pointy.
You can see Fireball's hackle feathers here: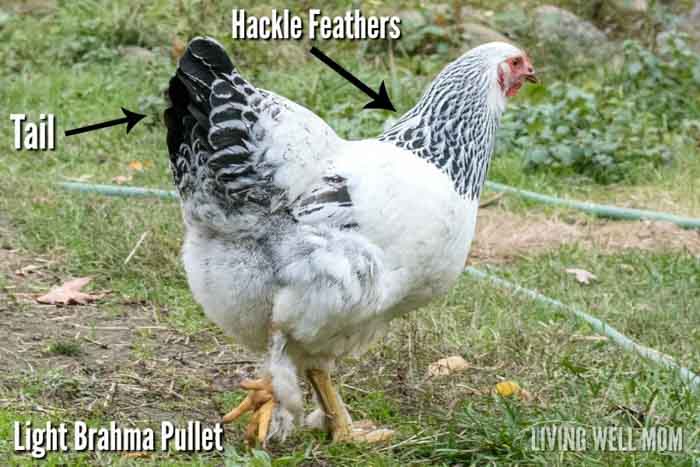 Saddle feathers are only found on boys. These feathers grow on their back down toward their tail. They become fairly obvious once a cockerel is older.
One way to remember the difference between hackle and saddle feathers is to think of a horse saddle that goes on a horse's back, not the neck.
Lastly, look at a chicken's tail feathers. A cockerel or rooster's feathers will be longer, more flowing, and generally showier. Sometimes there will be more colors, such as shiny green feathers.
Here is Wolf again. Notice the differences between him and Fireball.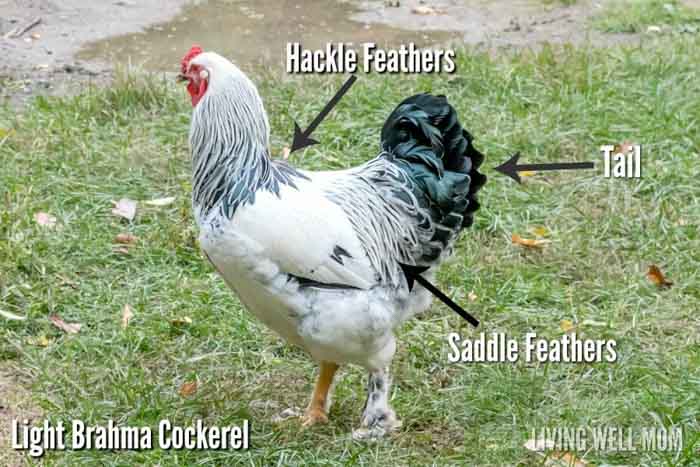 3. Rooster vs hen behavior differences
Roosters are often bolder than hens. You might notice this behavior in small chicks. As they get older, roosters will tend to "challenge" each other with raised hackle feathers.
But this behavior isn't exclusive to the boys because even the girls "challenge" on occasion! Of course, there are exceptions too. We've had shy roosters and braver hens.
4. Posture of hens vs roosters
Cockerels tend to puff out their chest and stand taller than pullets.
This is Smokey, our sweet barnyard mix (that means mixed breed) cockerel: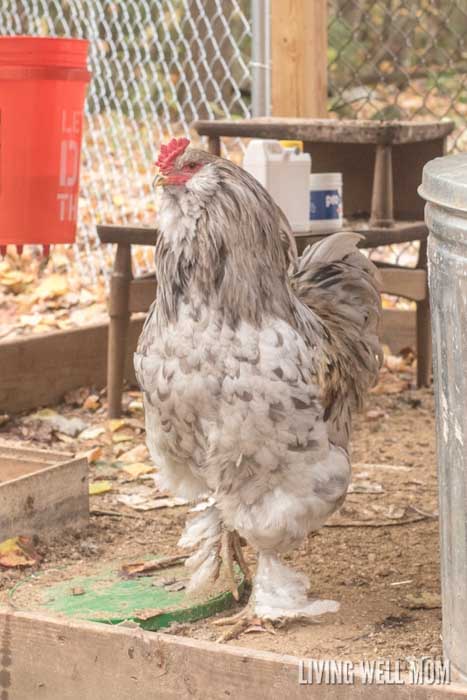 5. Rooster vs hen leg size
Boys will have thicker legs than girls.
For me, this is one of the last things I consider when telling hens and roosters apart, but it is one more characteristic you might notice.
6. Spurs
Some, not all, cockerels will develop spurs on their legs, a bony growth that grows from the inside of their legs. Spurs can be used as a defense and can be dangerous if you have an aggressive rooster.
Luckily, there are ways to safely remove spurs without injuring the roo.
This is Hairy Potter, my son's Silkie rooster. (Yes, he deliberately spelled it Hairy, not Harry.) Hairy does not have spurs. (Not that you can tell under all his fluff!)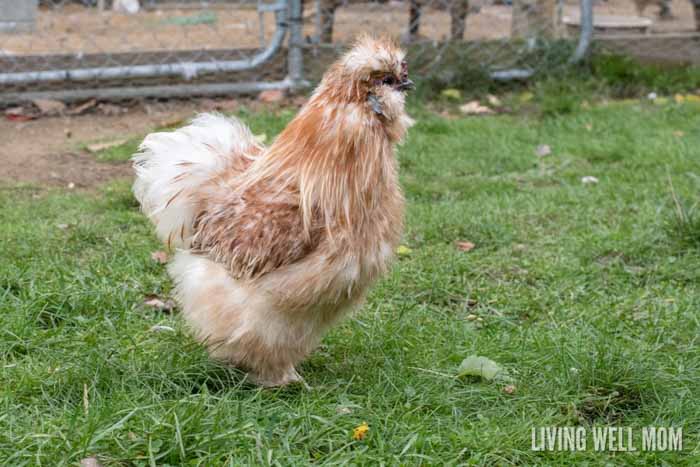 Rooster vs hen FAQs
I know people have tons of questions about distinguishing male chicks from female chicks. Here are a few that I see a lot!
Can chickens lay eggs without mating?
Yes, hens can lay eggs without mating. However, unfertilized eggs will never become chickens. If you want to expand your flock, you'll need a rooster to mate with your hens.
Is a rooster a cock?
Yes, they are the same thing. Traditionally, "rooster" is the American term, while "cock" is the British term. However, there are some parts of the states (especially in the South) where people use the term cock for roosters.
What is auto-sexing?
Autosexing refers to the ability to determine the sex of newly-hatched chicks based on looking at the color and marking on their down. This is the result of crossbreeding efforts in the UK in the early 1900s. Only certain breeds of chicken are auto-sexing breeds, including Cream Legbars, Barred Plymouth Rocks, and Welsummers, to name a few.
Note: This is a trait that will pass on to future generations of chicks. If you have these types of chickens and breed them, their offspring will also have them.
What are sex link chickens?
Sex links are first-generation chicken hybrids that are visually sexable. If these adult birds breed, however, the visual sexing trait will not pass to the offspring. Examples of sex link breeds include Golden Comet and Black Rocks.
Overall, remember there's no guaranteed way to tell the difference between rooster vs hen chicks until they are crowing or laying eggs. But these are some fun clues to consider as your chicks grow bigger, and it's always fun to play the guessing game!
More fun with raising chickens
If you found this rooster vs hen post helpful, be sure to check out these other popular chicken-related posts: