Organizing kids' toys and, even more, keeping it that way, can seem to be an impossible task at times. Especially if you have small children, don't they seem to undo everything as quickly as you sort it?
I have four kids and my two younger boys are the ones who make the biggest mess. Joshua is 6 and Luke is 5 and the two of them keep me quite busy. But they're plenty old enough to clean up after themselves, including organizing their toys, and they do.
I realized some time ago that the key to organizing toys wasn't a fancy DIY project or expensive organization system.
I used to sigh over beautifully organized playrooms on Pinterest and wish I was that talented. And, after a number of sometimes successful but often not projects, I learned something very important about organizing kids' toys.
The secret to getting kids to organize their toys is to keep it simple. Very, very simple.
1) Simple means doable.
You'll be far more likely to actually get it done. If you have a complicated project or expensive organizer in mind for your kids' play area, there's nothing wrong with that, but chances are, you've been putting it off for good reason.
2) Simple makes change easy.
You will need to make changes – it's a natural part of organizing, especially with kids.
A fancy organizer might sound like a great idea, but it can be a big source of frustration when you've spent a lot of time, money, and/or effort only for it to not work like you had envisioned. Or what happens when your kids get new toys and that expensive organizer doesn't cut it anymore? You might feel pressured to stick with something that's not working.
If you keep toy organization simple and inexpensive, it won't be a big deal to make changes, whether it's tomorrow or next year.
3) Simple means the kids can do it.
The bottom line is that complicated makes it difficult for the kids to keep their toys organized and that much harder for you.

Toy organizing has to work. If the kids can't slide fabric bins off the shelf easily or if their toys are sorted into too many categories to remember, it will be that much harder for your kids to organize their toys.
Here are a couple practical tips for keeping toy organizing simple: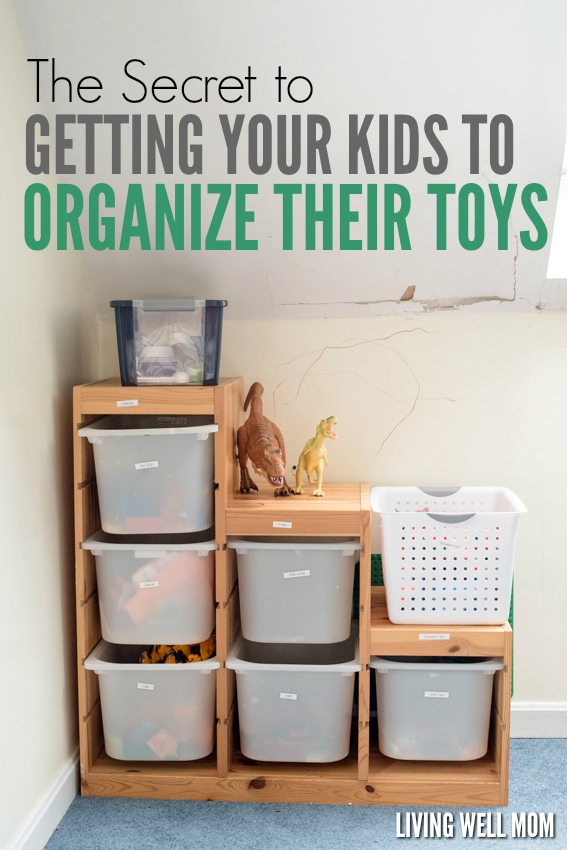 Labeling is helpful for kids of all ages.
For young children, you can print out pictures of the toys – ie LEGOs, Lincoln Logs, blocks, dolls, etc. – and tape to the container and space on the shelf where that particular toy belongs. By doing this, you teach even toddlers how to pick up after themselves!
For older kids, a simple label maker
is invaluable. (My inexpensive label maker and cartridge tape replacements are one of the best purchases I've made!) Labeling bins or containers and also spaces on a bookcase or storage cube shows the kids exactly where things belong so they can keep their toys organized!
That's what I did with my boys' toys: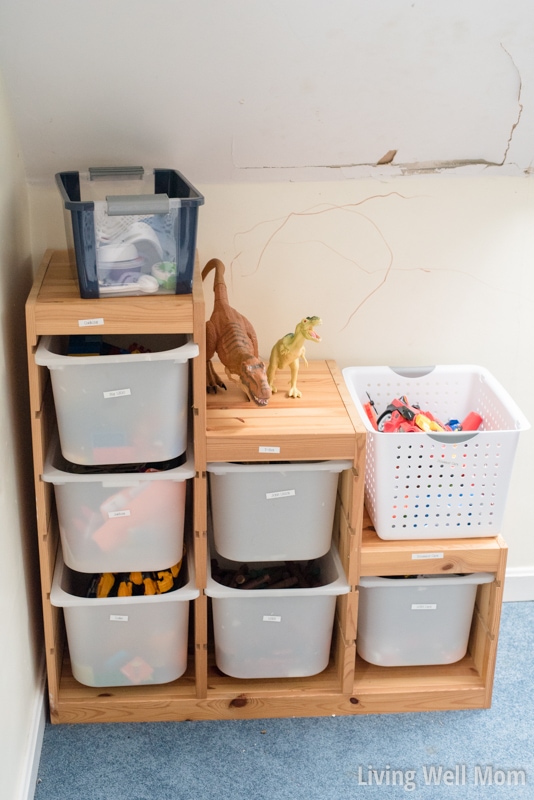 (Like the rip in the wall? That was there when we bought the house and later, Luke decided to add his touch with a marker. Needless to say, decorating their room hasn't been a priority.)
Using the tips I shared in my previous toy organization post, my boys' bedroom is their primary toy area. I sorted and minimized their toys and I also use the toy rotation system.
I found a used Ikea container on Craigslist for $15 and it's perfect for what I wanted to do. I highly recommend watching Craigslist or Facebook yard sale groups or summer yard sales for inexpensive bookcases or organizing systems. It's no big deal if you need to change something later then!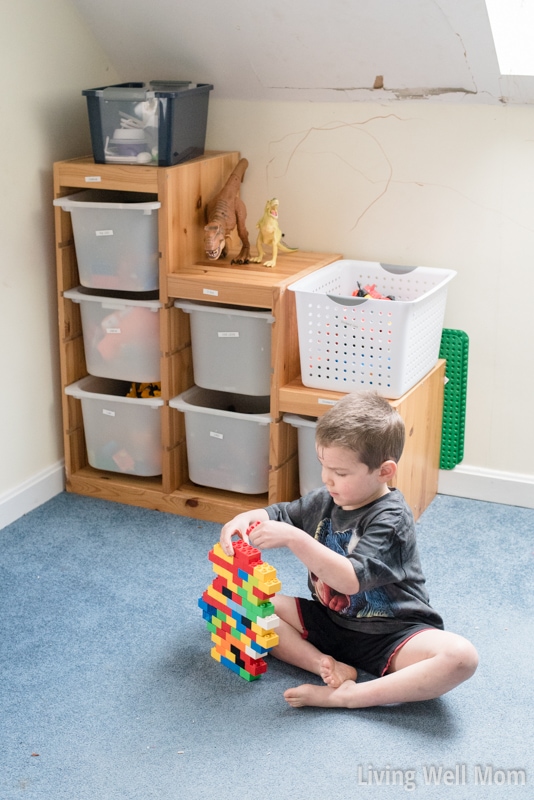 Everything is labeled so my boys are reminded where things go. While Luke can't read yet, their toys are organized simply enough that it's not a big deal and for Joshua, it's great practice with his reading.
Get the kids involved as you organize too:
Make them part of it and they'll be far more likely to cooperate later.
Ask their opinion too – "Do you want your dinosaurs on the top or the bottom?" Little things will make a big difference. My boys loved helping me organize their play area, especially putting the labels on.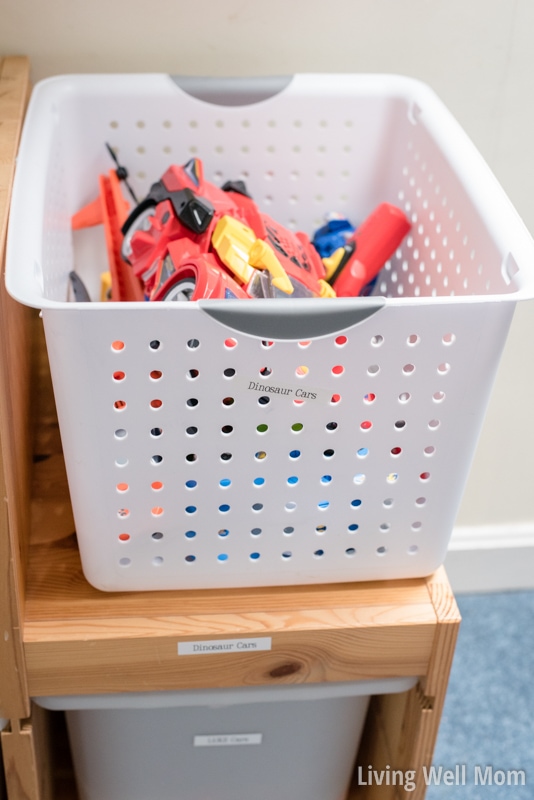 Give each child their own "junk" bin. This is where little miscellaneous toys or papers can go. I let my boys keep just about anything they want in their bins as long as it doesn't overflow.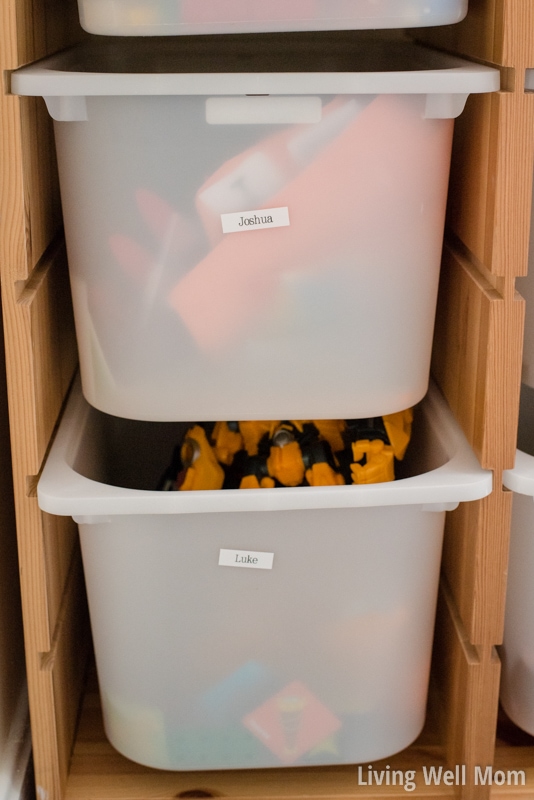 For larger toys, we have two bigger bins that sit in the corner on the floor. (See the picture labels I used previously?)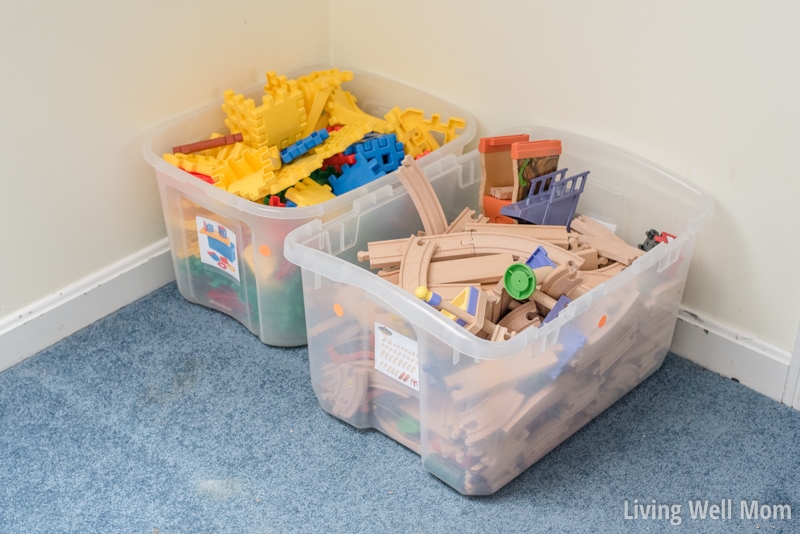 This simple toy organization system has worked wonders for my boys' room and my sanity. That's not to say I don't ever walk into their room to find toys scattered everywhere, but when I do, I remind my boys to clean up and they do. (Most of the time. )
It's not magic, but it does help to calm the chaos.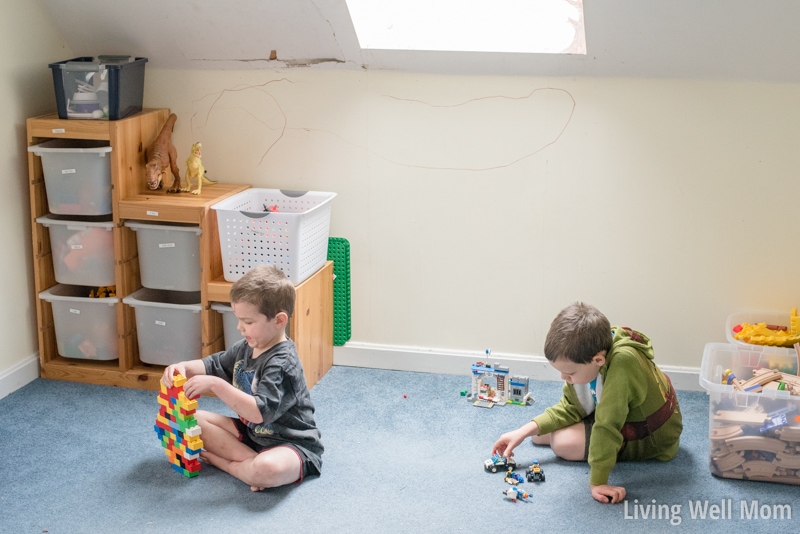 I hope this encourages you that it doesn't have to be a complicated, expensive process to organize your kids' toys. You can get your kids helping too and save all of your sanity!