Note: this is a guest post from Meaghan, who blogs at http://www.2sisters2cities.com.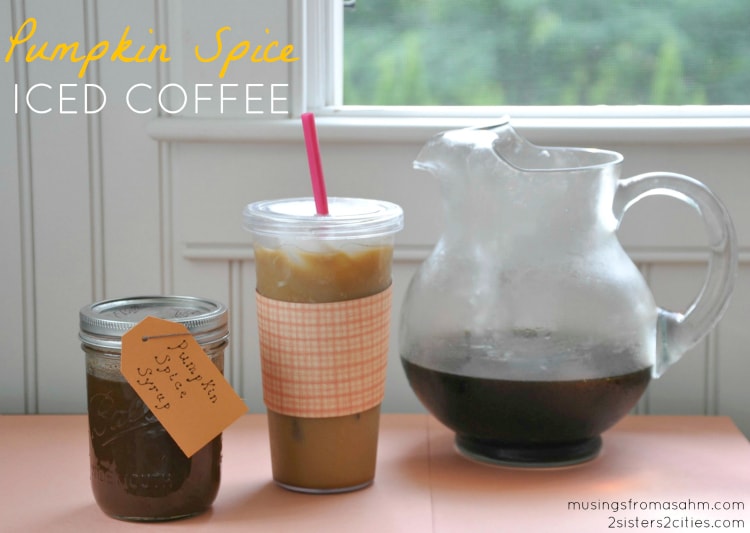 Every September I face the same conundrum- should I continue to drink iced coffee or switch over to a pumpkin spice latte? It's usually still warm enough outside to enjoy coffee on the rocks, but I'm eager to squeeze in all the pumpkin goodness I can get every fall. I have finally found the perfect recipe to address all my September needs- a pumpkin spice iced coffee!
This recipe for Pumpkin Spice Iced Coffee includes a pumpkin spice syrup. The recipe for syrup will make a couple cups worth, and since each individual iced coffee only needs a couple tablespoons of the syrup, this will make a lot. You can also use the syrup in lattes or just regular coffee if you are done with iced coffee for the season.
The pumpkin spice syrup only needs 3 tablespoons of pumpkin puree (which is different than pumpkin pie mix.) If you open up a brand new can, you can either freeze the rest in ice cube trays or make something else with the pumpkin puree (I suggest this pumpkin granola.)
Pumpkin Spice Iced Coffee
2014-09-23 09:48:33
A delicious homemade version of pumpkin iced-coffee.
Ingredients
6 oz. ground coffee beans, about 3 cups (I used the Starbucks Iced Coffee blend and had them grind the beans in the store)
3 quarts cold water
1½ cups water
1½ cups sugar
4 cinnamon sticks
1 tsp. ground nutmeg
½ tsp. ground ginger
½ tsp. ground cloves
3 tbsp. pumpkin puree
Instructions
Combine the ground coffee beans and cold water in a large container (I used a large Rubbermaid-type container.) Stir so that all of the coffee grounds are moistened. Cover and let the mixture sit at room temperature for 8 hours or overnight.
Line a fine mesh strainer with cheesecloth. Pour the coffee-water mixture through the mesh strainer and cheesecloth into a large pitcher to remove the grounds. Cover the pitcher with plastic wrap and store the iced coffee in the refrigerator to keep chilled. To serve, fill a large cup with ice and pour coffee mixture over the ice.
Pumpkin Spice Syrup
Combine water and sugar in a medium saucepan and heat over medium-high heat, stirring until the sugar has completely dissolved. Add the cinnamon sticks, remaining spices, and the pumpkin puree. Continue to cook for about 5 minutes, stirring frequently, without letting the mixture come to a boil (You may need to turn down the heat to do this.) Remove from heat and allow to cool for 15 minutes. Strain the syrup through a fine mesh strainer into a container. Store the syrup in the refrigerator.
To make pumpkin spiced iced coffee, simply add 2 tablespoons (or more or less to your preferred taste) to an iced coffee cup. Add ice and iced coffee. Add milk or half & half if preferred.
Notes
Iced Coffee recipe adapted from The Pioneer Woman (http://thepioneerwoman.com/cooking/2011/06/perfect-iced-coffee/)
Adapted from Cook Like a Champion
Living Well Mom http://livingwellmom.com/
Meaghan Barry lives with her husband and 18-month old son in a town on the south shore of Boston. She is a former finance professional turned stay-at-home-mom. Meaghan tweets under Twitter profile
@Meaghz
and pins using the Pinterest profile
2Sisters2Cities
. Meaghan blogs with her NYC-based sister about cooking, party ideas, and projects at
http://www.2sisters2cities.com
.