Got ticks? Those little blood-suckers can be a real pain for dogs and us as their humans. Luckily, there's a very simple all-natural tick repellent for dogs that's pretty effective.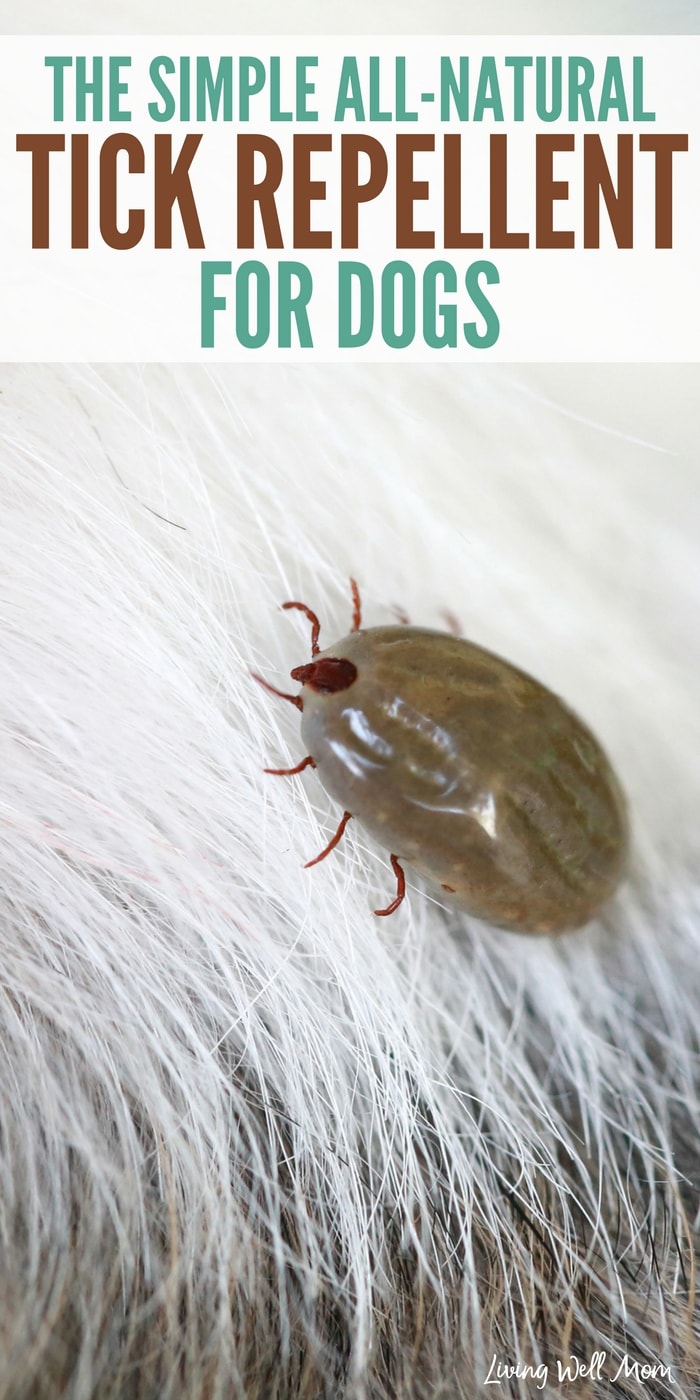 Bailey is our long-haired black cocker spaniel and as you can imagine, it's not easy to spot ticks on him until they're already embedded and large. (Yuck!)
And because we live in the woods of New Hampshire, we are in prime tick and Lyme country; ticks are ABUNDANT around here.
I avoid using chemical flea and tick repellents, like Frontline, Advantage, etc. because they are toxic and not something I want to put on my dog. Or cat. Or anywhere around myself or my children either.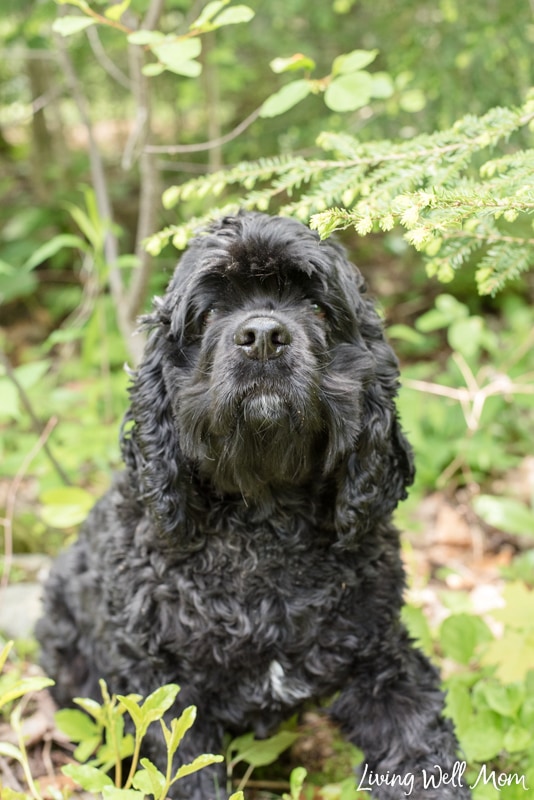 Fortunately, there are some all-natural options that work very well without the side effects.
I've been using this all-natural tick repellent since the end of last summer with our dog, Bailey, and it really works.
Please read my Essential Oil Common Sense Safety page before using this essential oil recipe. I am not a medical professional and the information presented here is merely for educational purposes and not intended to replace medical advice. It is your responsibility to do your own research, consult with your doctor, or in this case – your vet – and make safe decisions for yourself and your family.
All-Natural Tick Repellent for Dogs
I use rose geranium essential oil as an all-natural tick repellent for dogs.
Did you know you can use rose geranium to repel ticks from people, including kids, too! Read more about that here.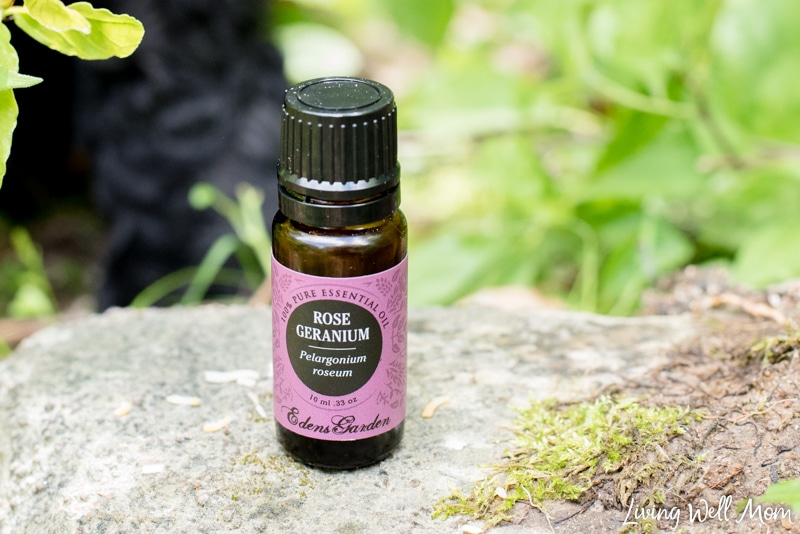 You'll need rose geranium, not rose oil (rose essential oil is very, very expensive, whereas rose geranium is typically not.)
Rose geranium oil (specifically the species, Pelargonium graveolens) has been shown in studies to be just as effective at keeping ticks away as DEET, so it really does work.
I've used both Rocky Mountain Oils and Eden's Garden.
Eden's Garden (the brand I used in the photos) sells a species called Pelargonium roseum, which is not the one found in the study but has worked well in my experience.
Rocky Mountain Oils sells the exact species used in the studies, Pelargonium graveolens. It's sold under the name "Geranium Oil" not "Rose Geranium" but rest assured it is indeed the essential oil you want to keep ticks away from your furry friends.
This is another reason why it's so important to look at the latin name of each essential oil, not just the general label.
You can find it on Rocky Mountain Oils here: Geranium Oil (this is the best deal right now (summer 2017) – 15ml for $19)
You can find Eden's Garden on Amazon here or their website. ($24.15 for 10ml on Amazon)
Please note that I have not used other brands and I can't attest to their effectiveness. I've heard that some people have had mixed results with the NOW brand.
How to Use Rose Geranium Oil as a Tick Repellent
It's very simple to use rose geranium oil as an all-natural tick repellent for dogs.
You simply add 1 drop in between your dog's shoulder blades and another drop by their tail. Do this every 3-5 days.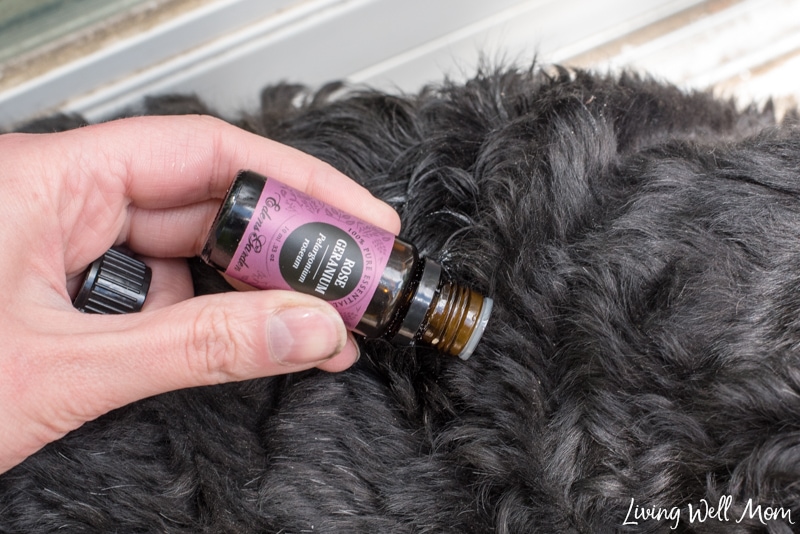 Very small dogs may only need 1 drop while larger dogs may need 3 or 4.
I recommend starting with just 1 drop regardless of your dog's size. If you've found that doesn't work (aka your dog has a tick on him the next day, up it to 2 drops.)
Please remember that essential oils are VERY potent and a little goes a long way.
I add 2 drops every 2 or 3 days on my 30-pound dog.
Once, I went 10 days without adding the essential oils and I found a tick on Bailey, so rose geranium appears to work better as a tick repellent when used frequently.
If you still find ticks on your dog, you can add use the rose geranium oil more frequently – as much as once a day.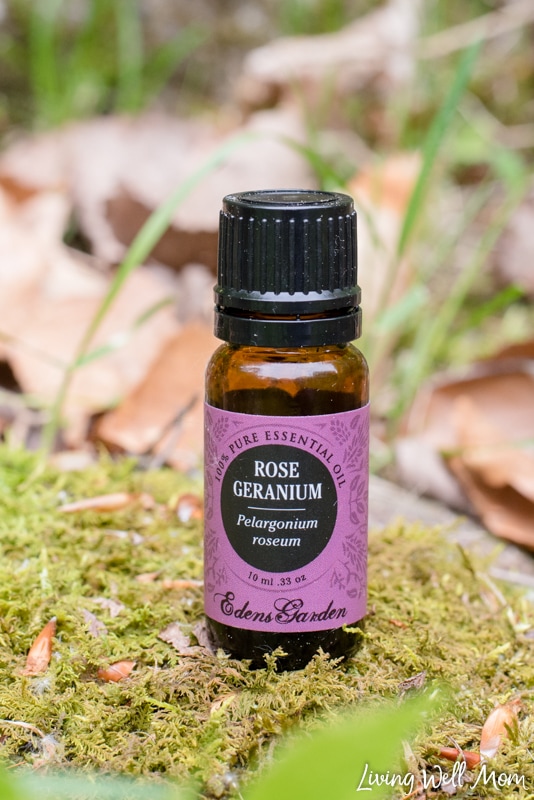 Safety:
My holistic vet okayed this natural tick repellent for my dog.
She also said it was okay for my two cats as long as I didn't add it directly to them, but instead added a drop to my hand, rubbed them together, then rubbed my hands over my cat's back.
FYI: While there were no adverse reactions, neither of my cats were fans and it didn't seem very effective for them, I've since stopped. I'm still on the look-out for an all-natural tick repellent that works and doesn't bother my kitties.
Please check with your own vet (preferably a holistic vet as they would understand natural methods, including essential oils more thoroughly) and do your own research before using essential oils on your pet. And always use common sense. Remember essential oils are very potent!

Remember to use the rose geranium oil frequently for the best all-natural tick protection.
Want to find out how to make a DIY Natural Essential Oil Tick Repellent for kids and adults too? I'll show you how to make it as both a spray and roller bottle! Click here.