We all know the best way to avoid getting sick is to get lets of rest, eat healthy, exercise, get fresh air, wash your hands frequently, etc. But it can be tricky with kids. They are so quick to touch everything and put things in their mouth and then rub their eyes.
Natural remedies can help boost immune systems and give you an extra edge against all those sickies swirling around out there. And let's face it: us moms can use all the extra help we can get right?
Here's what I use with my children during the cold & flu season: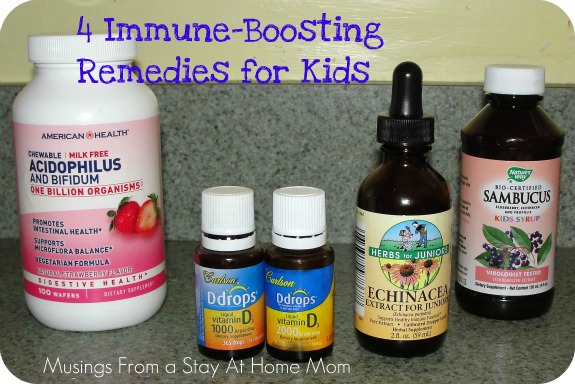 (From left to right)
Acidophilus is the same stuff in yogurt. It's the good bacteria that helps keep the bad stuff in check. When my kids just went through a recent bout with a stomach bug, they got over it much quicker than we were told to expect and I know probiotics made a difference.
There are chewable "probiotics" and powders made just for kids. I usually buy different brands so they get a variety. (Different brands often have different types of probiotics.)
Vitamin D is my favorite vitamin. It plays a huge part in how well the immune system functions. Many people, especially those in winter climates (hello New Hampshire!) are very deficient in Vitamin D, but don't realize it. Taking supplementary vitamin D may help boost your immune system and keep you from getting sick or recover quicker if you do catch something. Not to mention how some recent studies have shown it's good for bone health or possibly even for preventing cancer.
We all take Vitamin D regularly since our doctor recommended it a couple years ago when we were all repeatedly sick. It's amazing how big a difference such a little thing can make.
I gave Luke 1,000-2,000 IUI of Vitamin D daily since he was exposed to the stomach bug my other kids had last week and he never got sick!
My favorite form of Vitamin D for the kids is Carlson's liquid Vitamin D. I have the 1,000 IUI and 2,000 IUI doses and each drop contains that dose. It's so easy to put onto a spoonful of yogurt or even just drop into their mouth.

I buy Carlson Vitamin D online from Swanson Vitamin as they have great prices and service.
Echinacea is a pretty commonly known herb that helps boost the immune system. Last winter, I didn't give the kids their echinacea very often and they were sick a lot more. This winter, I make sure to remember and there's been a noticeable difference in how healthy they've been.
My favorite liquid echinacea is the Echinacea for Juniors sold from Puritans' Pride. I've bought this brand for years and it's so easy to give them. My younger three kids each have their own bottle in the fridge (to prevent germ sharing.) Nathan, who is able to swallow pills now, takes my capsule Echinacea.
Elderberry is an amazing herb that helps prevent and fight colds and other respiratory ailments. My doctor introduced me to it a few years ago and you will never find me without a bottle in my house.
My favorite form of Elderberry for the kids is Sambucus Kids Syrup. It's safe for little ones ages 1 and up, although my doctor okayed it for Luke when he was an infant.
These remedies/vitamins aren't guarantees but I've been surprised many times when one of my kids has been directly in the line of fire from another child's yucky sneeze and my kids have stayed healthy.
Please remember that I'm not a doctor or medical professional. These are natural remedies that my doctor has approved for my children and ones that have helped us stay healthier. If you're in doubt, check with your own doctor.
Click here for my favorite immune-boosters for Moms! Hey, there are no sick days for us, right? I'll also be posting my favorite remedies to help fight a cold quickly.