This apple coffee cake is everything a coffee cake should be. It's moist, flavorful, filled with tender apple chunks, and topped with mouth-watering crumb topping.
This easy-to-make recipe is a favorite of ours in the fall. I've had many requests for this recipe, so when I made it recently, I knew I had to share it with you!
Apple Coffee Cake: the Perfect Fall Treat
Apples are a must-have all throughout the year, in my humble opinion. But, they're especially necessary for the fall! When those ripe apples start falling off the trees, and the crisp chill hits the air, it's time to start baking (with apples). 😉
Thanks to its light, tasty flavor and bursts of apple chunk goodness throughout, this apple coffee cake is the perfect recipe for this time of year.
Why is it called coffee cake?
Fun fact: For Americans, coffee cake is flavored pound cake topped with a streusel topping. It's the perfect complement to a steaming cup of coffee, giving this delicious baked good its name—coffee cake!
Want to try yet another fun American dessert that's slightly lighter? This healthy apple crisp is grain-free and absolutely delicious!
Ingredients Needed for This Apple Coffee Cake Recipe
You'll probably have most of these simple ingredients on hand. Even if you don't, they are guaranteed to be at your closest grocery store. Nothing fancy or difficult here!
Butter-Flavored Shortening – In addition to the apples, shortening adds the moisture that the coffee cake needs. It also gives it a rich, buttery flavor. But if you don't have butter-flavored on hand, you can use regular shortening instead. (It will still taste delicious!)
Sugar – Granulated sugar is what you want.
Eggs – Binds everything together.
Vanilla Extract – Adds a delightful vanilla-flavored richness to this apple coffee cake.
Flour – Unbleached all-purpose flour works great in this recipe. You could also sub in your favorite gluten-free flour too.
Baking Powder and Baking Soda – These help the coffee cake rise.
Salt – Just a little bit is all you need to enhance the flavor of this cake.
Sour Cream – Makes this coffee cake incredibly moist and soft.
Tart Apples – Tart apples get soft but keep some texture when baked, while sweet apples tend to disintegrate. I prefer using Granny Smiths when baking because they do well in all my recipes! Don't have Granny Smith? Braeburn or Honeycrisp would also work.
Brown Sugar – Adds a caramel flavor that pairs exceptionally well with apples.
Ground Cinnamon – Aren't apples, and cinnamon just meant to go together?
Butter – This is used to make the crumble topping.
Chopped Walnuts – Nuts add just the right amount of crunch to the topping (and the recipe!).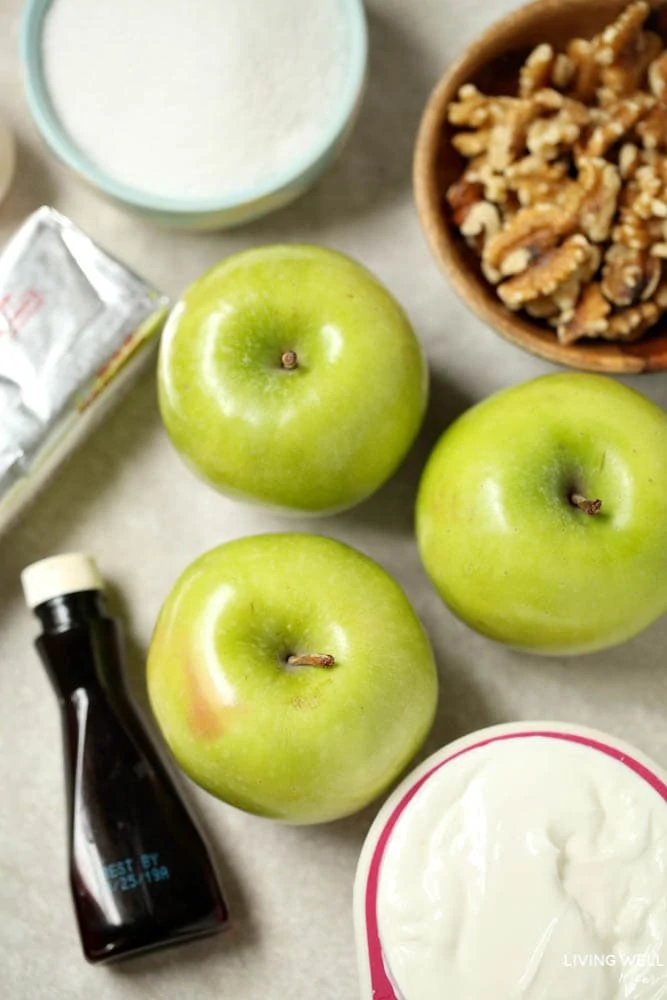 How To Make Apple Coffee Cake
In a large bowl, cream shortening and sugar until light and fluffy.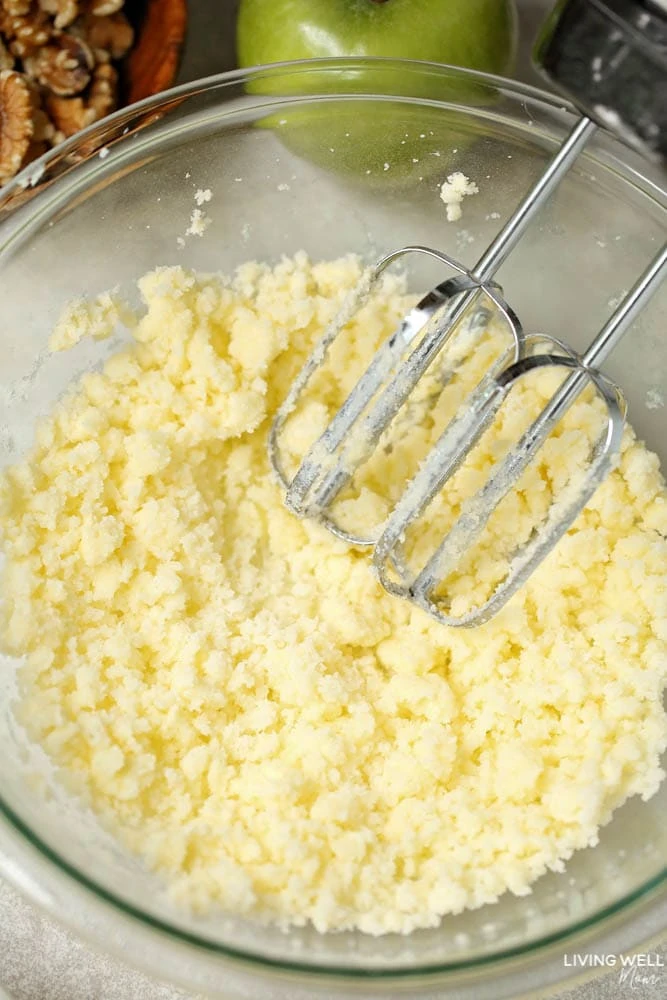 Beat in eggs and vanilla.
Next, combine flour, baking soda, and baking powder.
Gradually add the flour mixture to the creamed mixture. Alternately add sour cream, mixing well after each addition.
Then add cored, peeled, and chopped apple.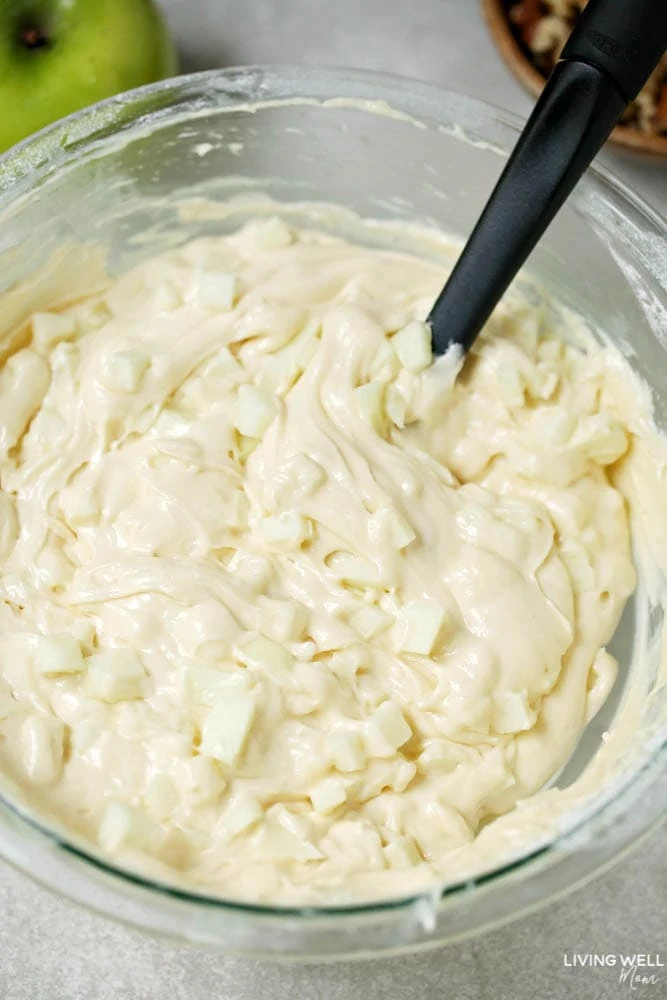 I don't know if you're supposed to use a mixer or not (I'm new to the fabulous world of KitchenAid mixers), but I couldn't resist. I threw my apples in and mixed them for only a few seconds. It was perfect.
Spread the dough into a 9 x 13″ greased baking dish.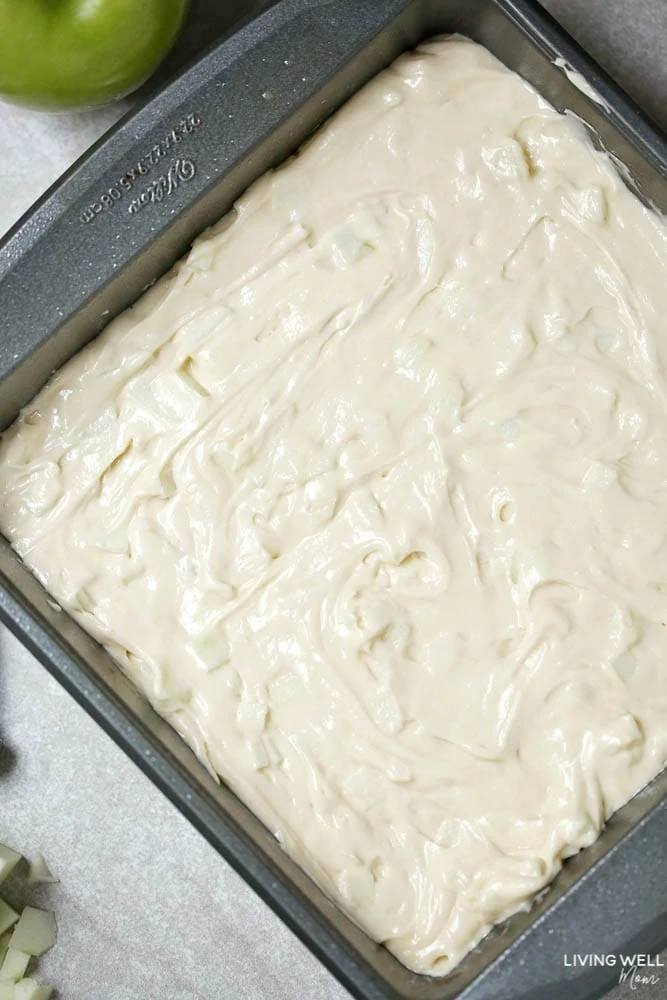 Now it's time for the topping – that's the best part, right?!
Making The Apple Streusel Coffee Cake Topping
Mix brown sugar with cinnamon and cut in butter with a fork until it's crumbly.
Next, add in the chopped walnuts.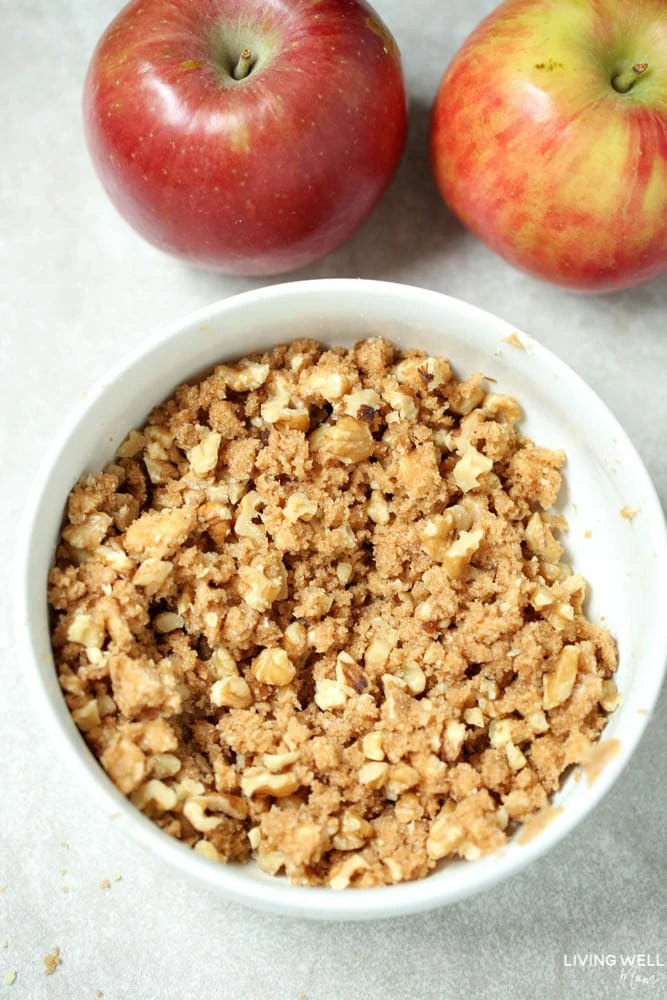 Sprinkle the crumbly mixture over the batter!
Bake at 350 degrees for 30-35 minutes or until it tests done.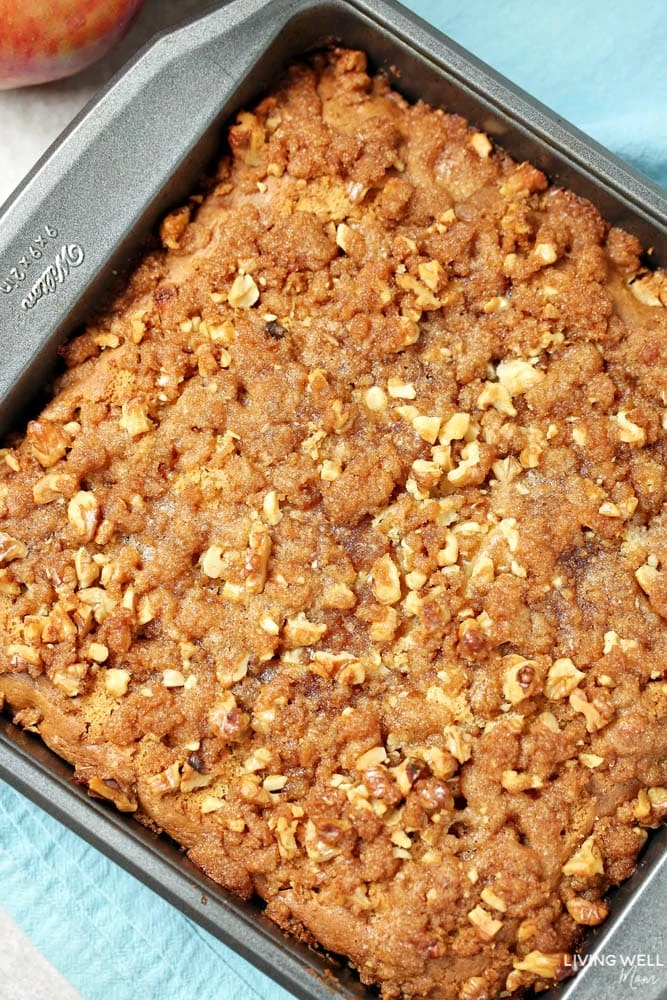 And it really is as easy as that! Ooh, apple goodness!

Print
Apple Coffee Cake
With its light tasty flavor and bursts of apple chunk goodness throughout, this Apple Coffee Cake is a perfect recipe for this time of year.
Instructions
In a large bowl, cream shortening and sugar until light and fluffy.
Beat in eggs and vanilla, combine the flour, baking powder, and baking soda.
Gradually add to the creamed mixture alternately with sour cream, mixing well after each addition.
Stir in apples.
Transfer to a greased 9x13x2″ pan or 2 8″ square pans.
For the topping, combine brown sugar and cinnamon. Cut in butter until crumbly. Stir in nuts; sprinkle over batter.
Bake at 350 degrees for 30-35 minutes or until a toothpick inserted near the center comes out clean. Cool completely.
FAQs About This Recipe
Here are some common questions that readers ask.
How long does apple coffee cake last?
This apple cinnamon coffee cake definitely tastes best when served fresh. And, it's so good that we rarely have leftovers!
However, if you do have any left over, store it in an airtight container in the fridge or at room temperature for up to 3 days.
Can I freeze this coffee cake recipe?
Yes, this cake freezes (and thaws) well.
To freeze, let it cool completely after baking. Then wrap it up in plastic wrap and then again in a layer of aluminum foil. Label it with the date and what's inside. Freeze for up to 3 months.
To thaw, simply put the cake out on the counter until it reaches room temperature. You can eat it at room temperature or warm it up for just a few seconds in the microwave.
How can I add variety to this recipe?
Every now and then, we need to add a little variety to the things we love (and eat) the most! If you want a little break from the norm with this cake, try:
Adding a drizzle of maple syrup just before serving.
Make a simple glaze to pour on top.
Add a cream cheese layer just below the streusel topping.
Drizzle the top with salted caramel.
This delicious coffee cake may taste like dessert, but you can enjoy it for breakfast (just like pancakes!), brunch, or a snack, too. Enjoy!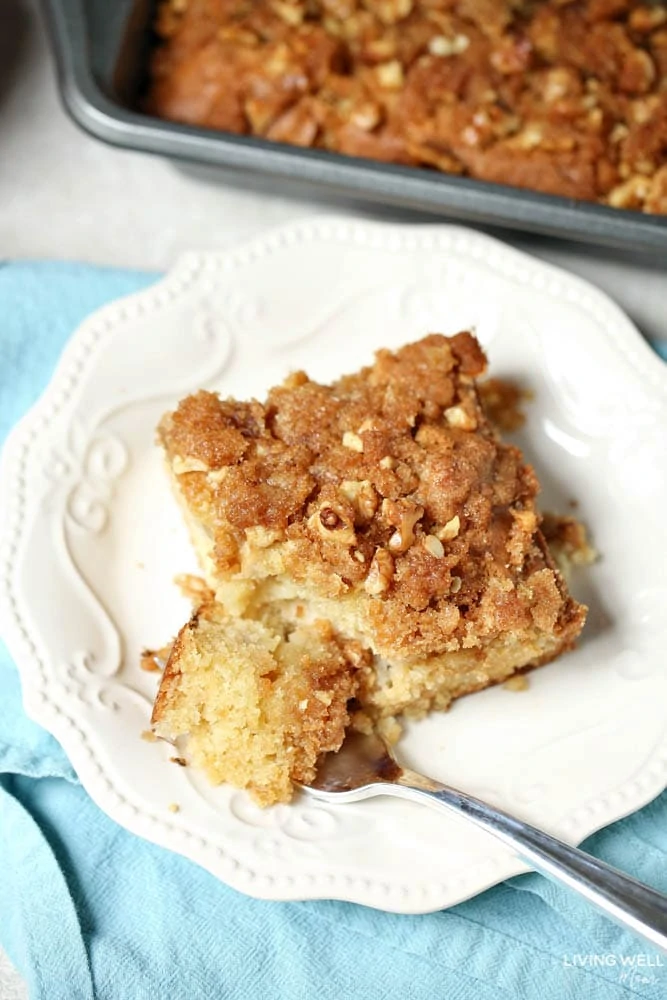 More Recipes with Apples
Pin the image below to save the recipe for later!