If you've ever wondered what flower essences are, you might be a little confused. First, it's important to know that these are not the same thing as essential oils. They both come from plants and can help in a natural way, but beyond that, they are quite different as you will see.
What are flower essences?
Flower essences are liquid infusions from flowers, buds, and plants that can gently and subtly provide support on an emotional level while helping to naturally balance overall wellbeing.
They are somewhat similar to homeopathy and acupuncture, in that they are part of the "energy medicine" field.
Bach Flower Essence History
Flower essences have been used for thousands of years by the Egyptians and Australian Aborigines. But they were first introduced into the "modern world" by Dr. Edward Bach in the early 1900's.
He discovered that different plants have different healing and balancing properties and prepared 38 different flower essence remedies. He dedicated his life to studying and helping people through his famous "Bach flower remedies."
You may have encountered or even used a flower essence without realizing it. The most well-known flower essence blend is "Bach Rescue Remedy," which you may have seen in the natural section of a drug store, vitamin shop, or health food store.
Flower Essences vs Essential Oils
As I mentioned above, flower essences are NOT essential oils. Many people confuse the two and while both the essences and oils come from plants, they are very different.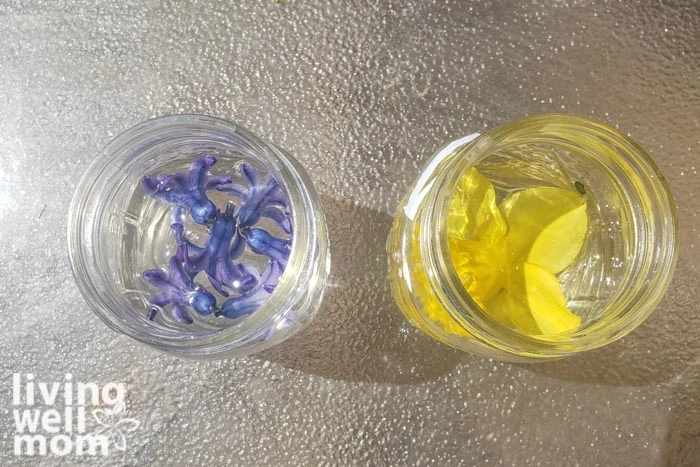 An essential oil is the actual plant extracted into an oil. It is very potent and has a fragrance and flavor.
A flower essence does not have a fragrance or flavor, other than the ingredient used to preserve it. It is simply the flower's energy absorbed into water.
Both essential oils and flower essences offer unique benefits for natural support.
How can flower essences help?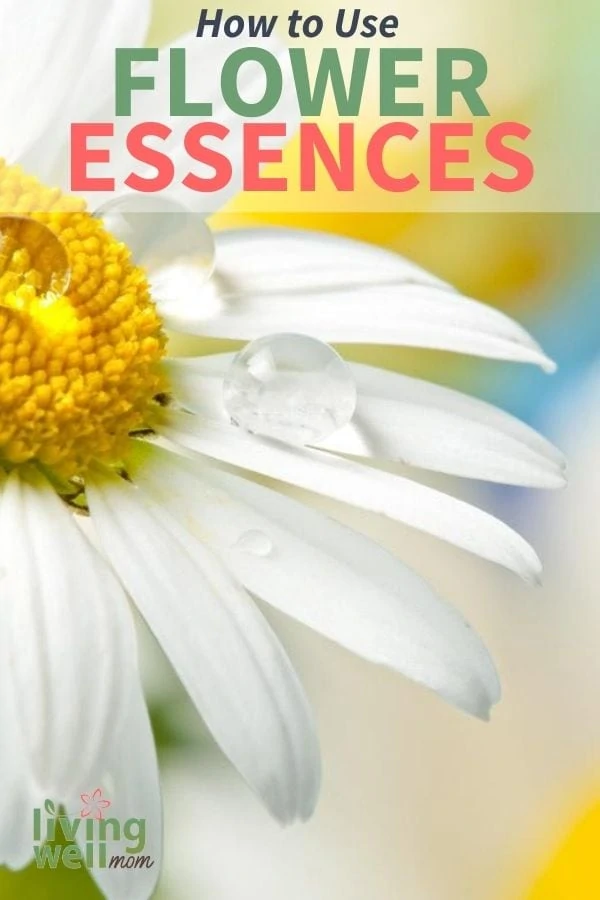 Everyone has energy. Some people, especially kids, are very energetic, while others have lower energy levels (like us tired mamas.)
Our energy levels can be affected by others, whether we are aware of it or not. Have you ever been around someone who was so grumpy and negative that you felt "dragged down"? That was their energy affecting you.
In the same way that negative energy can make us feel worse, positive energy can help us. If you are feeling down and a good friend encourages you with a hug and kind words, that is positive energy helping you.
Flower essences are positive energy from nature. Just two to three drops of a flower essence solution can help us to feel more balanced.
Benefits of Flower Essences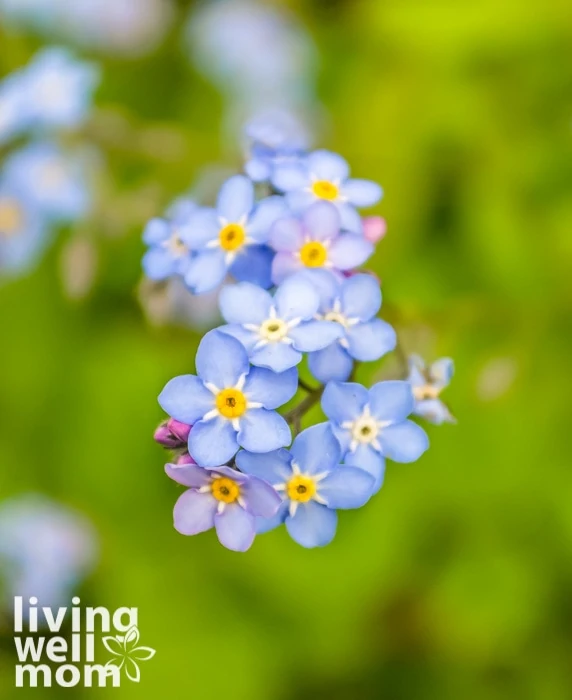 I've used this natural tool for myself and my family and seen amazing results. Here are just a few of the many ways they have helped my family:
focus
confidence
depression
anxiety, fearful
sleep
self-limiting beliefs
sadness
motivation
overwhelm
anger
guilt
emotional eating
feeling alone and unsupported
and much more
If you think of a negative state of mind, flower essences can often help shift that into a more positive state.
Popular Flower Essences to Try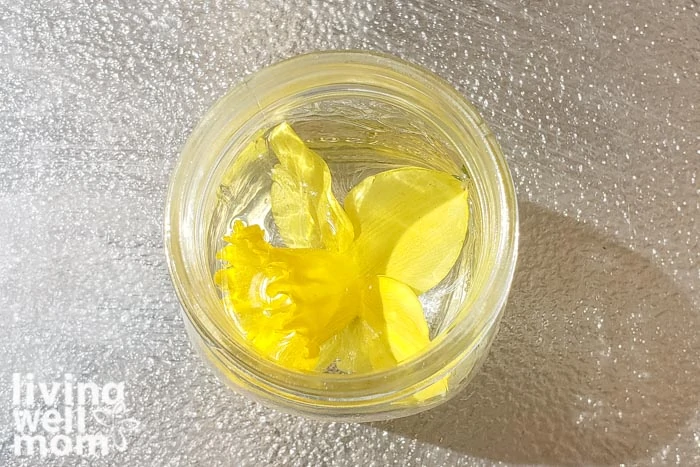 There are hundreds, even thousands, of different flower essences because each plant has a different way of helping. Here are a few examples:
Madia
Madia is a flower essence that can be wonderful for helping calm scattered thinking and improving focus.
Mimulus
Mimulus can be helpful for soothing common fears, such as a fear of the dark or being alone.
Impatiens
Impatiens are ideal for those who are tense and irritable, helping them become more patient and empathetic.

Calendula
Calendula is helpful for an irritated, argumentative attitude, stress, and frustration.
Rabbitbrush
Rabbitbrush is wonderful for those who have trouble focusing and struggle with seeing the "big picture", working to help them see the whole picture with improved clarity. This one was particularly helpful for my son who had autism at one point.
Are flower essences safe?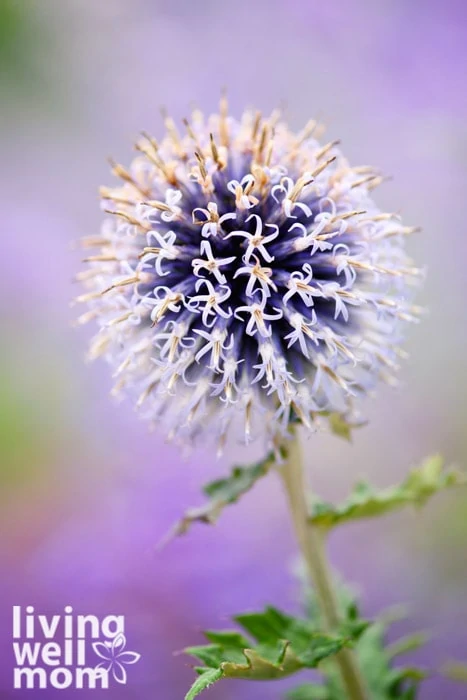 Flower essences are safe and gentle enough to use with anyone, including babies, pregnant or nursing mothers. They do not alter or cause issues when taking medications or supplements, etc. either.
This is because flower essences are simply energized water and a dose is a mere 2-4 drops. Of course, always check with your own healthcare provider with questions or concerns.
How do I use flower essences?
Flower essences are very easy to use. You just add a few drops to your beverage – coffee, tea, juice, water etc. Or you can drop 2-3 drops directly into your mouth.
Sometimes you only need one dose of a flower essence to see positive results. Other times, you may need it more often, especially if it's a deeper issue. In that case, I have found taking flower essences 4-5 times a day for 1-2 weeks has worked well for me.
How do I know if they are working?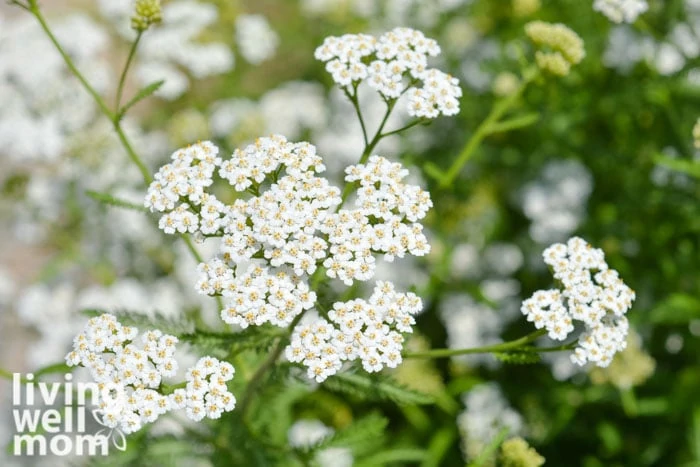 You will probably see a gradual improvement in the symptoms. For example, if you're feeling very grumpy, you might gradually feeling a little happier.
Other times, it can be fast. One of my favorite flower essences – SOS – is wonderful for sudden scary times. For example, when my son fell off his bicycle and scraped his knee, he was not badly injured but the fall did shake him up and he was crying.
I gave him 2 drops of SOS and within 2 minutes, he had calmed down and allowed me to hug him and patch up his boo boo before quickly jumping back on his bike.
SOS was also my first remedy of choice when my son was autistic and used to melt down. In almost every situation, he would calm down enough that we could begin to reason with him.
Even my husband who never "believed" in this stuff started saying "Go get the SOS!" because he noticed such improvement too. In fact, it's one of my favorite ingredients in my natural first aid kit!
What if I don't see any changes?
1) You aren't taking the flower essence often or long enough. One or two doses isn't always enough to lodge a lifelong deep fear.
2) You might need a different flower essence. There are literally hundreds of different flower essences and each one has it's own unique benefits. Some have similar benefits but slight variations where one might work amazingly well for me, but not as well for you.
Don't be afraid to experiment and try different flower essences.
Where can I buy flower essences?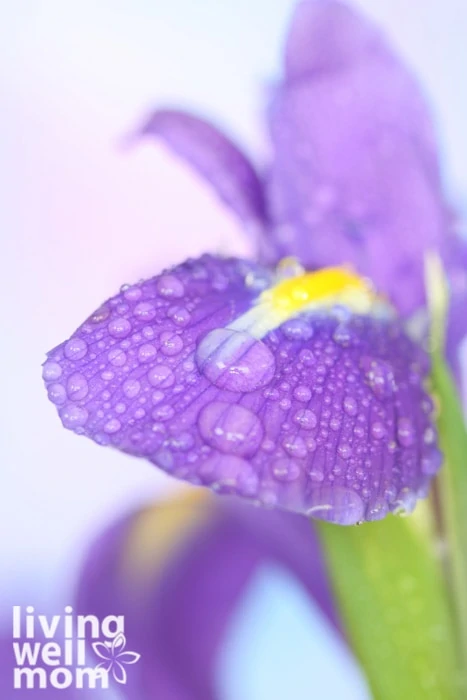 These are the places I get my flower essences from. Each place has unique essences.
When you're first getting started, combination flower essences (a blend of several put together) can help. These are typically put together by an expert flower essence practitioner so you don't have to try and guess. It can also save money.
Flower essences are actually very inexpensive, especially when compared with so many other forms of natural options!
I hope this helps your family as much as it has helped mine.
Pin any of the images to save the information for later.