These gluten-free snickerdoodles are everything you love about the classic cookie—but so much better! With a cinnamon-sugar coating and a slightly crisp edge that gives way to a soft chewy center this recipe makes a melt-in-your-mouth classic cookie that will bring back memories.
In fact, this quick and easy cookie recipe is so yummy, I had to double-check that I actually used gluten-free flour! You won't believe how fantastic these are until you try it yourself and see.
I grew up making the old-fashioned snickerdoodles recipe from my mother's worn and much-loved Betty Crocker cookbook. While it's not the fanciest cookie, there is something familiar and comforting about this cinnamon and sugar cookie.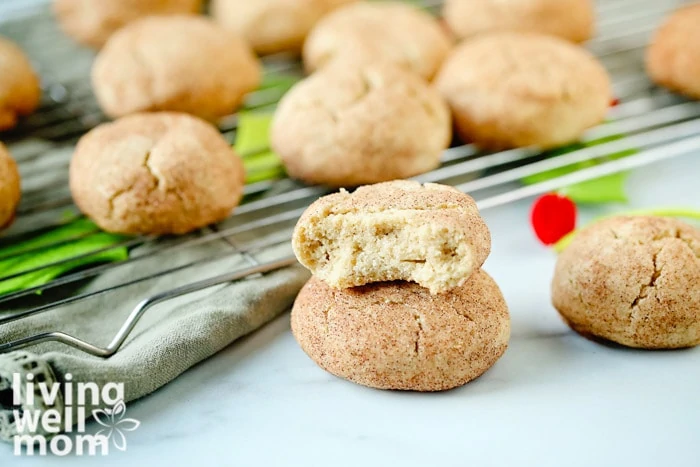 While I enjoy them any time of year, Snickerdoodles are a must-make Christmas cookie recipe too. And I love that they're simple and generic enough that you can make them year-round too (without appearing like a crazy Christmas person — guilty as charged!).
When I begun experimenting with gluten-free baking this was one of the first recipes I adapted. I tweaked batch after batch until it was just right—and I have to confess that I absolutely nailed it on this one!
Luckily it's easy to make this gluten-free cookie, and I even have a dairy-free option listed below if you need it too.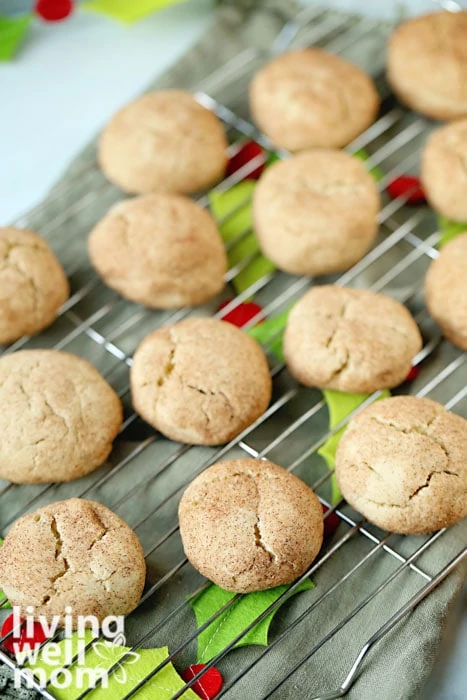 Why This Snickerdoodle Recipe is So Good:
Quick and easy recipe
No fancy ingredients
Chewy on the inside, crisp on the outside
No chill time required (unless your dough is sticky, and even then, you only need a few minutes)
So yummy, you will barely believe they are gluten-free!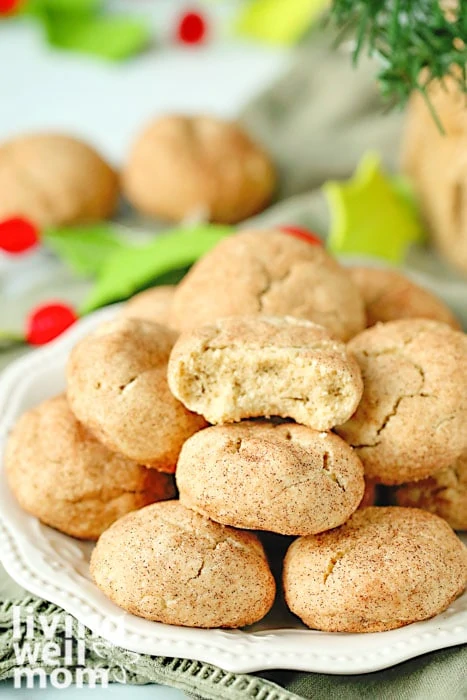 Snickerdoodles Video Tutorial
Want to see for yourself just how simple it is to whip a batch up? Take a look at this video!
Ingredients
Let's get down to our soft and chewy gluten-free snickerdoodle recipe! Here's what you'll need to have on hand.
*Dairy-Free Option – you can use Earth Balance butter substitute if needed (we use the soy-free version). Do NOT soften the earth balance butter. Use it cold.
For the cinnamon-sugar coating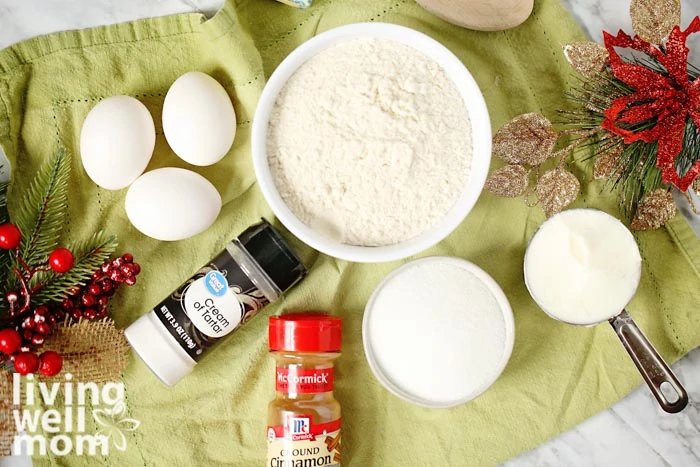 Equipment
How to Make Gluten-Free Snickerdoodles
First, preheat the oven. Then, mix the softened butter and shortening.
Add the sugar, then eggs. Next, mix in the cream of tartar, baking soda, salt, and finally the flour.
Once combined, roll your dough into cookie balls. Keep them as similarly sized as possible so they bake at the same speed.
Now it's time to make the cinnamon-sugar coating!
Mix cinnamon and sugar together in a small bowl, then drop the cookie balls in it to coat them well.
Bake the cookies, and allow them to cool before enjoying.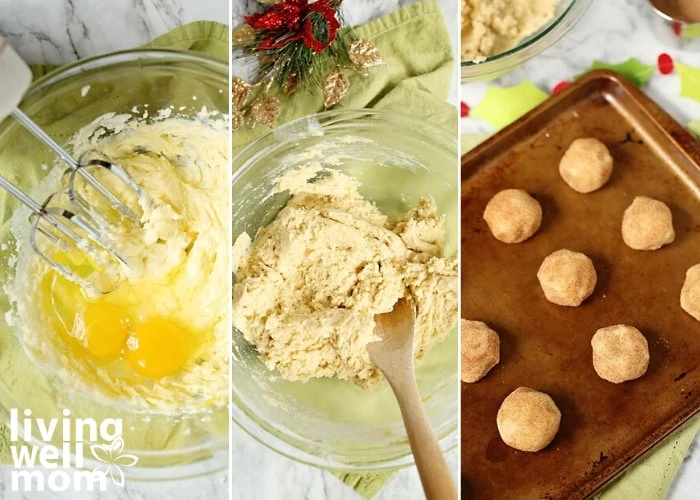 Tips for the Best Snickerdoodles
For the best cookies, do not melt your butter or substitute margarine. Melted butter will cause the cookie to spread out and be too thin. Softened butter will provide a thicker softer result.
To prevent your snickerdoodles from going flat, remember these tips:
1. do not use melted butter
2. do not overmix the snickerdoodle cookie dough
3. warm dough will also result in flatter cookies – chill if needed for 20 minutes before baking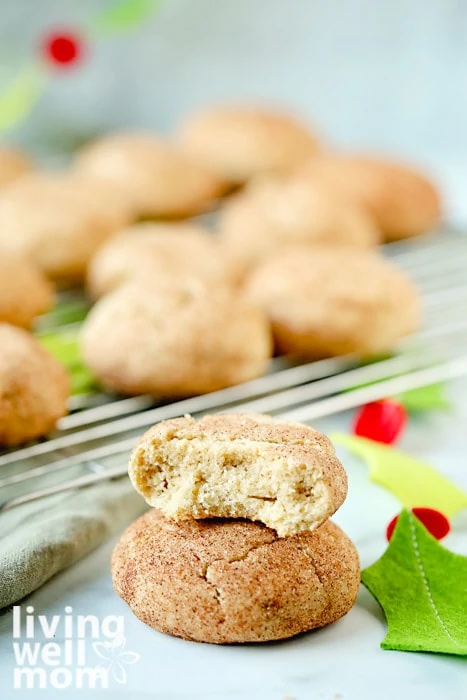 FAQs
How do I test when my Snickerdoodles are done baking?
The easiest method is to simply stick a clean toothpick into the center of a cookie in the middle of the cookie sheet. If it comes out clean, the cookie is done. If there's cookie dough on it, the cookie needs to bake a little longer.
You can also eyeball the cookies – if the tops are set and the edges are beginning to turn golden, the cookies are also done.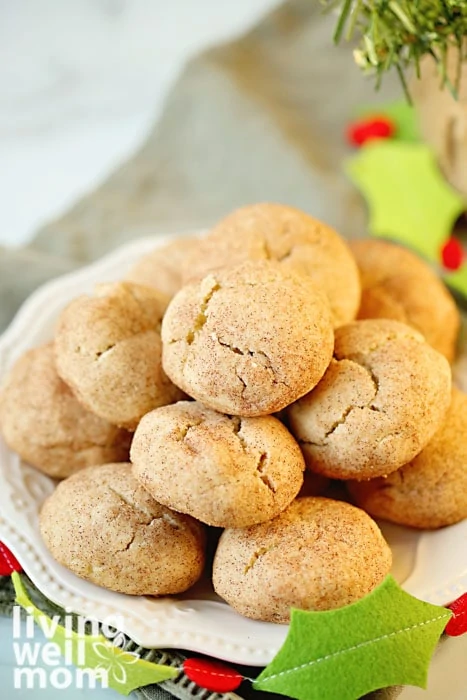 Can you freeze snickerdoodles?
Yes, you can. Cool your gluten-free snickerdoodles completely, then place in a single layer inside a container that's airtight. Place parchment or wax paper in between each layer to prevent sticking together. You can freeze for 1-2 months if needed.
Why do snickerdoodles need cream of tartar?
The cream of tartar adds a bit of tanginess to these cookies and also a bit of chewiness. Without the cream of tartar, the cookies would be more of a sugar cookie with cinnamon then a snickerdoodle.
Can I substitute something else for the cream of tartar?
You can, but I highly recommend that you get cream of tartar. It's inexpensive and easily found in the spice section of your grocery store. Plus you can use leftover cream of tartar for making this easy homemade playdough! As mentioned above, it does have benefits for the taste and texture of snickerdoodles. It's really what makes snickerdoodles well snickerdoodles!
If you insist, you can substitute baking powder for the cream of tartar and omit the baking soda.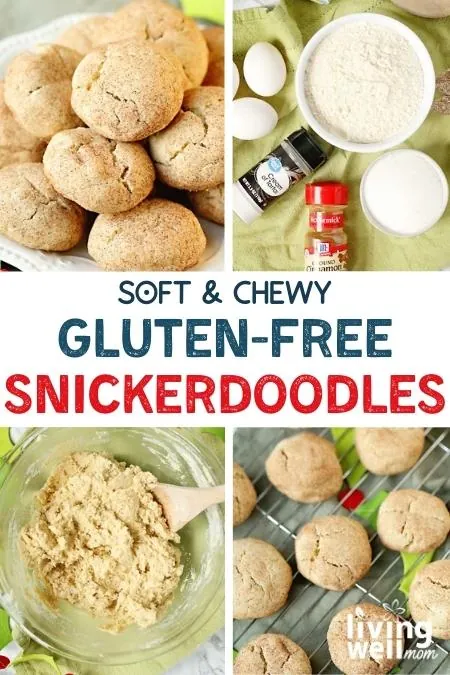 More Glute-Free Cookie Recipes
I hope you enjoy these gluten-free snickerdoodles as much as my family and friends do!
Print
Gluten-Free Classic Snickerdoodles
These gluten-free snickerdoodles with a cinnamon-sugar coating have a soft chewy center and a crisp edge for a melt-in-your-mouth classic cookie that will bring back memories. This quick and easy cookie recipe is so yummy, you won't guess they're gluten-free.
Author:
Prep Time:

10

Cook Time:

10

Total Time:

20

Yield: approximately

24

cookies

1

x
Category:

dessert

Method:

baking

Cuisine:

American
Instructions
Preheat your oven to 375°F.
Beat the softened butter and shortening together in a large bowl. Mix in 1 1/2 cups sugar, then add the eggs one at a time. Mix in the cream of tartar, baking soda, and salt. Lastly, stir in the flour, scraping the sides as needed.
Roll the dough into 1-2″ balls.
In a small separate bowl, stir together the remaining 1/4 c. sugar and cinnamon.
Drop the cookie balls into the cinnamon sugar mixture.
Place about 2″ apart on ungreased cookie sheets.
Bake 8 to 10 minutes or until set. Do not overbake or they won't be as chewy.
Cool on the cookie sheet for 5-10 minutes, then remove from cookie sheet to wire rack to cool completely.
Keywords: gluten-free Snickerdoodles, Christmas cookies, gluten-free cookies, cinnamon sugar