There's certain areas in every home that can be tricky to keep organized. I think the kitchen pantry is one of them. How do you organize your pantry and keep it that way?! It can be a real challenge, especially if you have kids!
For the longest time, one of my big frustrations was not being able to keep my kitchen pantry organized. It would seem that no sooner would I carefully line up rows of cans and various containers then it would get messed up again. And with four kids, if I didn't constantly work at keeping it organizing, it would look like a bomb went off. And I didn't, so it did….quite often.
A disorganized kitchen pantry doesn't just look messy, it can cost you money and time too! You can't easily see what you have or don't. As a result, you'll end up buying extra food you don't need or not buy something you thought you had and end up making an extra trip to the store.
It's so frustrating to be in the middle of making dinner and realize you're out of an important ingredient because you assumed it was hiding in the back of the pantry! (Maybe that's never happened to you, but it has countless times to me!)
You can see why it's important to organize your pantry!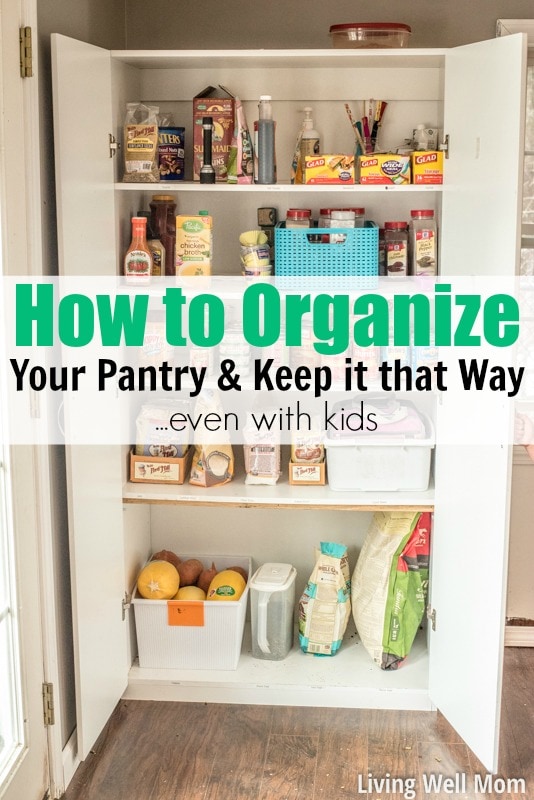 After years of trial and error and a lot of frustration, I've finally figured out a simple trick that really worked to help me organize my pantry and keep it that way! It's not magic, but it's really made a huge difference for me and my family!
How to Organize Your Pantry:
There's two simple steps for how to organize your kitchen pantry.
1) It's rather obvious, but you need to assign a place to everything in your pantry. You can't just shove a bunch of cans on a shelf and call it organized. If you have a few miscellaneous random items, it's okay to group them together, just make sure that's not how your whole pantry is arranged!
2.) Once you've figured out where everything belongs, label it.

All you'll need is a label maker! (If you don't already own one, trust me, it's worth it! My label maker has saved me so much time, hassle, and money because it's helped me stay so organized in such an easy way!)
Labeling is the key to actually keeping your pantry organized. It works because it's a visual reminder of where everything belongs. And not just for you, but your whole family!
I started labeling about 6 months ago and it's been incredibly helpful in keeping it my pantry organized this whole time. (That's never happened before!)
Labeling isn't a guarantee it will stay that way, especially when someone (usually one of the kids) shoves a few things on a shelf without putting them in their proper place, but it's much easier to correct and maintain order.
Here's how I use this simple labeling system for my pantry:
When my husband remodeled my kitchen last year (technically it still isn't done a year later – I will post pictures once it is!), a large pantry was a priority for me. But I didn't want the small in-stock kitchen pantries at Home Depot and we couldn't afford a larger custom order version. So we ended up buying a storage cabinet
and transforming that into my pantry. A few months ago, Nate had to stabilize a couple shelves because they were beginning to sag due to the weight. (That's why you can see a tiny bit of wood under the shelf in a couple of photos.) But it's worked beautifully ever since!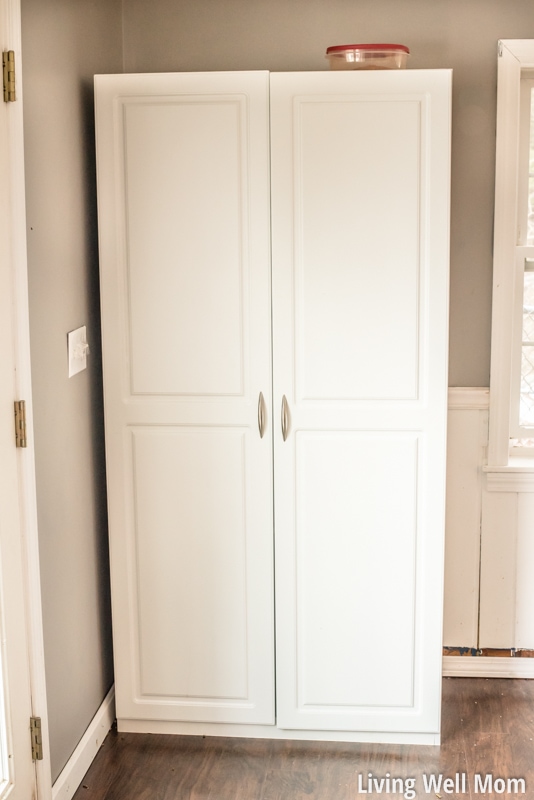 Here's what my pantry looks like inside: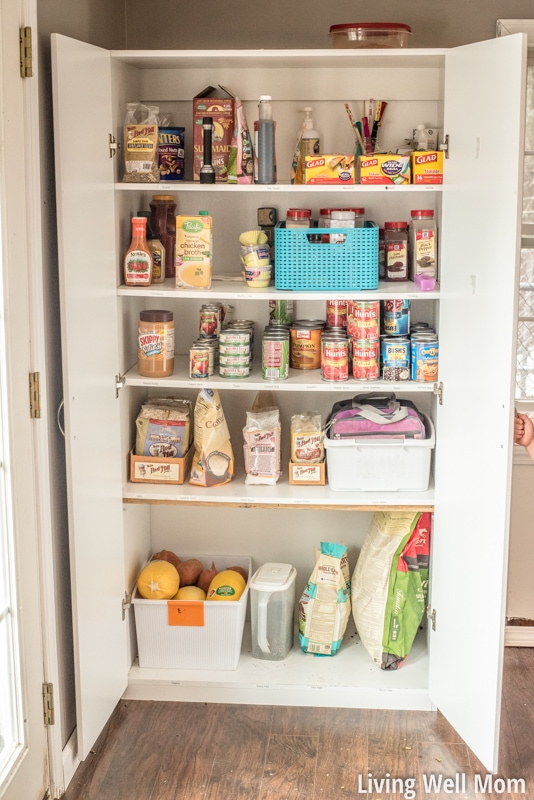 My top shelf has snacks, pet treats, a few miscellaneous items we rarely use (ie a mason jar with chopsticks), and space for individual boxes of plastic bags, since we use a lot for the kids' school snacks and lunches. (One of these days I hope to switch to fabric reusable bags, but I don't have the time for that right now.) Previously our stack of plastic baggie boxes would get shoved into the back and we'd end up with three opened boxes of sandwich bags, etc. By giving each size it's own label and spot, it's eliminated that problem.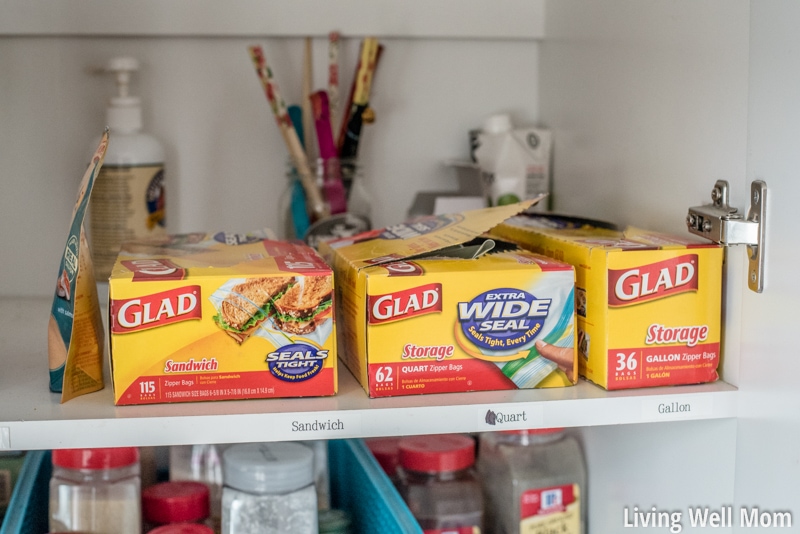 The next shelf has a spot for extra spices in a large plastic bin (and room for extras), baking materials like muffin cups, my kids' vitamin containers….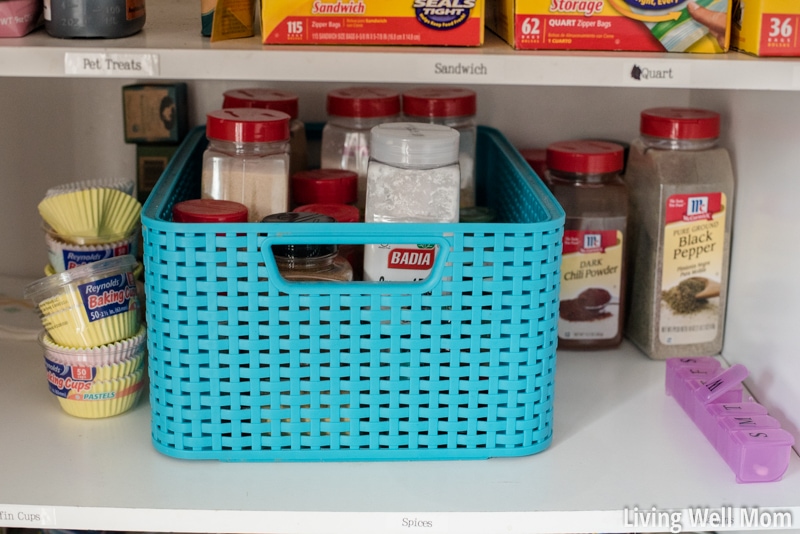 ….and (unpictured) space for "condiments" which is basically my miscellaneous area for things like hot sauce, salad dressing, chick broth, etc.
Then we have our cans and peanut butter. This shelf has benefited the most from labels because they used to get so mixed up before! You can see my mix of organic and non-organic food. I so wish we could do all organic, but we just can't afford it.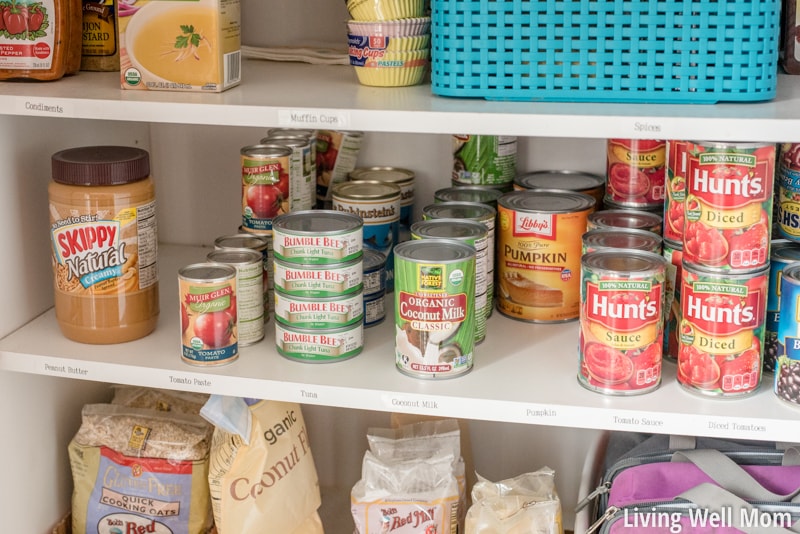 Next is my baking shelf with oats and various grain-free flours. There's also a large plastic bin for the kids' lunch boxes. Luckily one bin fits all four lunch boxes perfectly.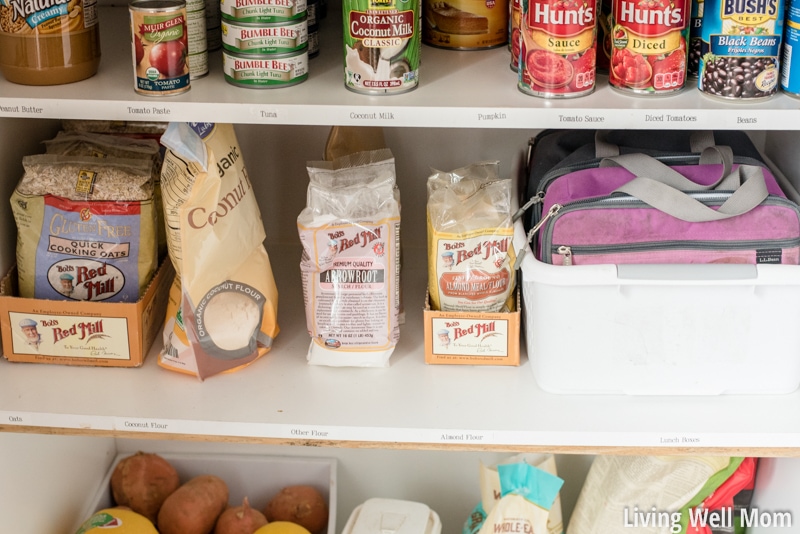 The bottom shelf has a large bin for produce – mainly squash and sweet potatoes. And then there's the pet food. I need to figure out better containers for the dog and cat food that will fit in here, but this is what we do for now.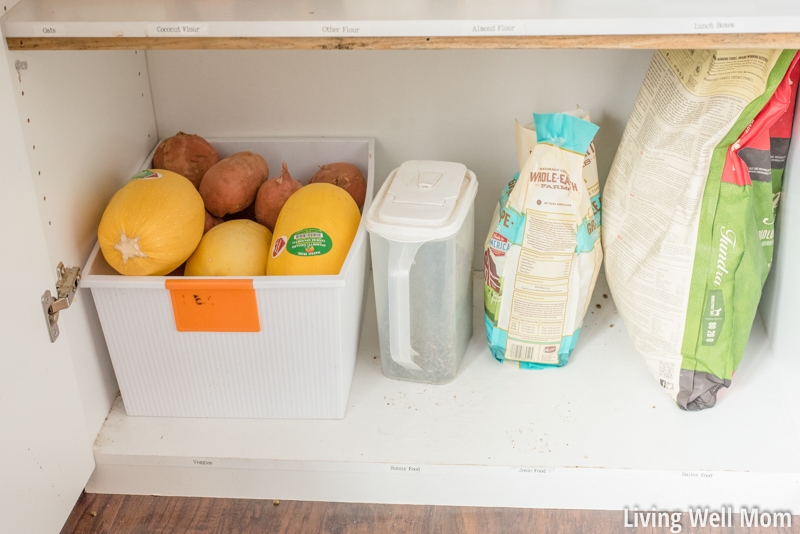 My Joshua was a wonderful helper and put the labels on and also helped sort and put everything away. He does this each week after I go grocery shopping too.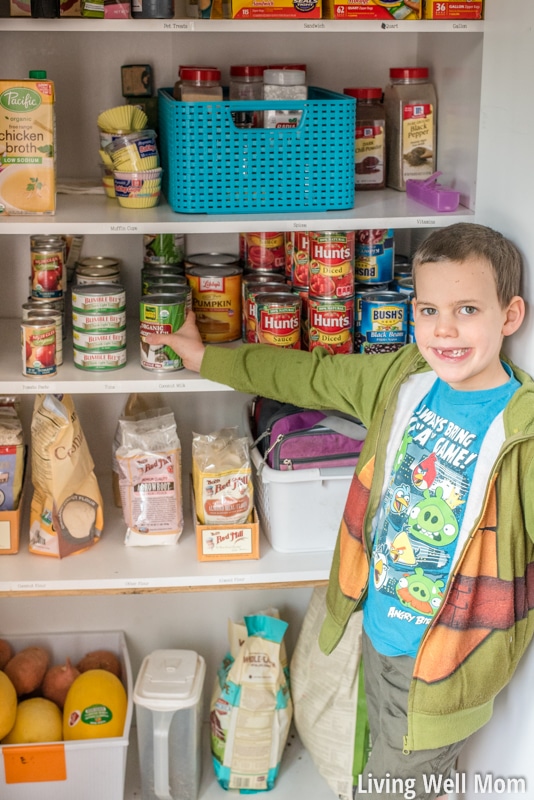 I love that simple labels have not only helped organize my pantry, but they've also encouraged my kids to put things away properly and help out the family. As an added bonus, it's encouraged Joshua with his reading too!
Did you ever think it would be as simple as this to organize your pantry?!