I'm still working on slowly getting our home more efficiently organized and things are coming along nicely.
One of those smaller projects involved organizing the tea shelf in my cupboard. I love drinking herbal tea but I do not like how the tea boxes clutter up my cupboard.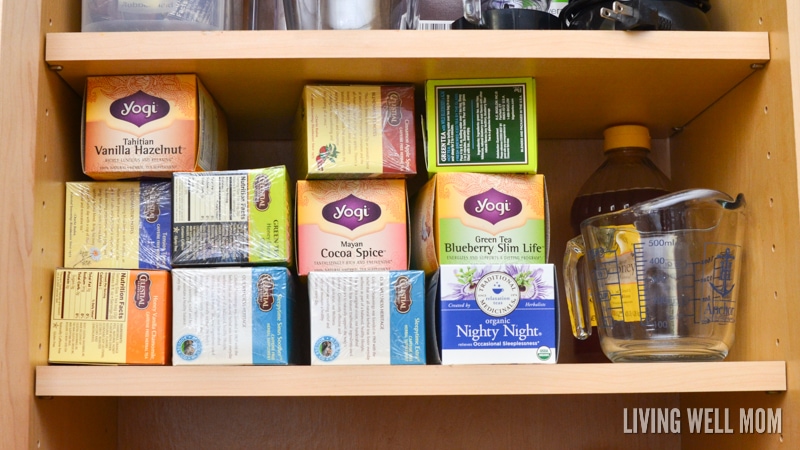 There were a few issues with my old method of tea storage. The tea boxes took up a lot of room in my cupboard. I couldn't offer visiting friends and family a selection of tea without the whole load tumbling down. And it was hard to tell how much tea was left. I've reached into a box only to discover it's empty, more times than I can count. Naturally, I blame that on Nate. 🙂
First, I searched online for tea organizers. I tried Amazon
. I looked at Bed, Bath, and Beyond. I couldn't find one tea organizer that would do what I needed, fit my cupboard space, and fit my budget.
What I needed was a simple frugal solution for organizing my tea.
So I looked at what I had on hand and came up with this easy idea. The cost? Less than $1.00. Now that's what I call frugal!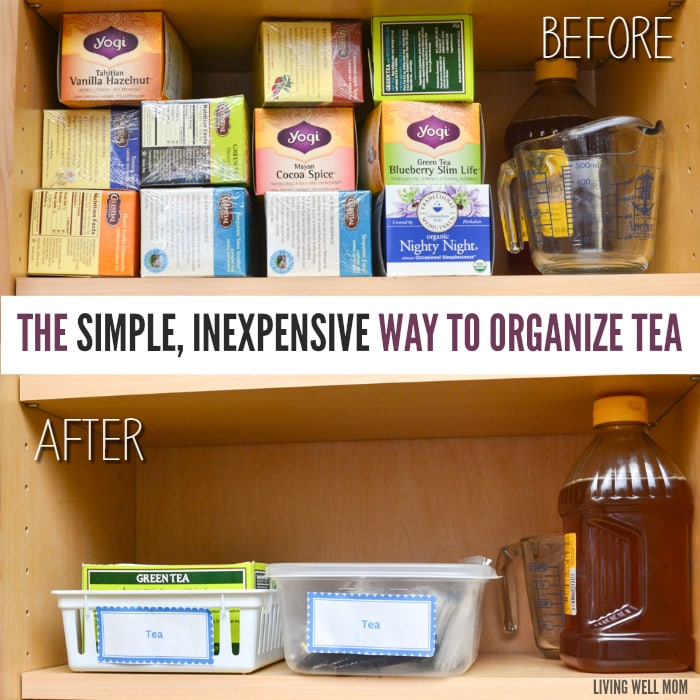 What You'll Need to Organize Your Tea:
I used a plastic container for one organizing bin. And the other is a simple white bin from Walmart. I love these little bins and I use them in almost all of my cupboards.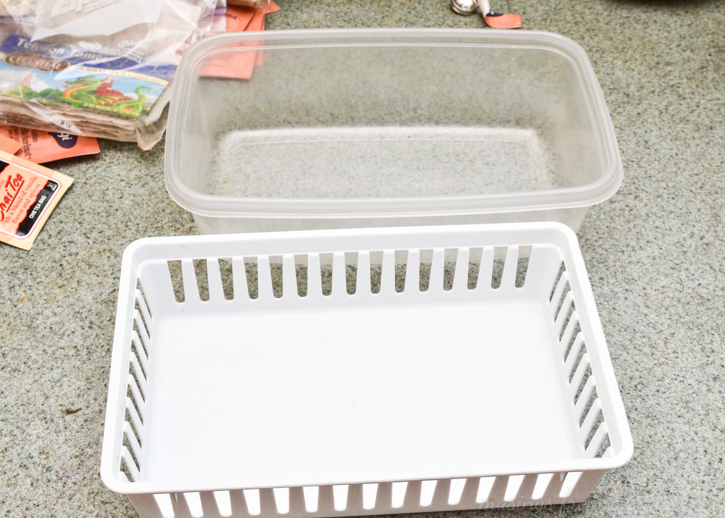 The individually-wrapped tea bags were the easiest to organize. I cut the lids off a couple tea boxes and sorted the tea using the tea boxes themselves.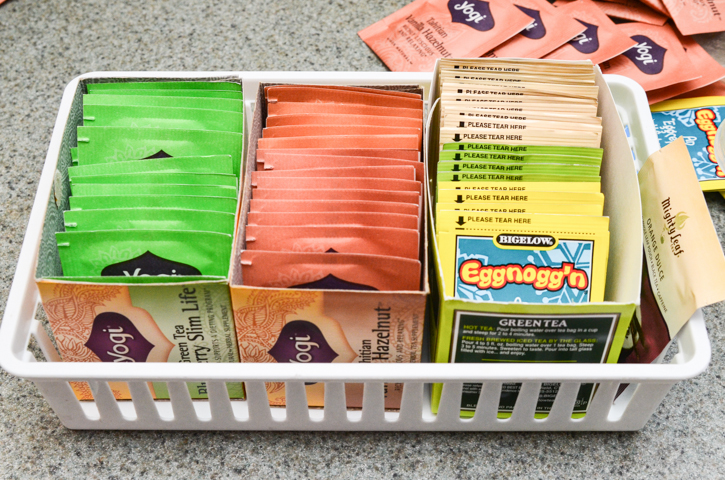 Extra tea went into a large zippered bag that I keep in my storage pantry. When I need to restock my tea shelf, it's easy to find exactly what I want.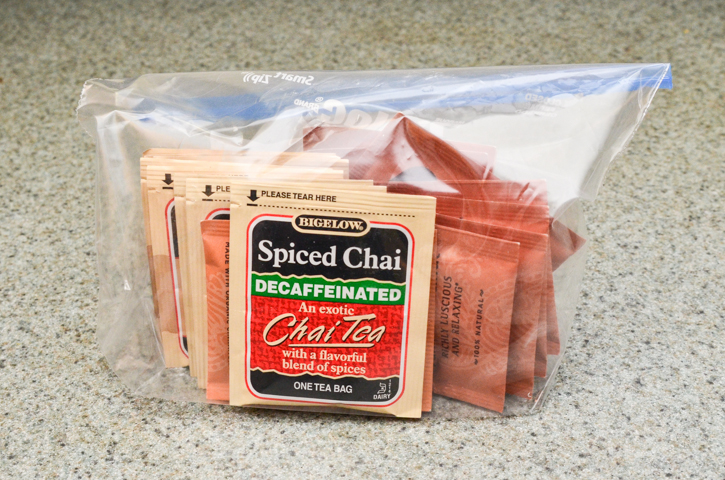 It's one thing to organize individually wrapped and labeled tea bags. But how would I organize tea like Celestial Seasonings that aren't wrapped?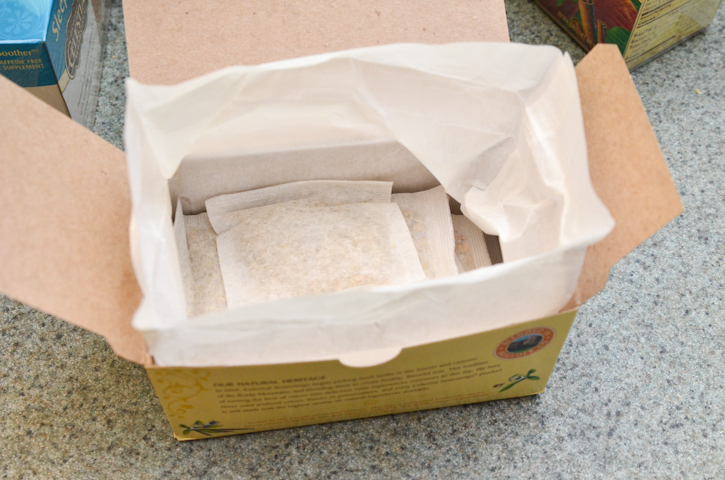 One full box of Celestial Seasonings tea fits nicely into a zipper sandwich bag. By cutting off the labeled side of the tea box and putting it in the bag, the tea was now labeled and sorted nicely. Problem solved!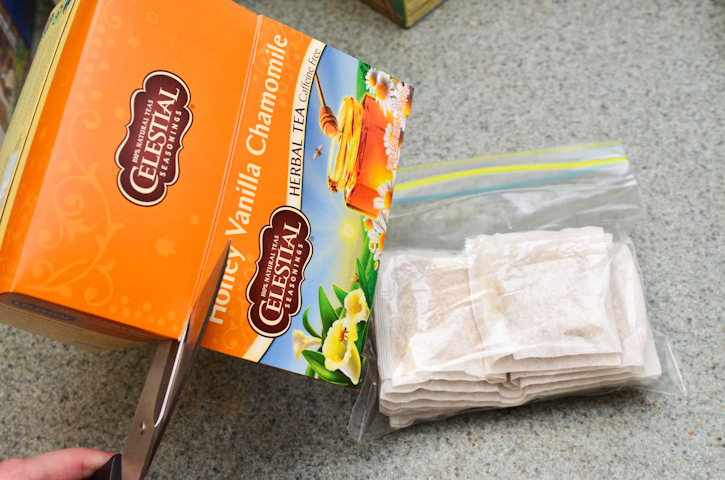 This method of organizing only takes a few seconds to do. Plus I only need to cut up the tea box when I buy a new variety, as I can reuse the bag and box label again and again.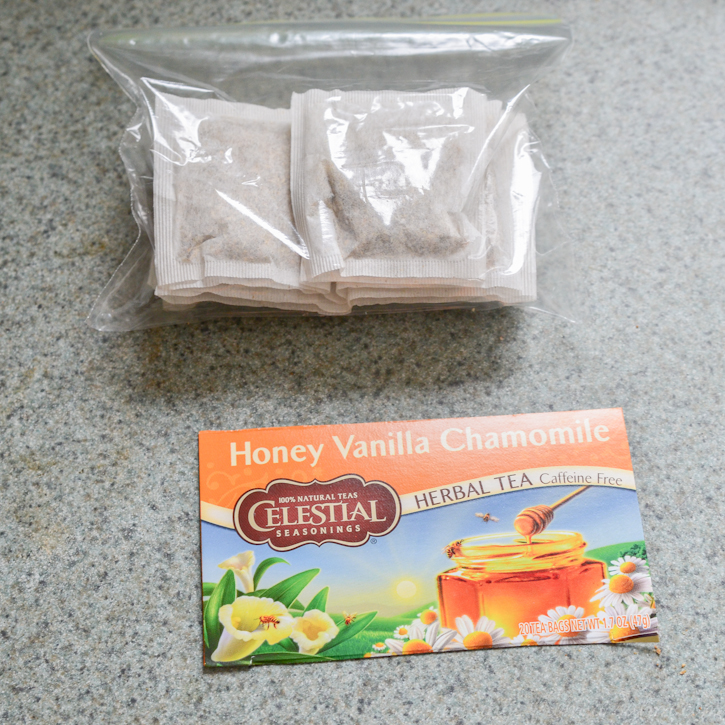 I was able to condense all my Celestial Seasonings tea boxes down to one small plastic bin. It's a huge improvement!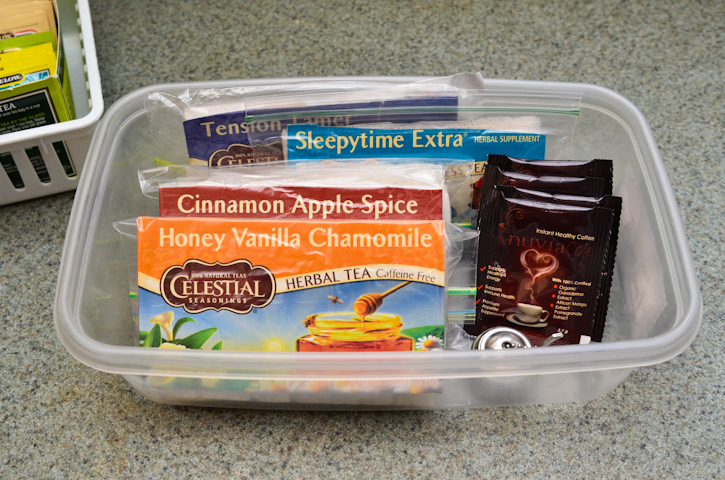 I love how organized my tea shelf is now.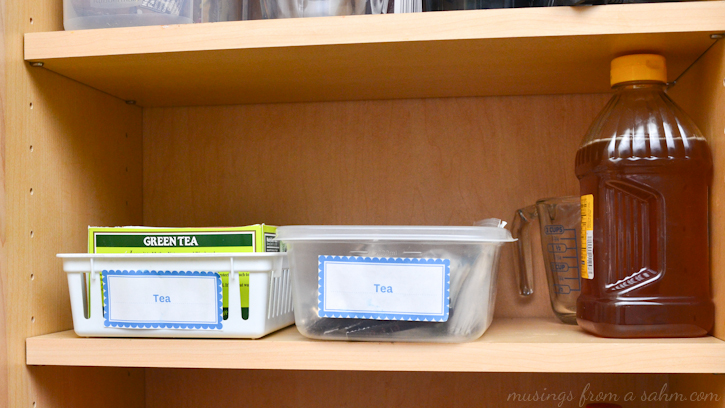 Not only can I find everything in a glance, easily hand one or both containers to guests as they choose which tea, and see exactly when I'm running low and need to buy more, but now I have more space in my cupboard!

The beauty of this organizing system is you can change it to whatever works for you. Use a storage bin or plastic container around the house that will fit your space or go buy a $1 bin a the store. Or two or three. It's up to you.
What's your favorite way to organize tea bags?