Looking for a chicken recipe that's easy to make and sure to impress? Look no further than huli huli chicken! This tender, juicy Hawaiian chicken dish is packed with flavor and perfect for a family dinner or barbecue.
The secret is in the marinade, which is a sweet and savory blend of soy sauce, brown sugar, ginger, and garlic. It is super quick to put together! Once the chicken is marinated, it only takes a few minutes to cook on the grill.
This is a recipe I've been making (and loving) for months, and I just had to share it so you can enjoy it too! Trust me, this is a recipe you're going to want to add to your recipe binder ASAP!
Super easy marinated chicken
I have a confession to make…I had never grilled or cooked marinated chicken until this past summer.
I don't know why. We could have easily tried a pre-made marinade from the store – there are millions of options out there! But I never did.
My mother never did either, so I guess I just never learned.
But geez, was I missing out!
This past summer, I decided to finally give it a try after some encouragement from friends. I looked up some recipes and tried a couple. They were pretty good, but not GREAT.
I wanted something sweet yet savory. Not too sweet, but with plenty of flavor. I like flavor – lots of flavor! And I really like recipes where it's easy to tweak how much flavor.
Then I found a recipe for grilled Huli Huli chicken.
It had two of my favorite flavors – ginger and garlic. And the combination of other ingredients made it the perfect sweet and savory marinade that I was craving.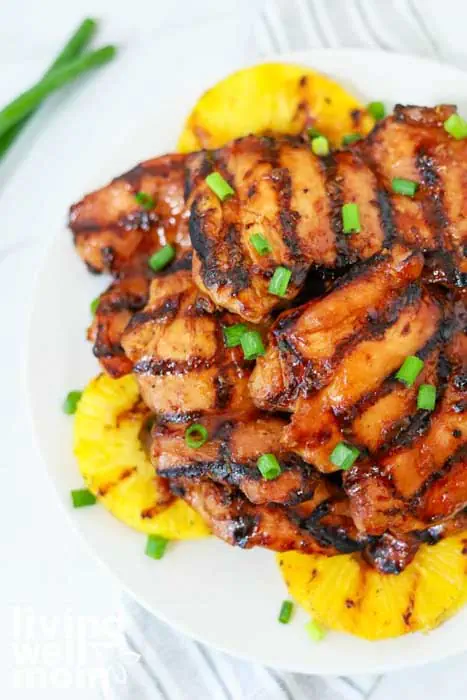 I tried it a few times, tweaked it, and finally got the perfect combination.
Friends, my whole family adores this recipe. We love it so much that we make it every single week. We've made it weekly for the past 10 weeks, and we all STILL love it.
I usually make a double batch with 6 pounds of chicken for the 5 of us because it gives us leftovers too. My husband loves to throw it into salads for a healthy lunch the next day.
Even my super picky youngest kid loves this recipe! He's 12 and all about "beefing up." I've been encouraging him to eat more protein, and this has been a GREAT way to get more protein into him.
Anyways, if HE likes it…I bet your family will too. 😉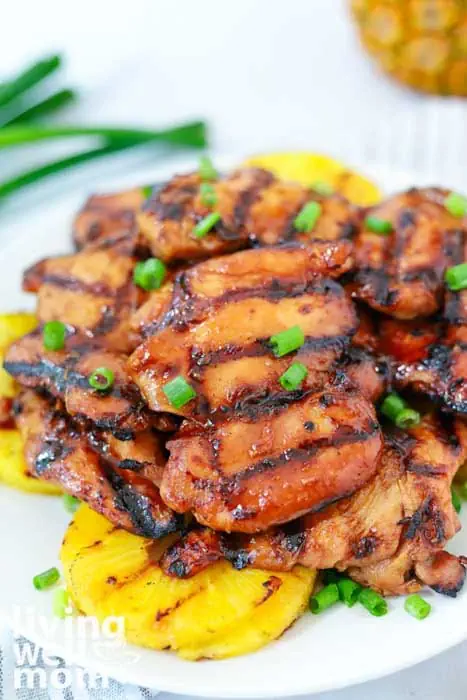 Watch the video
Just so you can see for yourself how easy this Hawaiian chicken is to make, I put together a video for you!
What is Huli Huli Chicken?
Huli Huli chicken is a Hawaiian-style barbecued chicken recipe. As a literal translation, "huli" means "to turn," so huli huli chicken could technically be any chicken that's turned over a grill.
That being said, the phrase now commonly refers to a sweet and tangy chicken that's marinated in a delicious savory-sweet combination of sauce that's similar to teriyaki (but much more flavorful, in my opinion!).
Like I said above, what makes this chicken so fantastic is the sauce.

There are many different takes on the perfect huli huli marinade, some with pineapple and some without. I opted to leave pineapple out of the marinade because the brown sugar adds the perfect amount of sweetness to this Hawaiian chicken.
That being said, I still enjoy grilling up some pineapple and adding it to the plate for added flavor and color!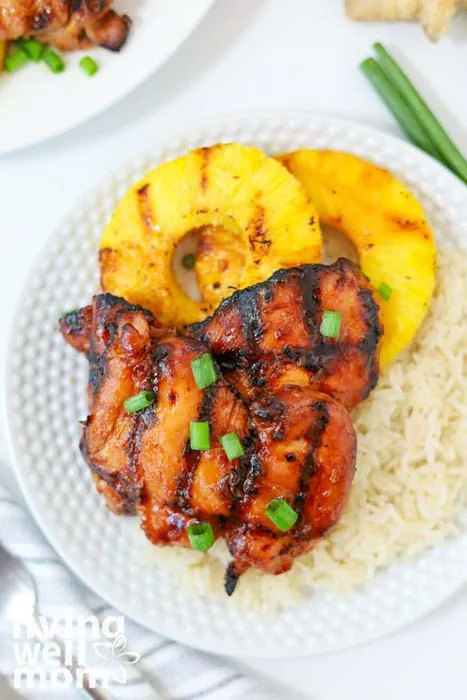 Want a pineapple chicken recipe? Give this Aloha Pineapple Chicken a try—it's sooo good!
Hawaiian Chicken Ingredients
Reduced sodium soy sauce – If you dislike soy sauce, you can substitute coconut aminos. You'd want to decrease the brown sugar to about ⅓ cup, so it's not TOO sweet. I often substitute coconut aminos for soy sauce in recipes, but I do prefer soy sauce in this marinade.
Water or chicken broth – While chicken broth definitely adds better flavor, I usually just use water because if I open a whole carton of chicken broth for just this, the rest tends to get wasted, which I hate. If you can time it so you're using the rest of the chicken broth for another meal soon after, that'd be ideal. (May I suggest this yummy chicken and dumplings casserole?).
Grated fresh ginger – Here's my crazy-busy-in-a-rush-mom-hack for ginger: I wash the fresh ginger well, and I don't peel it. I know you're supposed to, but I hate peeling those small uneven pieces. It just takes too long and slows me down. I just wash it and grate it with a regular old carrot grater. It's much faster. I've tried it both ways, and to me, there's no difference in taste. You only need a tablespoon, so it's pretty quick this way. Feel free to peel if you prefer. You do you, I'll do me. 🙂 I'll also add that I LOVE ginger, so I double the amount and use 2 tablespoons, but I would recommend starting with just one. Lastly, you can also use ginger paste if you don't want to mess with fresh ginger. This is the ginger paste I use, although it's WAY cheaper in the grocery store, so I recommend you get it there!
Minced garlic
Boneless, skinless chicken thighs – You can also use chicken breasts, but I find the thighs are much more tender and flavorful.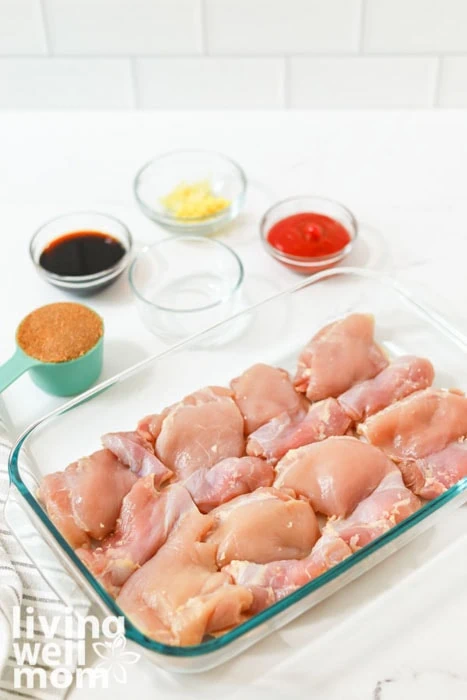 Instructions
Remember, this Hawaiian chicken recipe is all about the marinade! That being said, you will want your chicken to marinate for at least 6 hours for the best flavor possible!
Of course, you can let it marinate for longer. If I know we have a busy day, I'll prep the chicken the night before so it's actually marinating for around 24 hours.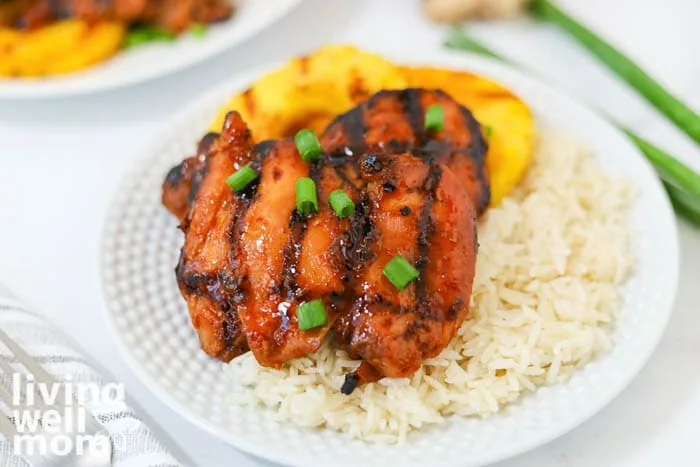 Once, I left the chicken in the marinade for 2 nights because our plans changed, and it was still delicious. So don't worry if you end up marinating your chicken for longer.
Thankfully, whipping up the marinade is super easy!
Make the marinade
All you need to do is mix the brown sugar, ketchup, soy sauce, water, ginger, and garlic in a small bowl.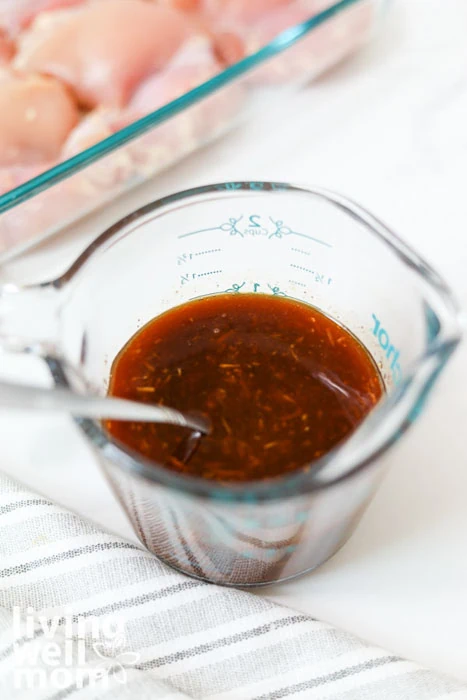 Set aside ¼ cup or so in a mason jar or small bowl and stick it in the fridge. You will use this for basting later on.
Prep the chicken
Next, prep the chicken. I use boneless, skinless chicken thighs, so prep work is pretty minimal. But trim the fat as needed.
Then, place the chicken in a large bowl or a 9×13" baking dish. Pour the marinade over the chicken, then turn or stir so as much chicken as possible is coated by the marinade.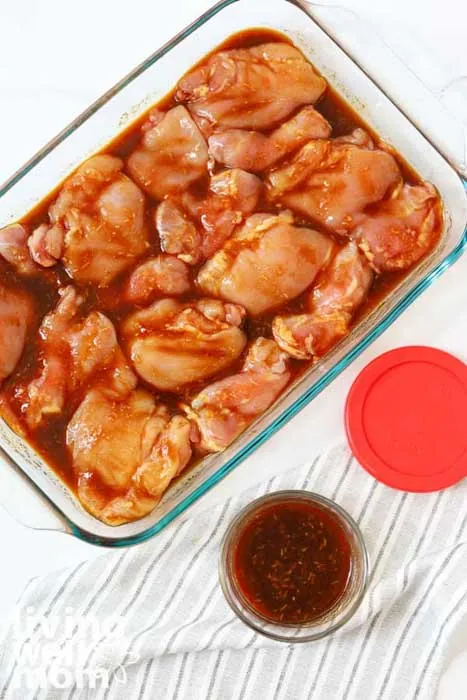 Once your chicken is coated, cover it in plastic wrap. I like to tightly wrap the plastic around the chicken so it locks in the flavor! Then, refrigerate for at least 6 hours, if not longer.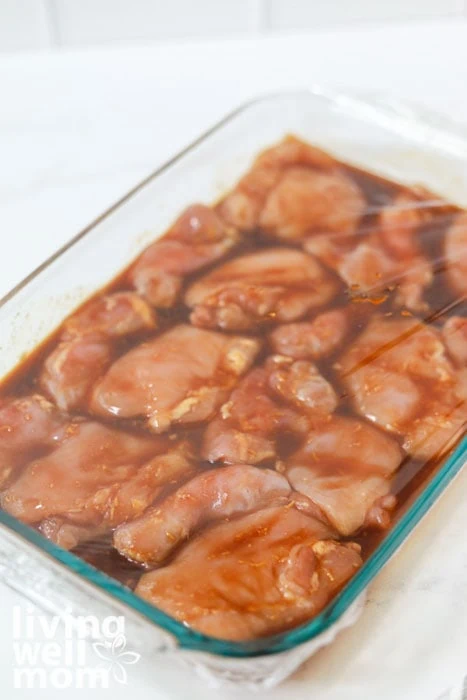 Note: The chicken is not wrapped tightly enough in these photos. You want as little air as possible—it really does make a difference! Wrap the chicken TIGHT.
Grill the chicken
Once the chicken has had the time to soak in that marinade, it's time to grill!
To do so, oil your rack and heat it over medium. Grill for about 5-8 minutes per side (the time varies depending on how thick the meat is).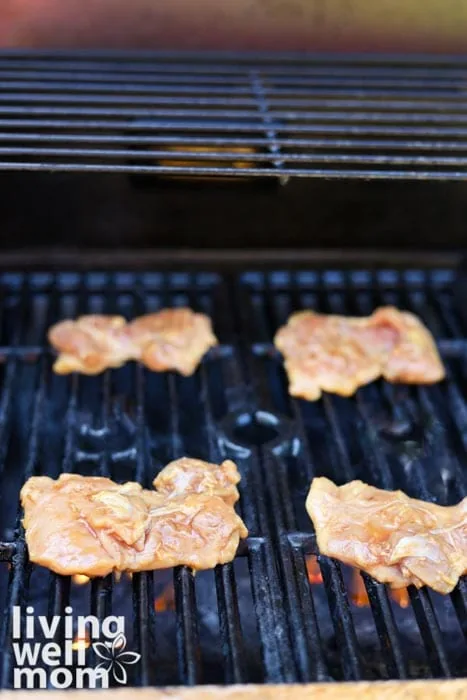 You will know when it's done when a thermometer inserted reads 170 degrees.
During the last 2-3 minutes of grilling, baste the meat with a brush and the extra marinade you set aside in the fridge.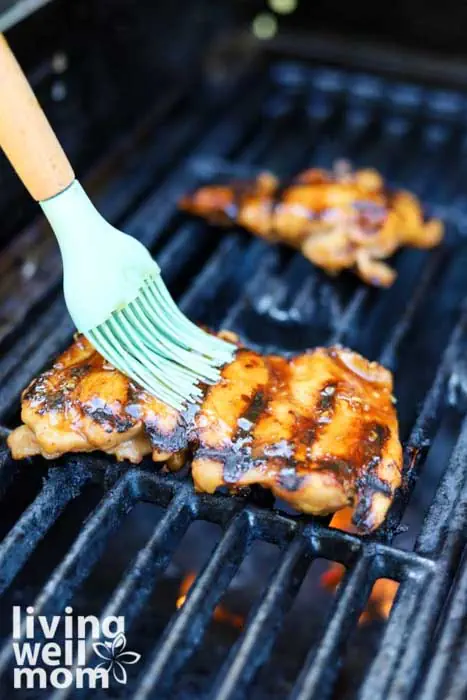 That's it! Serve immediately and enjoy.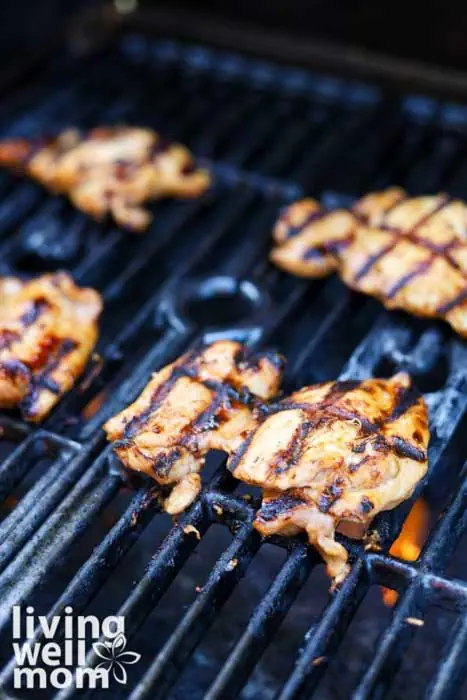 Best sides for Huli Huli chicken
One of the best things about this dish is how versatile it is! For summer cookouts, I like to serve this with corn-on-the-cob, potato salad, cole slaw, baked beans, and a fresh summer salad.
But this is not just a summer grilling recipe. You can make this any time of the year!
You can also serve it with rice, on a bun as a sandwich (it's great topped with coleslaw!), or over greens as a salad. It's hard to go wrong!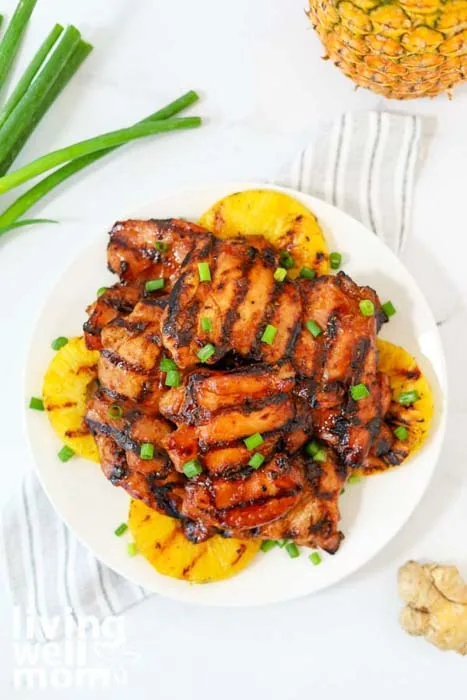 More easy + flavorful chicken recipes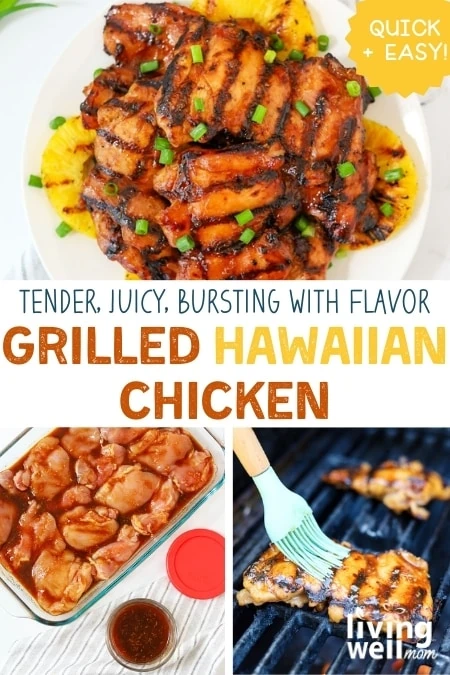 Print
Grilled Huli Huli Chicken (Easy Marinated Hawaiian Chicken!)
This Hawaiian chicken recipe is one the entire family will love! Huli huli chicken is ultra flavorful and tender, and is oh-so-easy to make.
Prep Time:

10 minutes

Marinate:

6 hours

Cook Time:

15 minutes

Total Time:

6 hours 25 minutes
1/2

cup packed brown sugar

1/3

cup ketchup

1/3 cup

soy sauce, reduced sodium

1/4 cup

water or chicken broth

1

–

2

tbsp grated fresh ginger

1

–

2

tbsp minced garlic

3

lb chicken thighs, boneless skinless
Instructions
Prepare the marinade at least 8 hours in advance. I like to make it the night before so the chicken can marinate overnight.
Mix the brown sugar, ketchup, soy sauce, water, ginger, and garlic in a small bowl.
Set aside ¼ cup or so in a mason jar or small bowl for basting later; store in the refrigerator.
Prep the chicken – trim fat as needed.
Place the chicken in a large bowl or 9×13" baking dish. Pour the marinade over the chicken thighs; turn or stir so as much chicken as possible is coated by the marinade.
Cover in plastic wrap – I like to tightly wrap the plastic around the chicken so it locks in the flavor – and refrigerate for at least 6 hours or overnight.
When you're ready to cook, grill the chicken on an oiled rack over medium heat for 5-8 minutes on each side or until a thermometer inserted reads 170 degrees. Your grill time will vary depending on the size and thickness of each piece. Baste occasionally with the saved marinade during the last 2-3 minutes of grilling.
Serve immediately; enjoy.
Keywords: huli huli chicken, hawaiian chicken