I've tried many playdough recipes over the years with my four kids and I always come back to this one. This homemade playdough recipe is soft, lasts a LONG time, doesn't stain little hands, and uses common ingredients you probably already have.
Plus it's super quick and easy to make (you can make a batch in about 5 minutes) and much cheaper than buying ready made playdough.
And it's just plain fun to have the kids help you make their very own playdough recipe!
This post has a lot of information so use this list to skip ahead for easy navigation: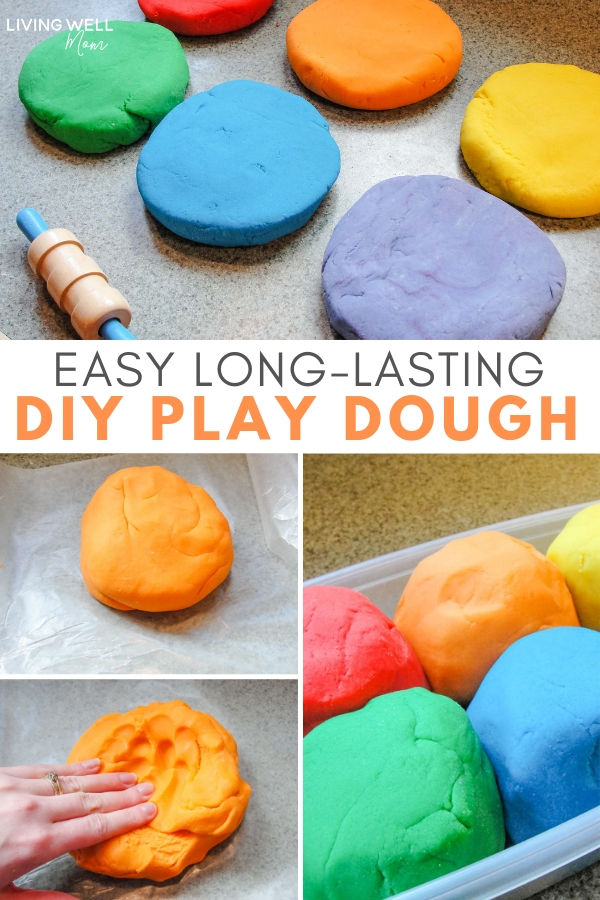 I love doing fun things with my kids, but I don't do DIY stuff as often as I'd like because of time and the mess. Honestly, I have enough messes to clean up as it is without purposefully adding to it!
Yes, I look on Pinterest and see all these cute craft projects and ideas for kids. Then I pin that glitter project that's momentarily caught my eye. For a fleeting moment, I contemplate actually attempting it. And then the realist in me takes over and I know it's not going to happen.
Can any of you relate? We'd all love to be those fantastic crafty moms but the simple truth is most of us are just too tired and busy.
If that's you – or even if you are an amazing crafty mom (my hat's off to you!) – then this DIY playdough recipe is for you.
Homemade Playdough Video Tutorial
Why DIY play dough?
In my experience, this play dough recipe doesn't crumble and make as big of a mess as the store bought "Play-Doh". It also lasts longer – we have a batch from well over a year ago that's still going strong!
Store bought playdough can get expensive especially if you have multiple kids as I do. Those containers are small and if your kids leave the lids off those tricky to snap on lids, it dries out.
Homemade play dough is easy to make and super easy to store. Just drop it in a ziploc bag and it will last for months!
I found this recipe a long time ago and after a few modifications, it's truly become the best homemade playdough we've ever tried. And with four kids, we've gone through a lot of playdough!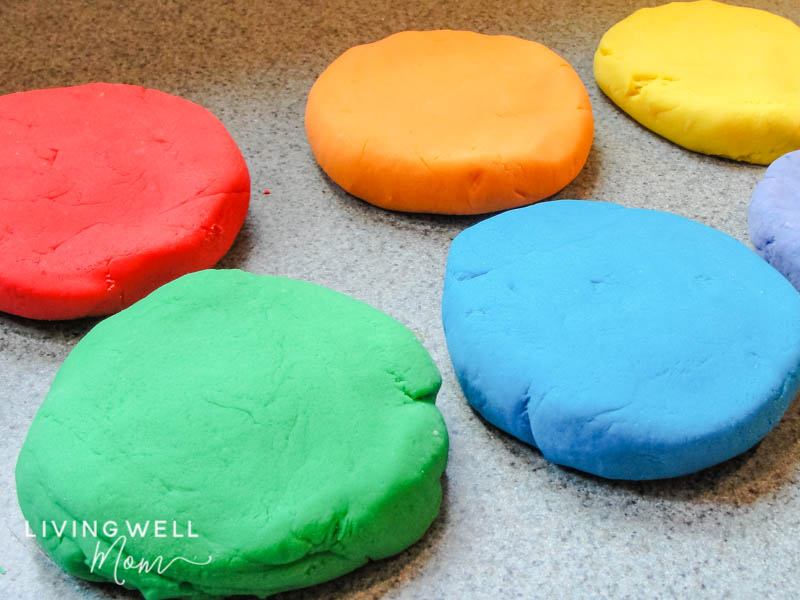 Natural Homemade Play Dough
Of course, homemade play dough is non-toxic too.
If you prefer knowing exactly what ingredients your children are playing with, this play dough is for you. The ingredients are simple, common household ingredients you probably already have around your house. This makes this playdough a perfect natural play option.
Because this recipe is preserved with salt, it will taste very salty, meaning your children will probably have no desire to eat it. (Of course, you should always supervise young children playing.)

How to Make Playdough
This homemade playdough recipe is so quick and easy to make, you can make a full batch in less than 10 minutes and your kids will love playing with it for hours!
I often make 4-6 batches in just 30 minutes because once your pan is heated up, you can whip up batch after batch very quickly.
Homemade Playdough Ingredients:
One batch of this homemade play dough makes a large amount, about equal to 2-3 storebought containers.
Tip: you might want to halve this playdough recipe if you want to use different colors. I made 6 batches of the full recipe because my four kids wanted multiple colors, plus it's nice to have more dough to go around.
*I highly recommend buying a large container of cream of tartar, such as this one; it's much cheaper than the tiny ones from the grocery store!
**I highly recommend using gel food coloring; not only does it last a LONG time (a little goes a long way), but you'll need gel food coloring if you want the vibrant colors you see in this post.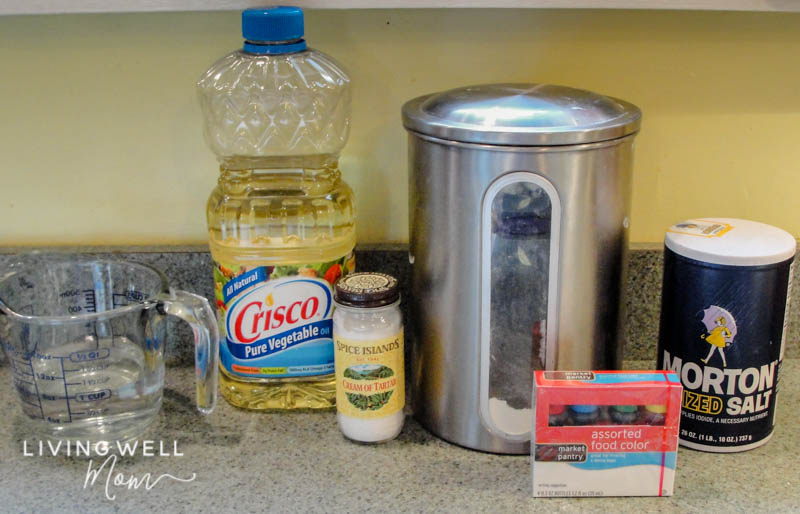 Step by Step Directions
1. Add flour, cream of tartar, and salt to a saucepan
Add 1 cup of flour, 2 teaspoons cream of tartar, and 1/3 CUP of salt* to a 2-quart saucepan.
*Yes, that is 1/3 cup of salt. If you use 1/3 teaspoon or tablespoon, you'll end up with very sticky play dough. The salt works to keep your homemade playdough from sticking and also helps preserve it, so you definitely want the full amount.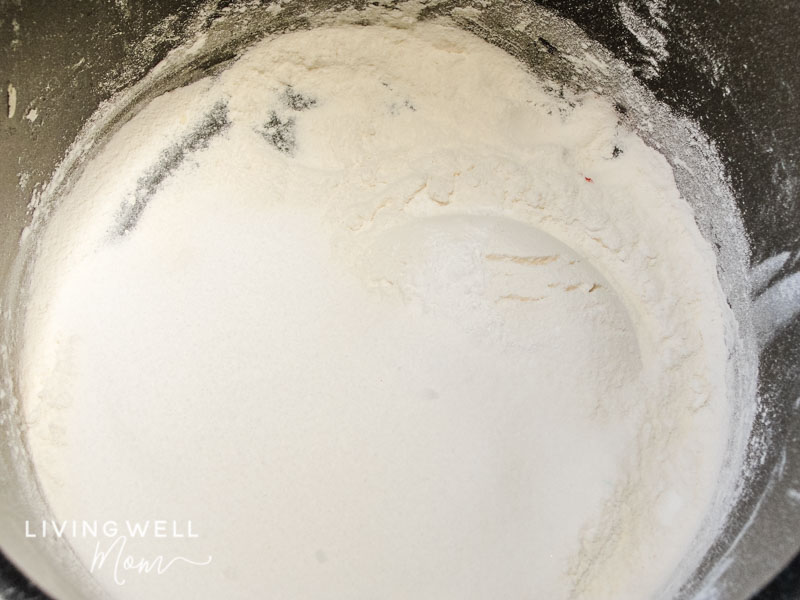 2. Add water, vegetable oil, and food coloring.
Add a few drops of food color to 1 cup of water, then stir into the flour mixture along with 1 Tablespoon vegetable oil.
Tip: I've adjusted the original recipe to include adding the food coloring in this step as it's even easier to evenly blend the color into your playdough compared to waiting later. Thanks to the readers who suggested this! (This update is why the photo instructions aren't colored yet.)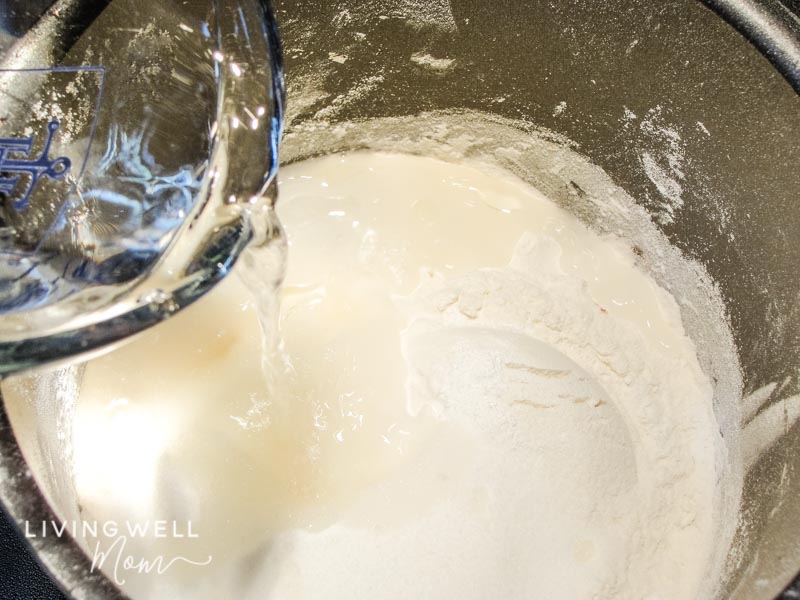 3. Cook and stir until your playdough starts to solidify.
Heat your burner to medium/low and stir.
It will be a little lumpy. That's okay.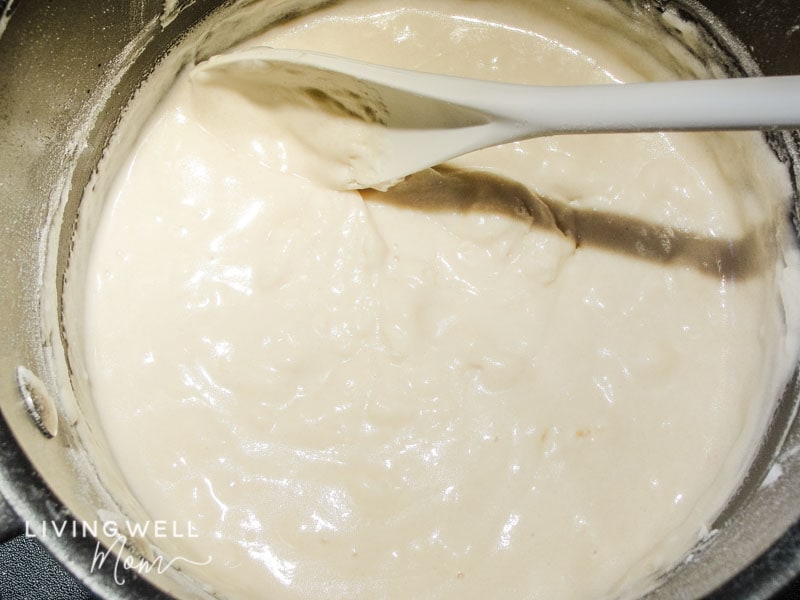 Keep stirring until it starts getting a little solid. If there are still a few lumps, that's ok – you can work them out later.
If your stove is already hot or you have a gas stove, this will only take 20-30 seconds, but it may take 2-3 minutes if your electric stove is still heating up.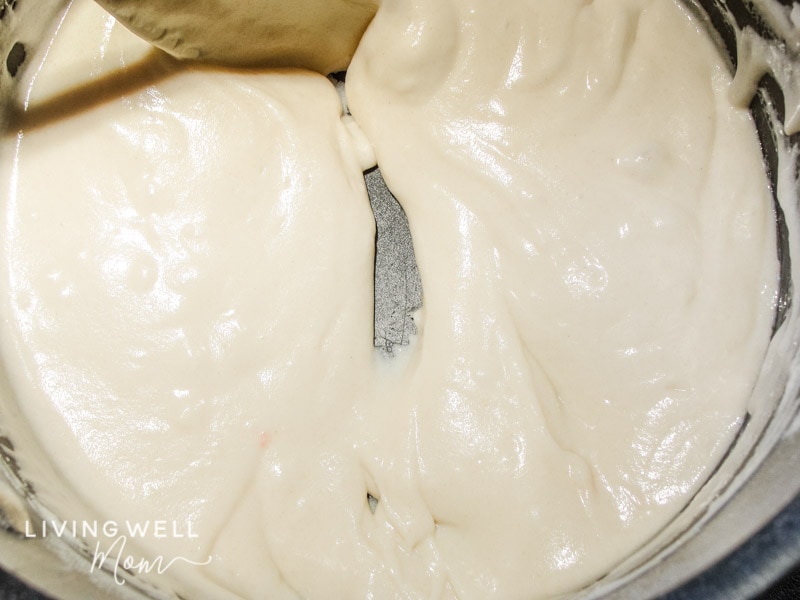 4. Keep stirring.
Keep stirring your play dough mixture.
As you can see, I USED to add the food coloring at this point – and you can too – however it IS easier to add it along with the water.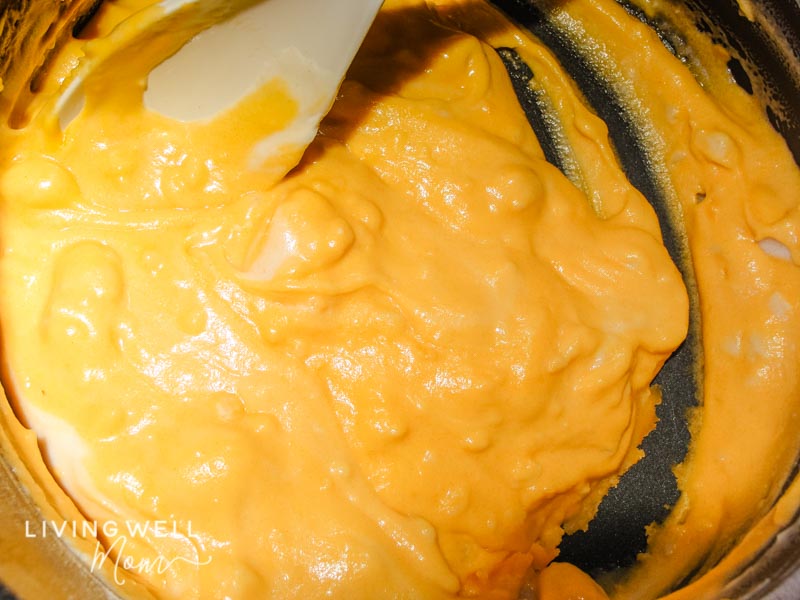 Now the dough will start becoming thicker and a little lumpy. Just keep stirring.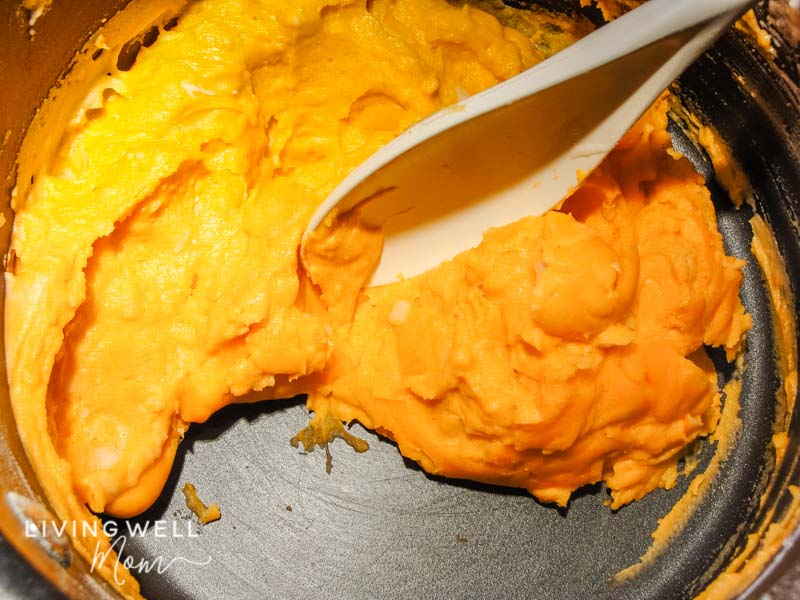 Once the dough starts gathering together around the spoon you know it's done. This may be 20 seconds or 2 minutes; it depends on how hot your stove is.
My first batch of easy homemade play dough took a bit longer, but once we got going, it literally only took a few seconds and a total of 2 minutes from start to finish for each batch.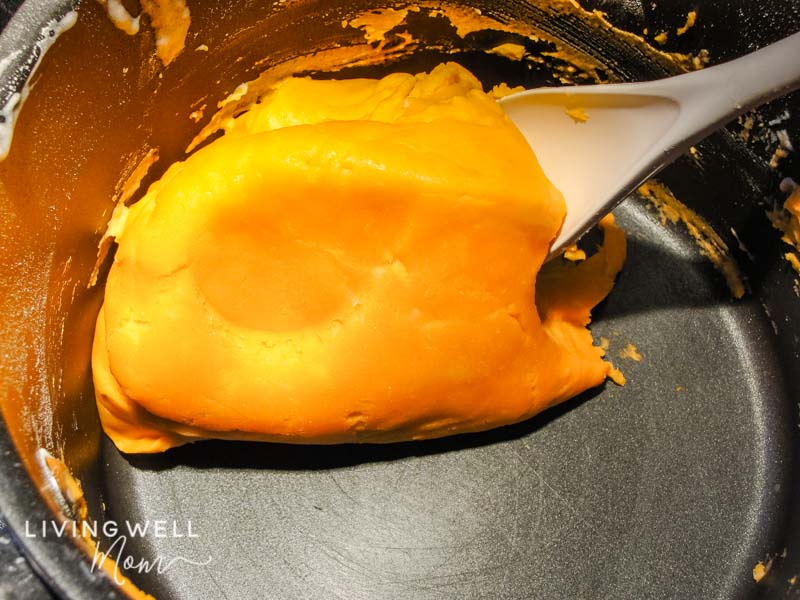 5. Remove from the saucepan and cool.
Remove your homemade playdough from the saucepan and put it on some waxed paper or a plate to cool.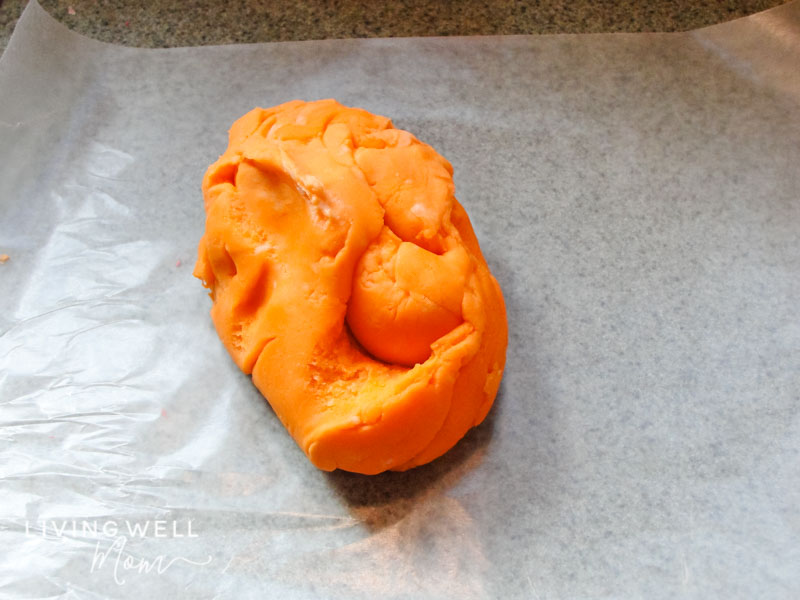 6. Squish and knead your doh to remove lumps
Once it's cooled, I like to knead the play dough for a minute or two to get out any lumps and to get it to a better consistency. Then again it could just be my excuse to squish it myself before handing it over to the kids…it is kind of fun.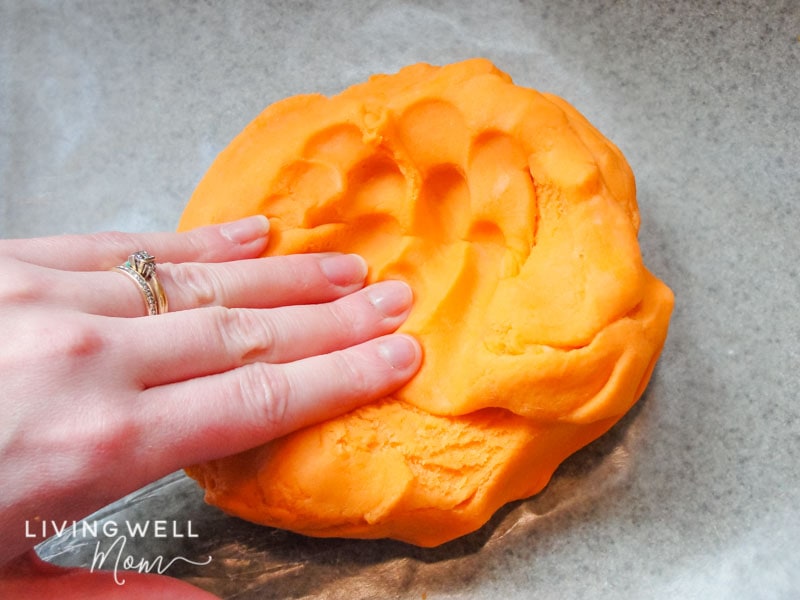 That's it! You've made homemade playdough!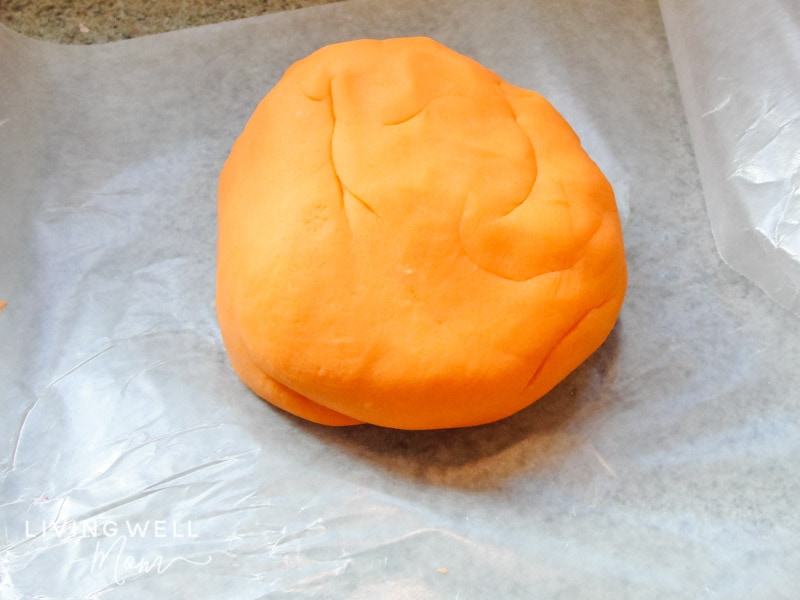 Don't you want to just squish this soft playdough?!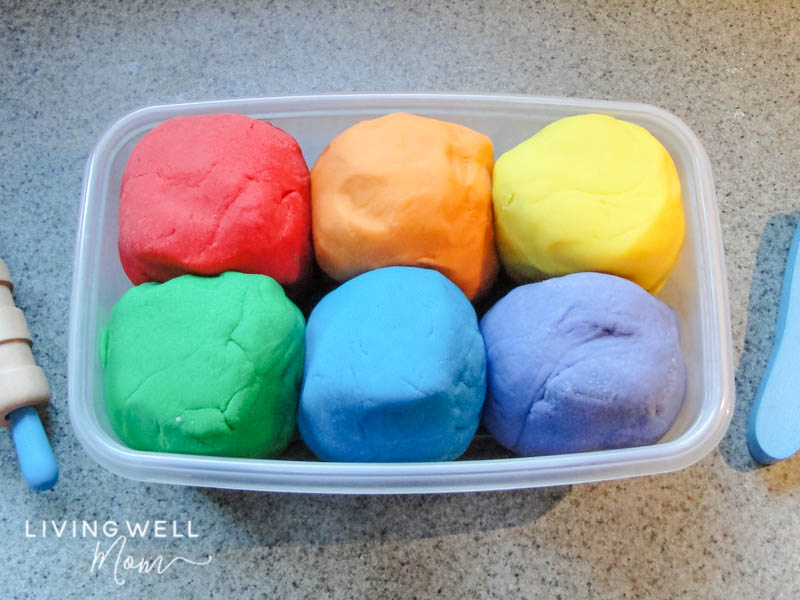 Common Playdough Questions
What is the best playdough recipe?
It seems almost every blog has their own play dough recipe these days and it's no surprise – homemade playdough is generally easy to make and so much fun! It's a perfect DIY activity for kids.
How do you decide which play dough recipe is the BEST?
It comes down to consistently getting good results. Sure you can try variations. like no-cook, but does it last as long? Is it as soft? Is it low-mess as my soft homemade playdough recipe here?
Some may be, but in my experience of trying MANY different versions of DIY playdough, this one here in this post has consistently been the best. Other moms agree – I've received hundreds of emails from moms praising this recipe since I posted (and regularly update with tips and new info) this recipe a long time ago.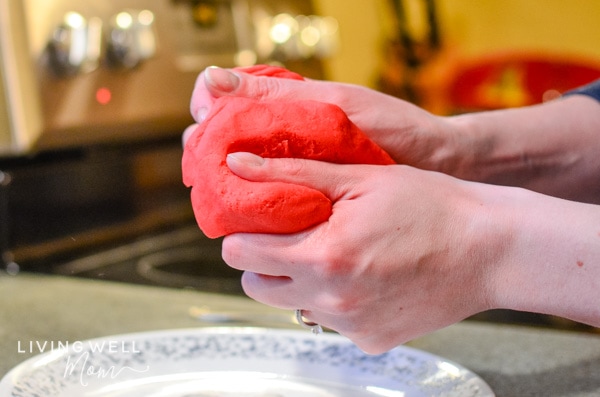 Can I make homemade playdough without cream of tartar?
A common question is: "do I have to use cream of tartar for making homemade playdough?"
The short answer is yes, you can make playdough without cream of tartar. However, it won't be as good in my opinion. Cream of tartar is recommended for a reason.
This brings me to the next question…
What does cream of tartar do for playdough?
Cream of tartar does a couple of things to help your playdough.
Cream of tartar helps make the playdough more elastic and stretchy. Best of all, it helps minimize crumbles and mess!
Cream of tartar also helps act as a preservative, allowing your homemade play dough to last a LONG time without going bad
But I don't have cream of tartar…
I thought this originally too, but trust me when I say that the cream of tartar is worth it.
Tip: it's NOT worth it to buy those little bottles of cream of tartar from the baking section, like this: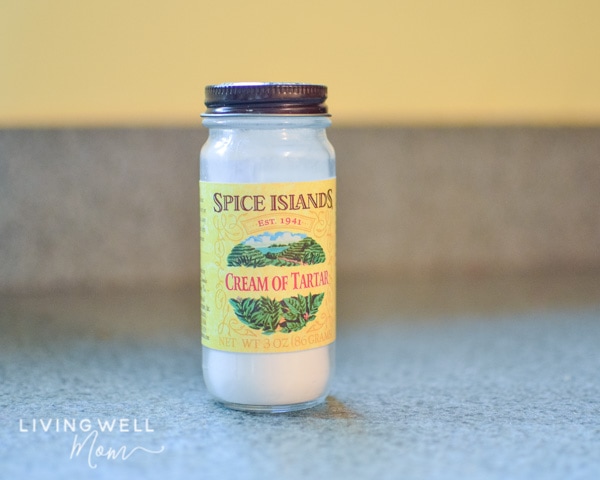 Instead, I recommend one of these larger, better value containers from Amazon. It will last a long time and allow your kids TONS of the best playdough batches!
How much playdough does this recipe make?
One batch makes just under 2 cups. A standard size container of store-bought Play Doh holds approximately 1/2 cup.
One batch = about 4 containers of store playdough.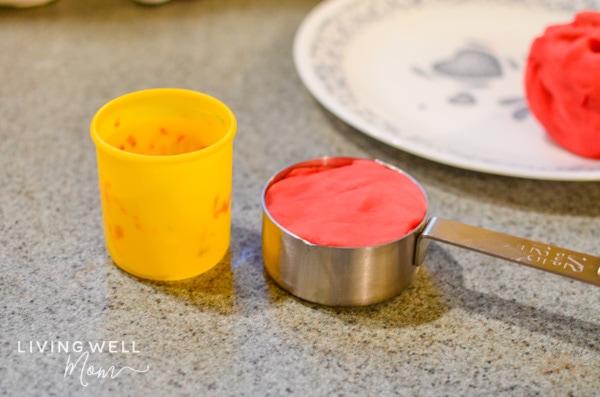 How to store play dough
In order for your playdough to last for a long time, I recommend storing it in a sealed ziploc bag. We use sandwich or quart bags.
Make sure your play dough is completely cool before you put it away. If it's not, your playdough will become musty and even mold.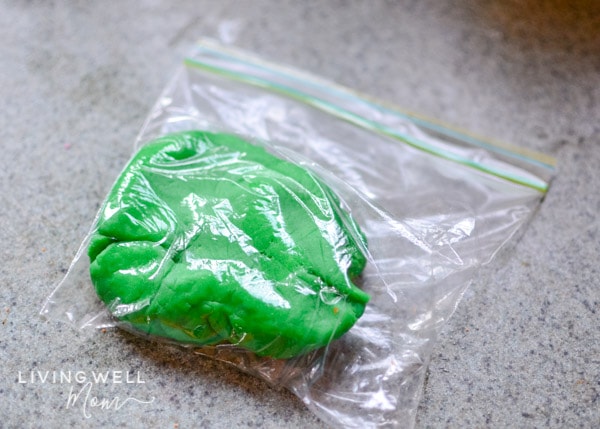 How to Make Playdough Soft Again
If your play dough is left out and becomes dry, you can often revive it with this simple little trick for fixing dry playdough.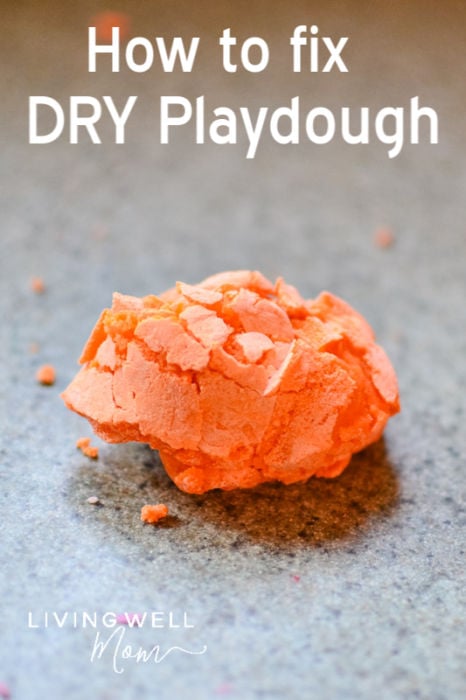 Work a little vegetable or canola oil into the playdough. The best way is to pour about a teaspoon of oil onto your hands, then work it in. Add a little more gradually as needed until the playdough is soft again.
Your playdough may not be quite as smooth and pliable as before, but this softening trick really does help.
Occasionally a chunk of playdough can't be revived if it was left out for a really long time (good thing this recipe is SO quick and easy to make!)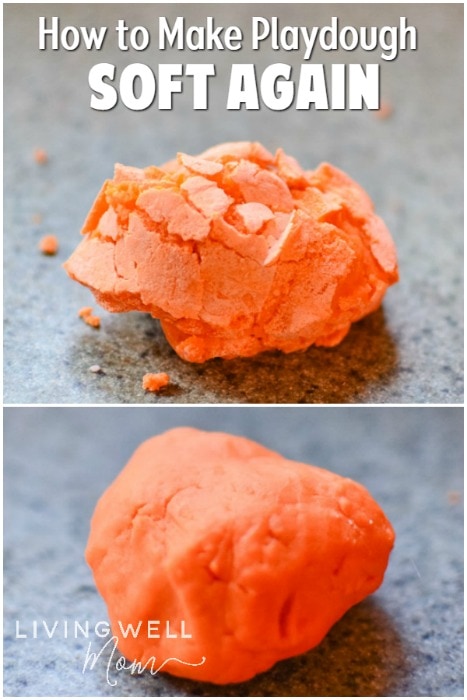 How do you fix sticky playdough?
Using less flour or salt will result in sticky playdough. If you used the correct quantities in this recipe and your play dough is still sticky, it probably needs to cook a little longer.
Add it back to your pan and reheat for another 1-3 minutes until it is no longer sticky.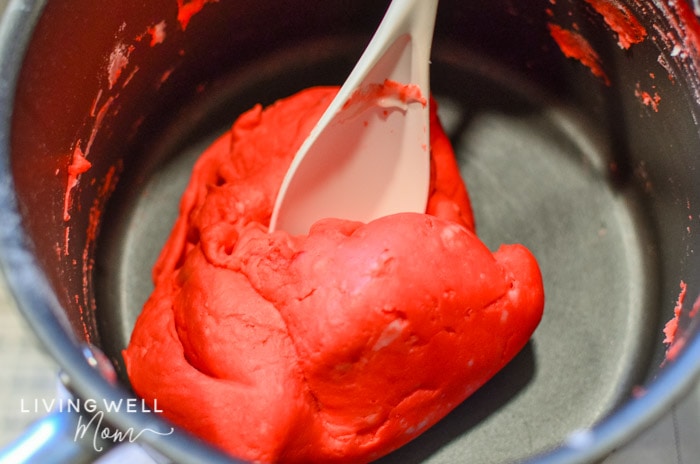 How do you get playdough out of carpet?
Messes happen inevitably with children. If your kids do get playdough in the carpet, luckily it's not too difficult to remove it.
Here's remove play dough from carpet:
Allow the playdough to dry completely first. Do not try to clean it before it's dry! This is very important!
Pick out any bits you can by hand.
Use a firm brush, like this one, to brush the carpet gently but firmly. This will help remove any stuck-in bits
If there is a stain left behind, use a carpet-safe stain remover, like Oxiclean (follow instructions and test in a small spot first)
How do you remove playdough from clothes?
In my experience, playdough does not get stuck on clothes too often (homemade slime is the worst culprit for that!) but if your child does manage to get it on clothing, try this:
allow it to dry completely first.
Use a firm brush, like this one or a clean toothbrush, to gently but firmly work the playdough out of the fabric
Soak the clothing in COLD water with a small amount of dish soap for 20-30 minutes
Put a little more dish soap on the area, then wash as you would normally
The stain should be removed!
Can I substitute other oils in this recipe?
While I typically use vegetable oil (it's cheaper and what I usually have on hand), my readers have claimed over and over that other oil varieties work just as well as vegetable oil. Some of those include canola oil, coconut oil, olive oil, even baby oil! If you've tried it, let me know!
Does this play dough recipe use boiling water?
Nope.
There may be some varieties that do, but this recipe does not involve boiling water. I've had comments from people saying that boiling water makes it faster, etc. That may be true, but this variety works well without it.
It's also safer when you have small children around. Of course, your pan will still get hot so you'll still need to be careful.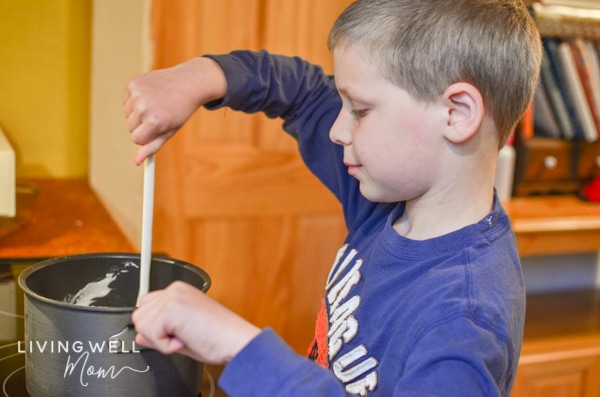 My 9 and 6 year olds often help make a batch of homemade playdough. They've gotten quite good at stirring. In fact, even when the playdough is at it's hottest, you can still touch it. I usually dump a batch onto a plate and knead it to get the color worked in straight off the burner. It's very warm (my kids don't want to touch it at that point) but it doesn't burn us.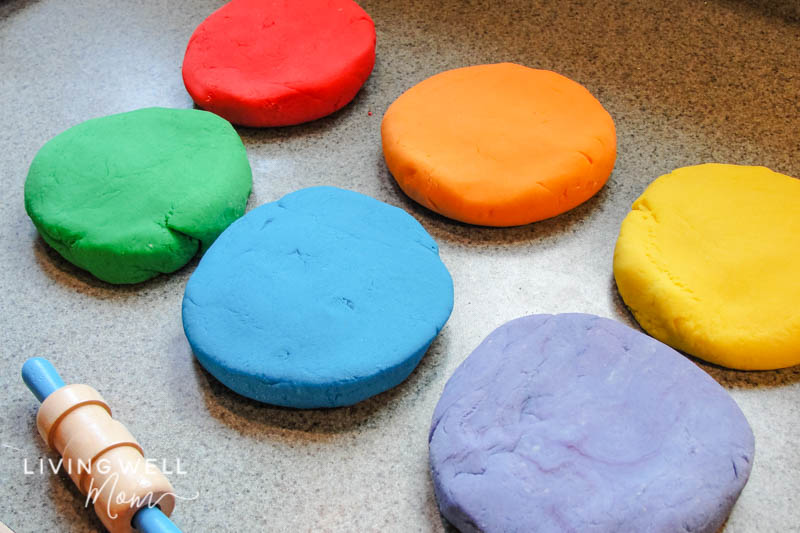 What type of pan should I use?
I've made this recipe using nonstick and regular stainless steel pans. It is MUCH faster, easier, and cleaner to use a nonstick pan. The playdough will stick to regular pans, making it more difficult to stir together and also require you to stop and clean it out between every batch.
I got rid of my nonstick pans a couple years ago. I wish I had kept just one solely for making playdough. Now I'm keeping an eye out in thrift stores for a cheap one just for this purpose.
Tips if you do NOT have a nonstick pan: add a little oil to the bottom of the pan. You may also need to work an additional 1/2 tablespoon oil into the playdough once it's fully cooked because the non-nonstick pans tend to dry it out more.
Will the food coloring stain my child's hands?
As long as you mix it up well before you give it to them, there is no staining. That's even if you use Gel Paste Food Color
which results in bright, vivid colors.
I highly recommend Americolor by the way – it's well worth the money because you will use it for so many things – from many batches of playdough to cupcakes and more. It's my favorite food color ever.
Tip: this food gel brand is cheaper and appears to work well too. I have not tested it personally (my Americolor has lasted for years!) but it's worth checking out.
Here you can see, I just finished kneading a fresh warm batch of bright red playdough and there is no color on my hands at all: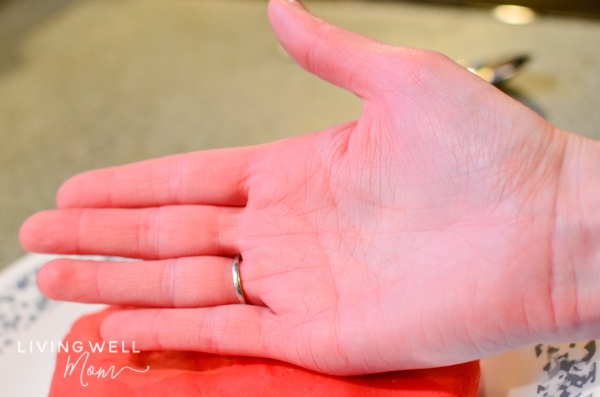 The one caveat? I have not tried black food coloring, so no promises there! And of course, you have to use a reasonable amount of food coloring – if you try using an entire bottle of Americolor food gel? You'd have to let me know how that one turns out.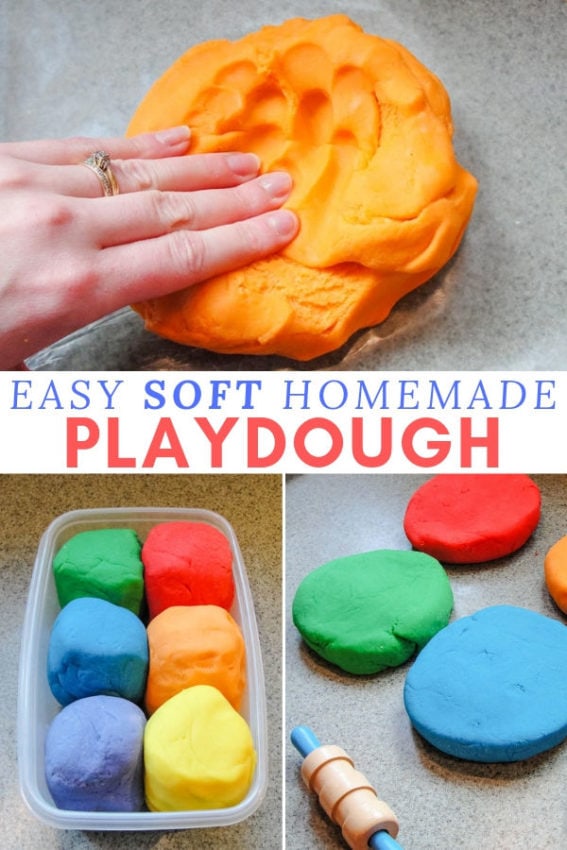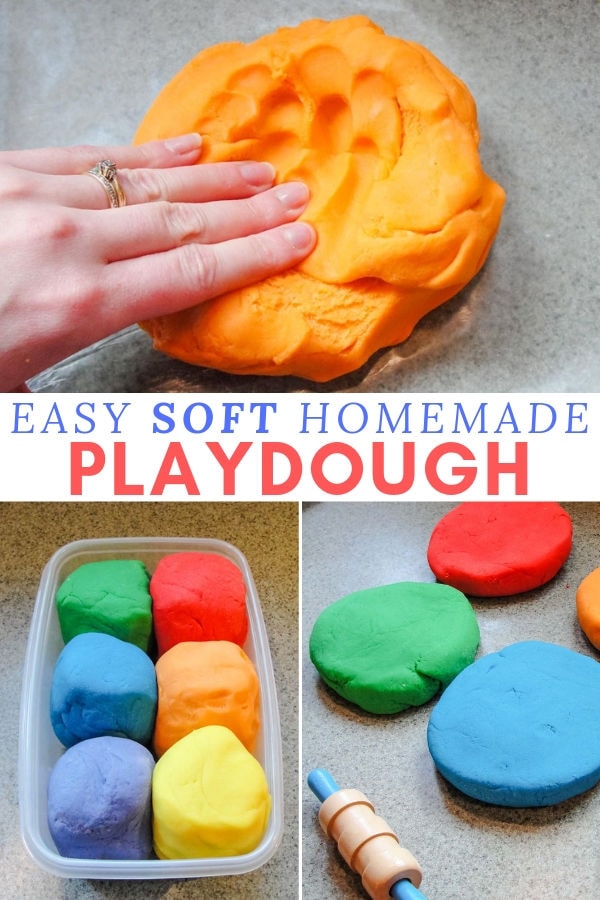 How do you make playdough more fun?
Kids love play dough and will often spend hours with it. But sometimes they can get bored and you might be looking for some fun play dough add-ons for more fun and direction.
For a fun play dough variation, try this scented playdough with essential oils. It's great for relaxing sensory play for kids with autism or ADHD. It's also great as a calming activity for any kids.
Try a holiday twist with one of these fun options:
Printable playdough mats can help kids learn while they're playing: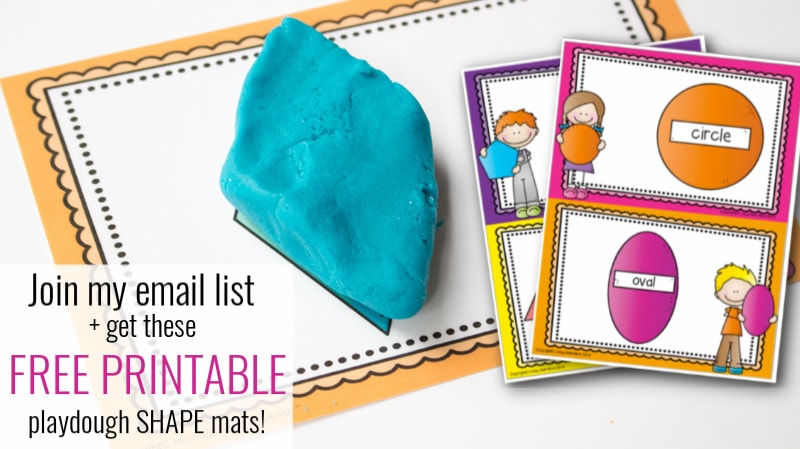 SIGN UP HERE – your FREE mats will download immediately after confirmation:
Pin the image below to save the recipe for later.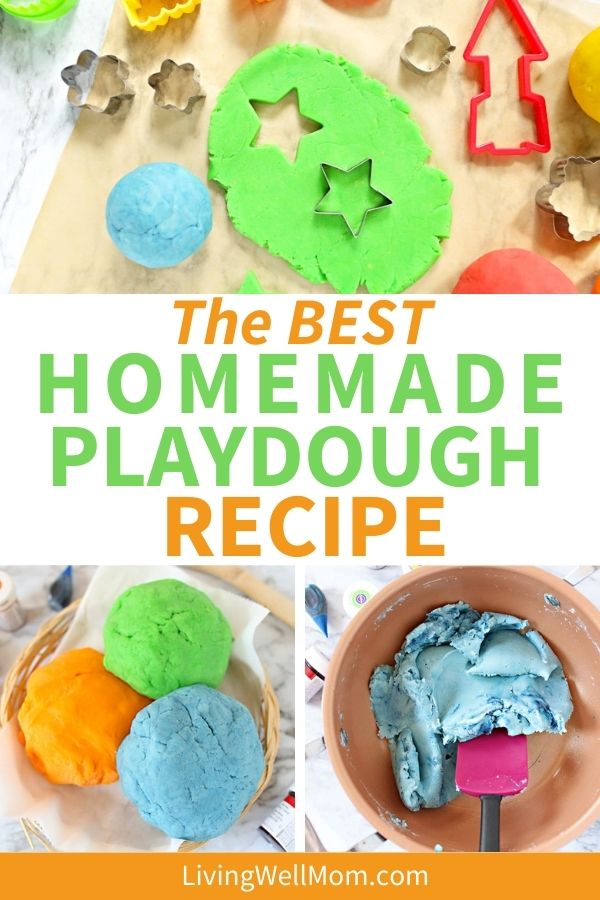 Print
Easy Homemade Playdough
Less-crumbly, less-junk, and more fun, this homemade playdough recipe can be made in less than 10 minutes!
Author:
Prep Time:

5 minutes

Cook Time:

5 minutes

Total Time:

10 minutes

Yield:

3

containers

1

x
Category:

kids activity

Method:

kids activity

Cuisine:

kids activity
Instructions
Mix together all the ingredients in a 2-quart saucepan.

Cook over low/medium heat, stirring.

Continue stirring until the mixture is thickened and begins to gather around the spoon.

Remove the dough onto wax paper or a plate to cool.
Notes
Cool completely before storing in a ziplock bag or sealed container.
Keywords: homemade, playdough, recipe, quick and easy, non-toxic, salt, flour, food coloring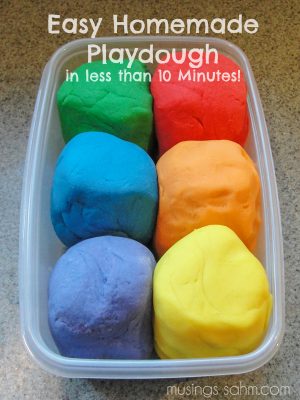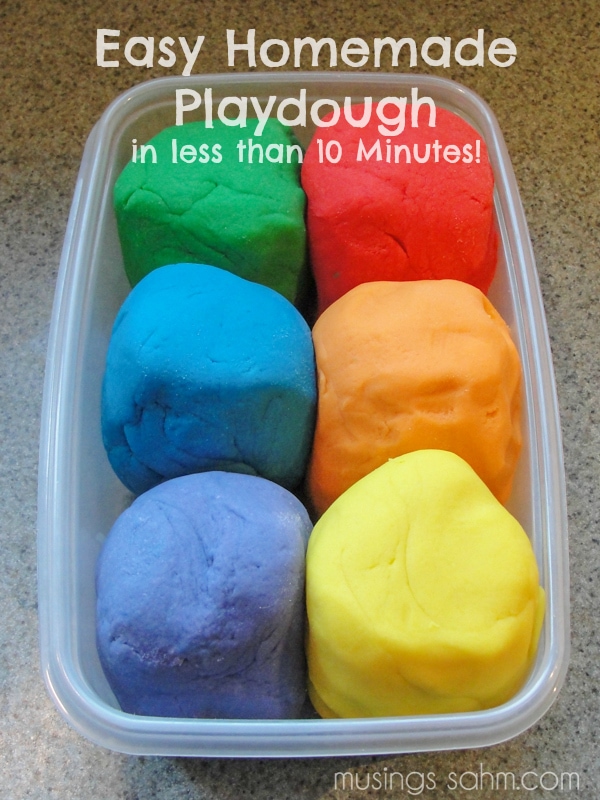 Copyright © Living Well Mom. All content and images are copyright protected. Please do not use my images without prior permission. If you would like to republish this recipe, please re-write the recipe in your own words or you may link back to this post for the recipe.