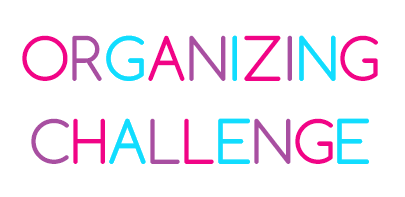 Menu planning is a big deal when it comes to getting organized. It's far more than knowing what's for dinner. It's about saving time, cutting costs, and enjoying homemade meals with less stress. But why does it have to be so complicated?
I've tried fancy charts and lists and programs for planning meals. But it was too much for me. I needed simple. I'm a busy mom – I don't have time to fill in some online program every week or write it out by hand, even if it is on cute paper! I'm sure you can relate.
After some trial and error, I finally found a method that I love. It makes menu planning easy because it's so simple. It's free and anyone can do it. You don't have to go to the store and buy fancy binders or paper. All you need is your computer and a printer.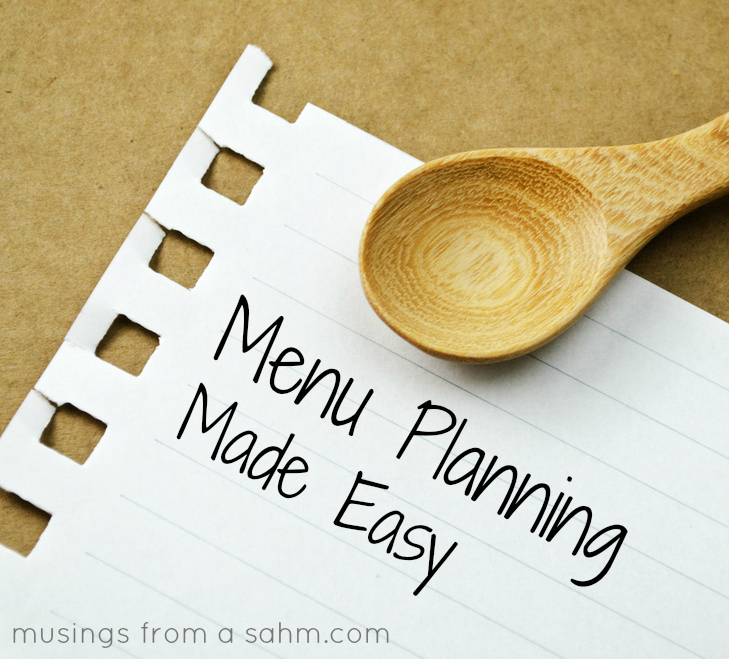 Step 1: Make a List of Meals
The first step is to make a list of the meals you cook for your family. Even if it's a simple as throwing frozen meatballs in the crockpot, write it down.
Open up Word, Google Drive, or Evernote (my personal favorite, since you can access it anywhere) and start writing. Don't worry if you forgot a few meals – you'll be able to come back and make changes whenever you want.
I include new recipes I plan to try so I don't forget about them too.
I like to add a quick note about where to find each recipe too, such as the cookbook and page number, recipe binder, notecard, etc. This makes it easy to look up the recipe later when I'm planning my grocery list, and later when it's time to cook.
I keep a printed copy of my Meals list on my fridge, along with my weekly menu.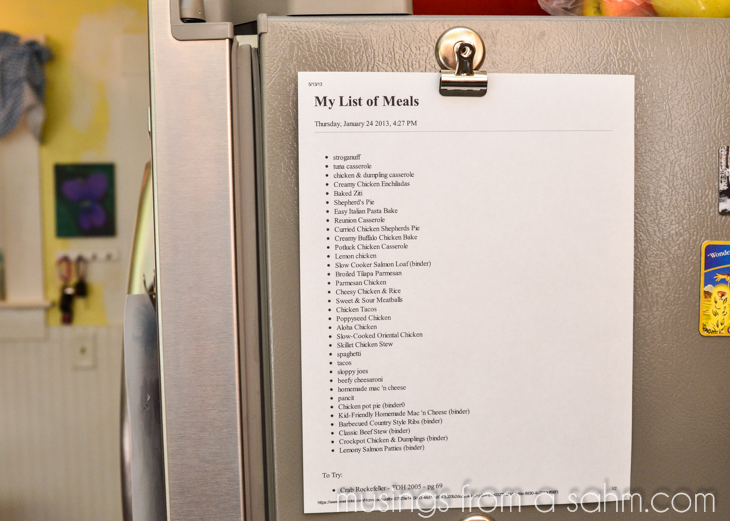 Step 2: Menu Planning
Once you have a Meals list, menu planning becomes easier. With everything in one place, you're not forgetting about meals and having to redo your menu plan. Plus you'll have more variety to choose from.
When I sit down to plan our menu, I always refer to our calendar. I know it won't work to plan a 4-hours-in-the-oven pot roast if we're gone all day. For those days, I know I need a crockpot dinner or something really quick. If Nate and I will be out for a date night, we'll do quick macaroni and cheese for the kids.
Don't over think your menu. Start simple by picking your favorite easy meals. The purpose is to help you plan and make life easier. This should not take you hours.
It's fine if you need to make changes later. That happens. You might plan for a nice dinner on one day, but you end up visiting a friend later than expected and need to make something else. That's OK. It happens to me too. That's one of the advantages of menu planning; you simply adjust it.
Here is my "Weekly Meals" list, which I keep in Evernote. It may not be the fanciest list, but it works quite well.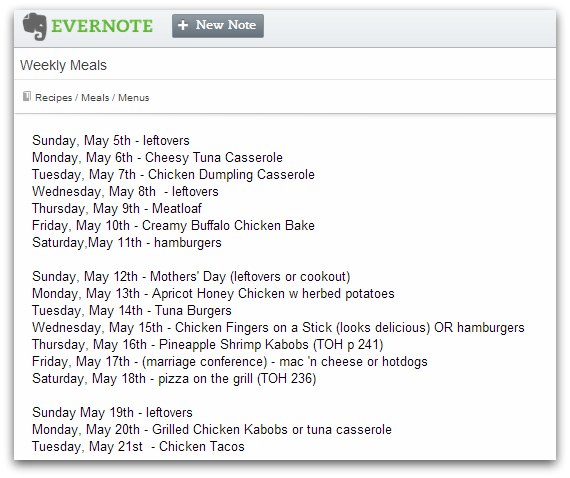 On my menu above, you can see a couple variations and some notes. For example – this Friday, Nate and I are attending a marriage conference at church and having dinner there. Our babysitter will watch the kids, so I noted mac 'n cheese or hotdogs as a simple treat for the kids.
Additionally, I plan for a leftovers night one to two times a week. This saves money and keeps food from going to waste.
Step 3: Keeping Your Menu Accessible
Just like the Meals list, I print out a copy of my menu to put on the fridge for easy reference.
It's also handy because my kids can check the menu themselves instead of asking me multiple times "What's for dinner, Mom?" Not that I mind, but sometimes it gets repetitive, especially if it's a meal that particular child isn't overly fond of. Having it written down make it less of an issue.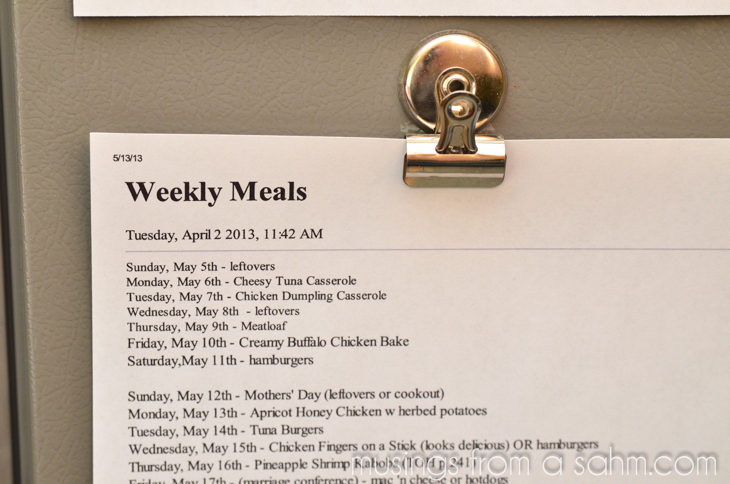 Lastly, I do one more step – I add the meals into my Google Calendar and set up a reminder for the day before.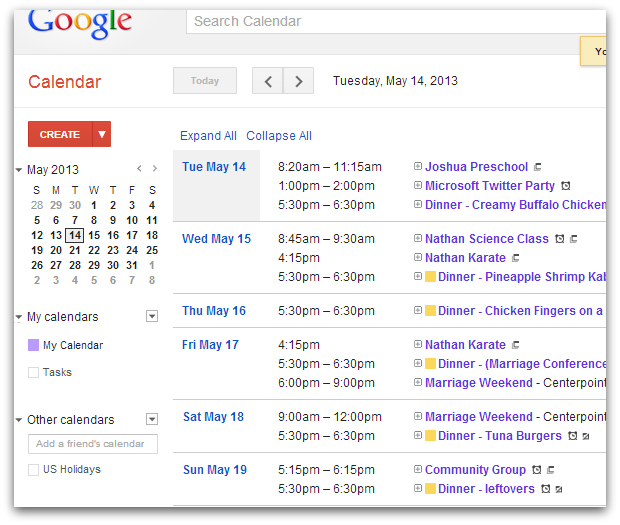 Every evening, I receive a notification letting me know what tomorrow's meal is. This is my note to defrost chicken or put food in the crockpot the next morning.
I can even see it on my phone.
I've been using this menu planning system since January and it's transformed my cooking. Not only do we have homemade meals just about every night, but I've been adding a lot of new recipes to our menu too.
That's it: menu planning made easy. Try it out and let me know how it transforms your family meals!