This post brought to you by Rubbermaid® All AccessTM storage containers. All opinions are 100% mine.
I've been all about organizing this year. Just ask my husband. Normally, I'll get in organizing mode for a week or two and then drop it. Not this year. I'm determined to live life more simply, get rid of clutter, and better organize what we do have.
Think about how much frustration not being organized can cause. I can't find the box of spring decorations so as cute as they are, we can't enjoy them. I can't find the cool shape puzzle kit for the kids that's somewhere in our unfinished addition. Frustration!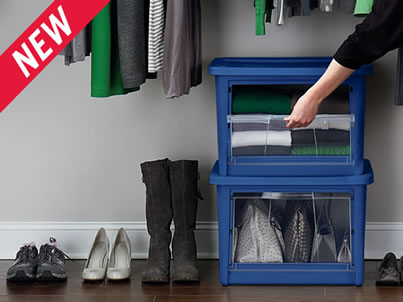 I've been making great strides in organizing the main part of our home, but our unfinished addition still needs a lot of help. And that's where Rubbermaid® All AccessTM organizers come in. These new bins feature a clear drop-down door so we can see what's inside the bins AND easily access it, even if the bins are stacked on one another.
I'm excited to check out the new Rubbermaid All Access organizers the next time I'm at Walmart. I'm already picturing how I can use them. It would be perfect in the kids' play room/office to help corral some of the toys.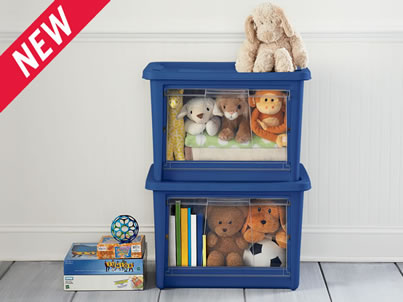 And also in our unfinished addition. We have a lot of shelving in our addition and use bins frequently there. But every time we want to access something, we have to pull it off the shelf and open it up to see what's inside. Of course I can label bins, but what about some of those misc bins? It's hard to list every single thing on a label. The Rubbermaid All Access bins would solve that issue.
Not to mention they're stackable and come in a variety of sizes and colors.
These bins might be the answer for my horrendous coat closet issue. I could buy 5-6 of them and stack them high in our closet where each child can have their own bin to store their snow pants and sweatshirts, plus 1 or 2 extra bins for us adults. With the clear drawers the kids can tell easily which bin is theirs too. It really is the perfect solution.
Rubbermaid® All AccessTM organizers can be found nationwide at Walmart stores and that's just where I'm going tomorrow!