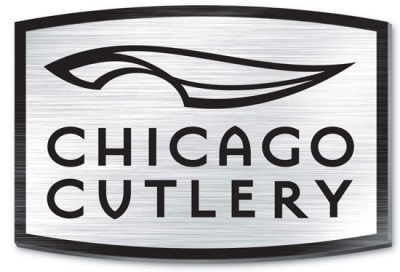 I've been using my new Chicago Cutlery DesignPro knives a lot lately. And do you know what? I am really impressed. Not only are they very good quality, but they really make a huge difference in my cooking.
I love cooking with chicken breast because it's healthy and there's so many things I can do with it. Up until recently, I never liked cutting chicken, or for that matter – any meat. I guess it's because I have a slight phobia about raw meat, but also because my old knives were poor. The Chicago Cutlery knives make it a breeze to cut up chicken. The big 8″ Chef's knife slices right through, both raw and cooked chicken, effortlessly.
I've also been using my new knife set for chopping everything from vegetables to fresh bread. The Scalloped Bread knife is like a new species of knife compared to my old bread knife. I never realized what I was missing! There's no more "squished-bread" syndrome with this knife, because it cuts so gently and efficiently.
As I mentioned in my post announcing the fact that I'm a Chicago Cutlery Mom Ambassador, I've been working on my knife skills as well.
I've learned a couple of things:
1) It's very important to hold a knife properly as this allows for better control. The Chicago Cutlery DesignPro knives make this easy with the innovative grip.
2.) Let the knife do the cutting. It's not about force, but rather gently guiding the knife to do what you want. I used to have to really push down with my old knives, but my new Chicago Cutlery knives are ultra-sharp with Japanese steel blades and I don't have to anymore. It's almost effortless to use them! (And I never thought I'd say that!)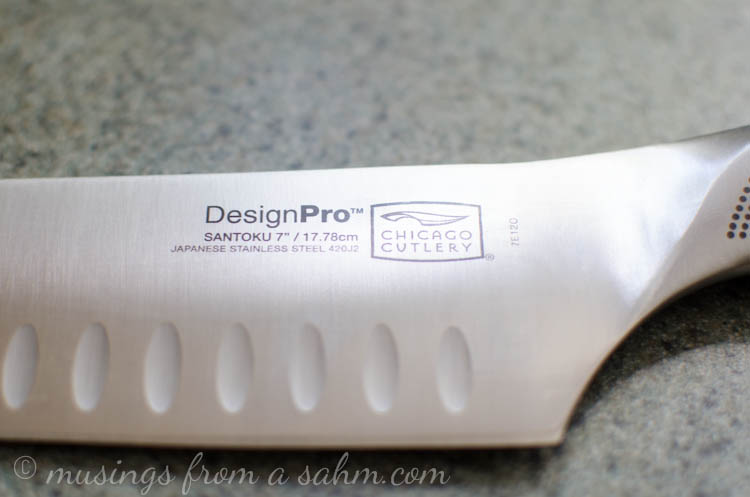 One thing I dread chopping the most is rhubarb. While I love rhubarb, it can be such a pain to cut up! I've always had a hard time chopping it into even pieces because the top layer peels off and gets in the way. Maybe I was doing it wrong, but I'm pretty sure my problem was my old knives. My new knives arrived the day before our neighbor gave us a nice bunch of rhubarb; the timing couldn't have been better. Normally I plead with Nate to chop the rhubarb (he has more patience then me), but this time – armed with my new Chicago Cutlery DesignPro Chef knife, I set to work. In a matter of minutes, I had a nice big bowl of rhubarb chopped that would have previously taken me at least a half hour. Now that impressed me!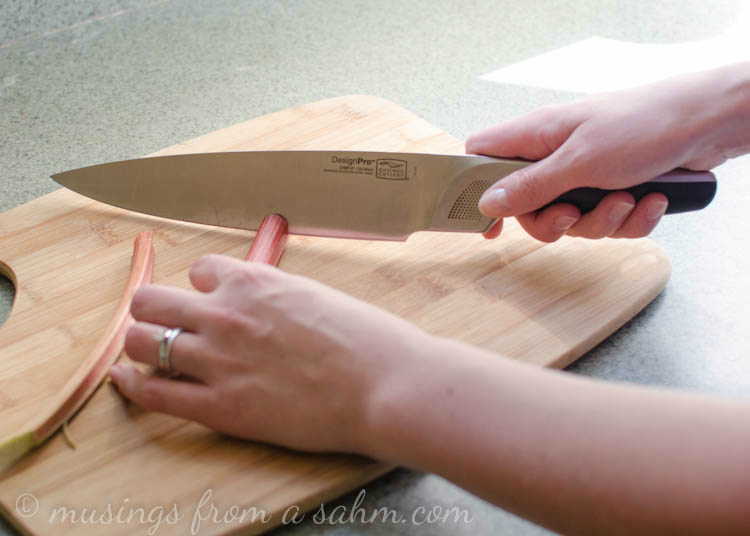 Here's one of my family's favorite dinners that I'm nowable to prepare much quicker thanks to my new knives – Aloha Chicken: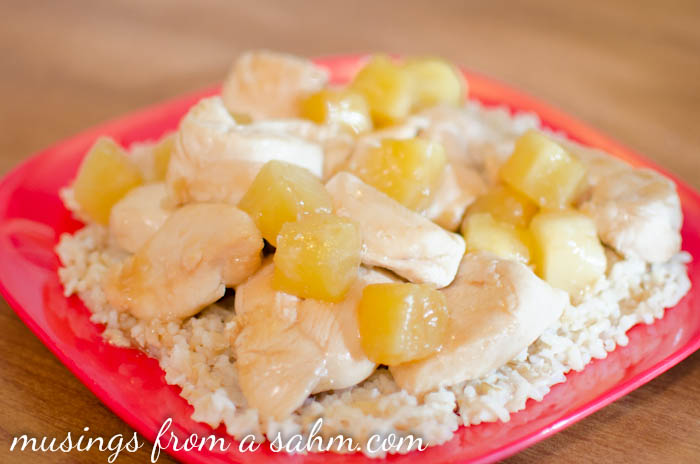 4 boneless skinless chicken breast halves (4 ounces each)
1 tablespoon all-purpose flour
1 tablespoon vegetable oil
1 can (16 oz) pineapple chunks
1.5 teaspoon cornstarch
1.5 tablespoon honey
1.5 tablespoon reduced-sodium teriyaki sauce or reduced-sodium soy sauce
1/8 teaspoon pepper
Hot cooked rice
Instructions
Cut the chicken into pieces or flatten into 1/4" thickness if you keep them whole. Place four in a ziploc bag; add chicken and toss to coat.
In a large skillet, brown chicken over medium heat in oil 3-5 minutes on each side or until juices run clear. Remove and keep warm. Drain pineapple, reserving 1/4 cup juice. (Discard remaining juice or save for another use.)
In a small bowl, combine cornstarch and reserved juice until smooth. Gradually add to skillet. stir in the honey, teriyaki sauce and pepper. Bring to a boil. Cook and stir for 30 seconds or until thickened. Add pineapple and chicken; heat through. Serve with rice.
*recipe from Taste of Home
http://livingwellmom.com/2012/09/chicago-cutlery-designpro-knives-recipe-aloha-chicken/
copyright Musings From a Stay At Home Mom. All images & content are copyright protected. Please do not use my images without prior permission. If you want to republish this recipe, please re-write the recipe in your own words and link back to this post for the recipe.
Chicago Cutlery DesignPro knives work extremely well and they are 100% worth the cost. I'm a pretty frugal person, but kitchen knifeware is not an area to skimp on; buying a good quality set of knives will pay for itself over and over. I highly recommend Chicago DesignPro.
Win It!
1 lucky winner will receive a Chicago Cutlery DesignPro knife!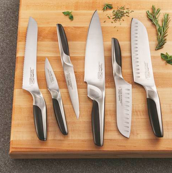 Rules:
This giveaway ends on September 21, 2012 at 11:59 pm EST.
Open to the US only, ages 18+.
CLOSED
Disclaimer: I wrote this review while participating in a Brand Ambassador Campaign by Mom Central Consulting on behalf of ChicagoCutlery and received products to facilitate my post and a promotional item to thank me for taking the time to participate.