UPDATE: BoardBooster is no longer available.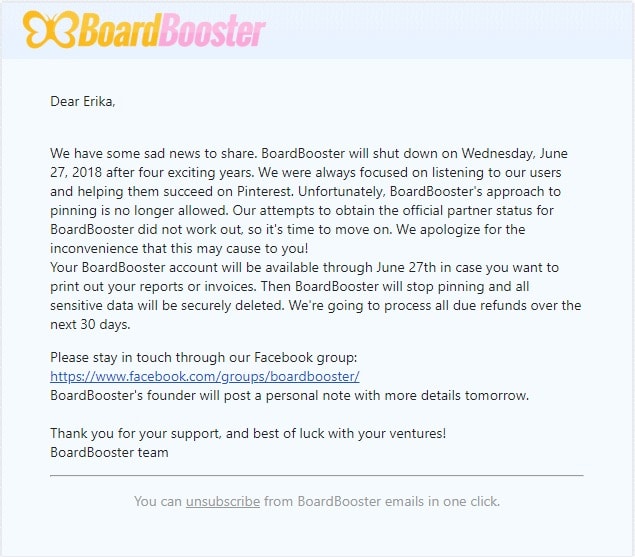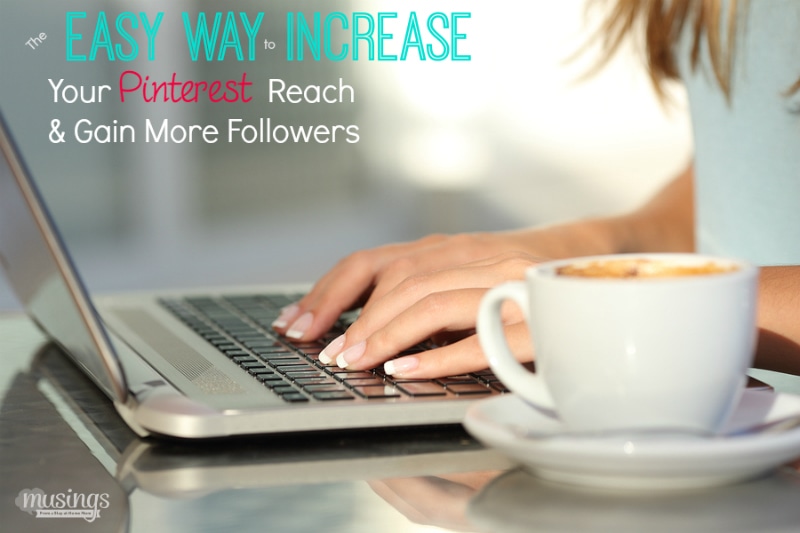 I've been a Pinterest fan for years now. Not only because it's a truly awesome site and I love to use it, but it's also a huge source of traffic for me.
Pinterest Reach:
Last summer, Pinterest changed their algorithm and it affected how pins are seen. Some bloggers hated the change, others embraced it. Most of us have simply learned how to work with the new system.
Pinterest is kinda like Google. They aren't going to tell us the secret – we have to figure it out for ourselves. And then they'll change it. Maybe not.
But here's a couple things we do know about Pinterest:
1. Pinterest likes it when you pin a lot. The more frequently you pin, the more likely your pins will be seen.
2. Pinterest doesn't like it when you only pin your own stuff. You need to pin a variety and most should be from other websites.
If you're like me (a couple months ago,) you already pin whenever you have the chance (or remember to amidst the hundreds of other things you have to do each day.)
But here's the thing: sharing fifty pins at one time doesn't hold the same weight as repinning a variety of fifty images slowly over a few days.
You know how it is – you're looking up new meals for your family and you find a TON at once. Wouldn't it be nice to spread those out and not have everything pin at once?
And how do you increase your Pinterest followers?
I've found the answer for how to increase your Pinterest reach and gain new followers. Easily. 

Introducing Board Booster:
(I am sharing my affiliate link here, but seriously it is awesome enough that I'd share even without my link. It's super affordable too, but anyways…)
Simply put, Board Booster allows you to schedule pins and really make Pinterest work for you. Gone are the frustrations of remembering to repin at different times throughout the day or realizing you forgot to pin your own content again.
There's a few ways to use Board Booster and once you get it going, you'll boost your Pinterest followers and reach, because you'll be consistently pinning more than before. With far less work and hassle than before. 
Don't get me wrong – I LOVE Pinterest as much as any one of you, but I don't have an hour every night to pin stuff in hopes of gaining new followers (and of course for the love of Pinterest itself.) I'm just too busy.
Board Booster allows me to spend a few minutes repinning when I have time with far greater reach than before.
Since I joined Board Booster, I've gained an average of 400 new followers per week.
My pins are repinned 29% more than before.
My own content is being repinned an average of 49 times more per pin than before!
And I spend less time on Pinterest now than before!
How to Use Board Booster:
When I first heard of Board Booster a couple months ago, it was completely new to me and I searched for some tutorials for how to figure it out. The couple I found weren't updated for the latest version of Board Booster and I still had to weed through it all myself. So today, I'll share a simple tutorial for how to get the most out of Board Booster.
There's a few things you can do with Board Booster, but I'll share my three favorite features today:
Scheduler
Campaigns
Looping
Board Booster Scheduler:
The scheduler feature lets you pin to a secret board which Board Booster then repins to your public board on a schedule of your choosing.
I use Board Booster Scheduler for pinning everything except my own pins. 
The beauty of the Scheduler feature is you can repin 100 of whatever you want at one time and you don't have to worry about flooding your followers with 100 pins at once with nothing for the next two days. Let Board Booster filter them out slowly over the next few days or weeks. You choose the quantity and frequency in the settings.
Here's a few boards I use: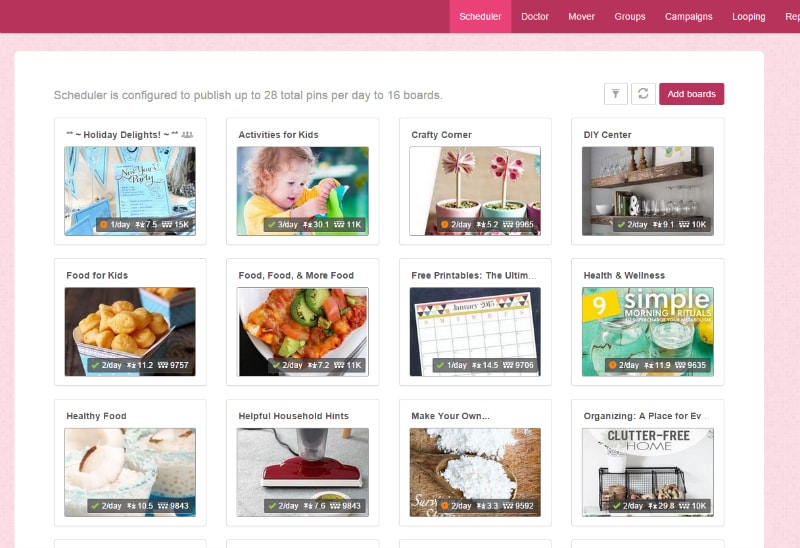 I added my most popular boards to the scheduler. When I did this, Board Booster automatically created "secret" boards for each one.
(FYI: A secret board means no one can see it except you. And anyone you give specific permission to.)
How to Set Up Board Booster Scheduler:
Click on the pink "Add Boards" button on the top right corner within the Scheduler tab
Check off each board you want to include. (Try one at first so it's less confusing.) Click continue.
Choose the frequency for how often you want Board Booster to pin for you. (You can change it later.)
Click submit. Board Booster will connect to your Pinterest account (you should have set this up when you created your BB account) and create a "secret board" matching the board(s) you selected.
Go to your Pinterest account, scroll down to the bottom, and find your new secret board. (Hint: secret boards have -in front of their names.)
Pin to your secret board! When you repin, you'll see options for your regular board and your -secret board. Unless you want your repin to show up immediately, pin to the relevant secret board and let Board Booster do the work for you later!
If you want to change the settings for how many/when Board Booster sends out your new pins, just click on each board in the Scheduler feature, then the little pink cog at the top. Here you can see and edit your scheduling options. Here's an example. This is the actual schedule I'm currently using for my Activities with Kids board.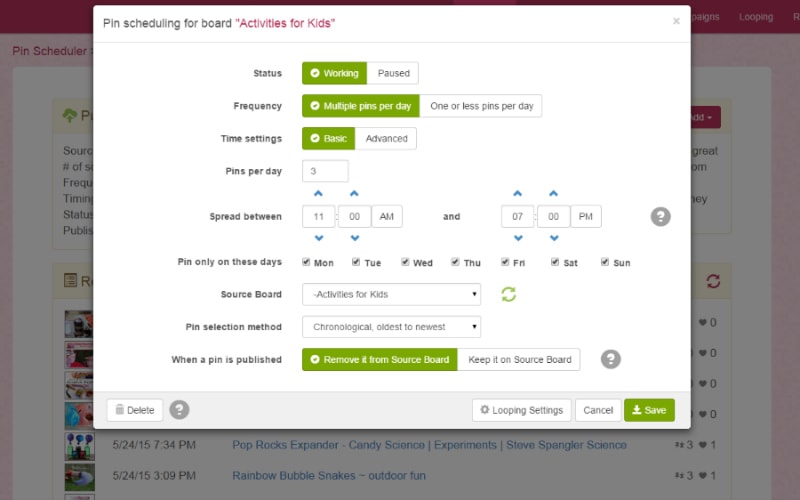 Can you see why Scheduler is one of my favorite things about Board Booster?
2. Board Booster Campaigns
I use Campaigns exclusively for my own content. It's a little more complicated than Scheduler, but it's just as awesome.
Board Booster Campaigns allows you to set up what's basically a drip campaign and repin one pin multiple times over the course of days, weeks (even months) to different boards.
Here's a few of my campaigns: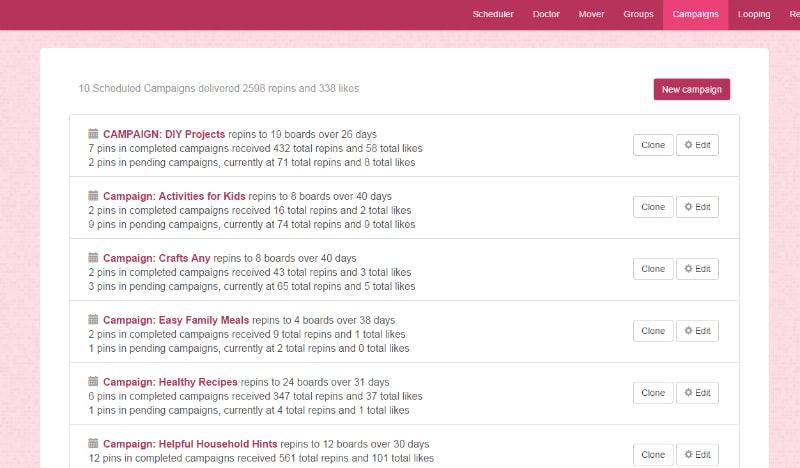 You can add multiple pins to each campaign secret board and each one will start from day 1 and go from there. Scheduled Campaigns is a fantastic way to continually promote your content on a regular schedule of your choosing.
There's two campaign options – Scheduled and Random.
"A Scheduled Campaign takes pins from one secret board and repins them to multiple boards according to your schedule."
"Random Campaigns pull random pins from the source defined by you and repin them to any number of group boards. You can designate one or more of your boards as the source of pins or provide a list of pins that you hand picked for this campaign.")
I prefer Scheduled Campaigns, so I'll explain how to set it up here. For this, you'll be promoting your own content, so think about your own categories. If you are a food blogger, you may only need to set up one scheduled campaign (though even there, you may want smaller categories – meals, desserts, healthy food, etc.) If you offer multiple topics on your blog (like me), you'll set up a few different campaigns.
Just one note: It takes a little time to set up campaigns (though you should be able to breeze through it more quickly with these helpful tips here!), but just remember that once you do this, Board Booster will take it from there.
How to Set Up Board Booster Scheduled Campaigns:
Choose one category to start with. Click on the "New Campaign" pink button and type in the name of your campaign. Let's just say it's "Summer Recipes".
Make a list of your relevant Pinterest boards. Include both your own boards and any relevant group boards you're part of. You might have 3 or you might have 15.
Next you'll want to figure out a schedule for how often to repin. This is the most complicated part, but once you figure it out, it's not hard. Here's what I do:

I schedule each pin to repin only once a week for large active boards and less often for small boards (including my own) – every 2-4 weeks.
I only schedule one pin per day for each campaign. So Day 1 is only 1 pin. Day 2 is only 1 pin, etc. It's a balance – you want your content out there, but too much and you'll overload people and lose followers.
Let's say I have 8 boards I want to repin to. Two are big boards with lots of activity so I'll start by scheduling those for repinning once a week. Day 1 will be big board #1. Day 2 will be big board #2. Day 8 will be big board #1. Day 9 will be big board #2. And so on. (I usually schedule out for 45-60 days.)
Then I fill in the 6 smaller boards around the big boards. So board #3 is day 3, board #4 is day 4, etc. Board #3 will repeat two weeks later so day 17. It doesn't have to be exact- just remember you want a balance.

Click on the "Add Repin" button and choose a board to repin to.
Choose the Campaign Day (start with 1) and a repin time. (You can adjust this later.) Click Add.
Repeat, adding more relevant boards.
When you're done, click Save at the bottom. Your campaign is ready to go!
Board Booster will have set up a secret board for this too, so head to your blog and pin your content to the secret board.
Repeat for as many campaigns as you need. (Hint: there's a handy "clone" button at the top which makes it easier if you have similar campaigns.) Now sit back and watch Board Booster do all the work!
3. Board Booster Looping
"Looping was designed to help revive the older pins that you created or curated before you gained most of your followers."
Looping basically grabs old pins from the bottom of a board and repins to the top. You can set it up to automatically delete duplicate pins too.
You only want to use Looping for large boards where you have at least a couple hundred pins. If you have a smaller board, it just won't look right if you have two of the same pins close together.
I don't use Looping as much as the other features, but here's where I do use it: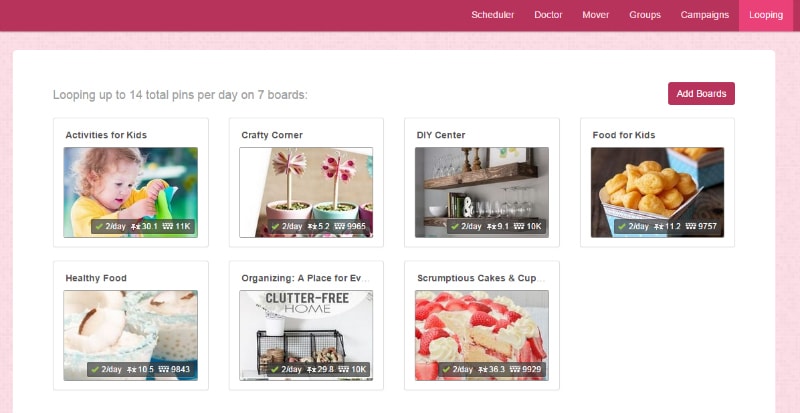 It's super easy to set up Looping.
Click on "Add Boards" and choose at least one large board you want to loop. Click continue.
Choose your settings. This is what I prefer:
Remember you can come back at any time and make changes. I highly recommend that you enable "Protection for Viral Duplicates" (if you had an old pin go viral, you definitely don't want to delete it!).
Then click submit. Board Booster will begin looping immediately (or whatever time you specified.) Easy, right?
And that's how you set up the key features of Board Booster!
A Few More Board Booster Tidbits:
Just keep your secret boards full for Board Booster to repin and you'll be all set. If the secret boards run out of pins, it's not a huge deal – Board Booster simply stops pinning (only on the empty boards) until you add more. Once you do, repinning begins immediately.
Remember, you can add / delete / edit everything whenever you want. Don't worry about making it all perfect when you first set up your account – just try it, then figure out what works/doesn't and go from there.
Board Booster offers handy reports for your pinning history and what's the best time to pin. Definitely take advantage of these great resources to make Board Booster and Pinterest work even harder for you!
I honestly haven't found an easier, more efficient way to maintain and boost my Pinterest account. Board Booster is AWESOME!
Does it cost anything? 
Yes, Board Booster costs 1 penny per pin and you can try Board Booster for free with 100 pins.
You don't have to add a credit card or Paypal account when you sign up. (Isn't that great?! I hate when I have to fork over the money even before I try something!) When your free pins are used, they send a nice email telling you your trial is up and it's time to choose a plan. It's great not having to worry about canceling if you change your mind (trust me, you won't!) Total awesomeness.
Once you use the free trial and decide to sign up (believe me, you will – Board Booster is worth every penny!), you can choose from a variety of plans that will fit any blogger's budget: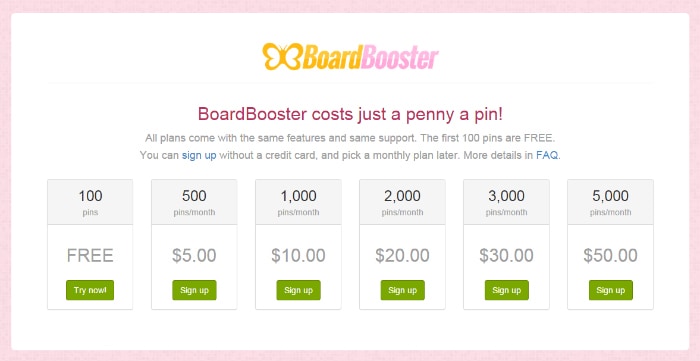 I'm currently on the $10 a month plan. (I repin a LOT.) I've heard that bloggers using the $5 plan do extremely well too, so it's really up to you.
Seriously, bloggers, you need to try Board Booster now. You'll boost your followers and Pinterest reach. Go. Now.
(And if you could please, click through my affiliate link here, I would so appreciate it! Thank you!)