Apple Crisp is one of my favorite desserts to bake because it's so delicious and easy to make. It has all the goodness of apple pie without the hassle of a pie crust!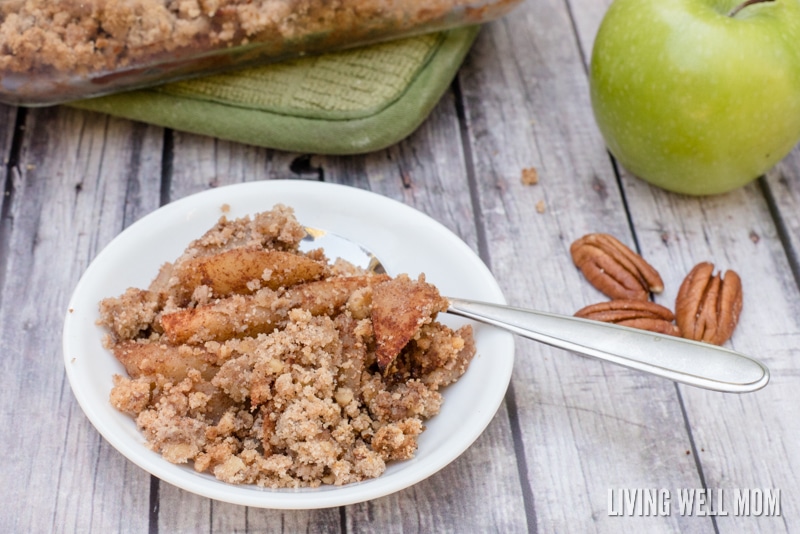 My favorite Apple Crisp recipe has been in the family for years and years, but it's not grain free. And I've been on a grain-free, dairy-free diet for the past year (essentially a Paleo diet).
But I had one more obstacle to throw in the mix. 
I stopped eating sugar 8 weeks ago.
When I say sugar, I mean any and all refined and natural sweeteners, including honey, maple syrup, dates, raisins, etc. I do eat fruit, but only in small quantities.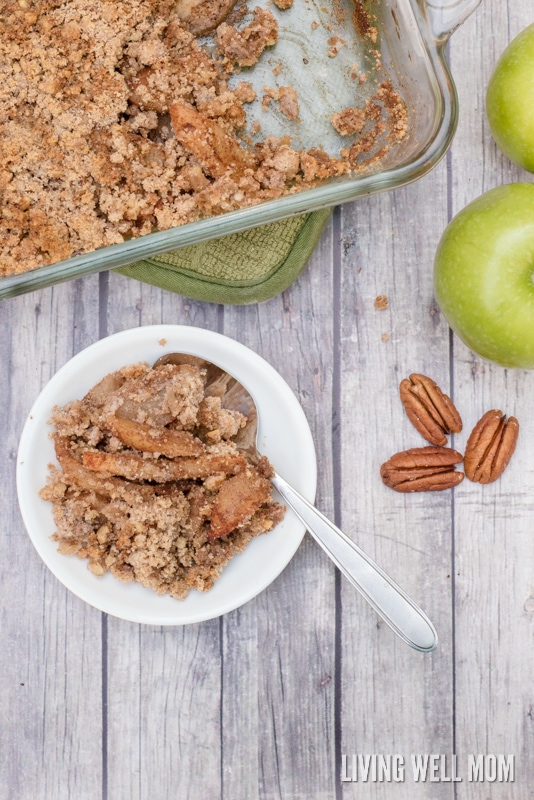 Why? That's another post for another day, but let's just say I've had an awful sweet tooth – basically addiction to sugar – and it was time to say good-bye. 
So my challenge was to adjust my favorite Apple Crisp recipe by removing any grains (aka the classic oats) and added sweeteners. 
After quite a few attempts, I'm completely in love with the result: my Grain-Free Apple Crisp recipe. And it's "Paleo."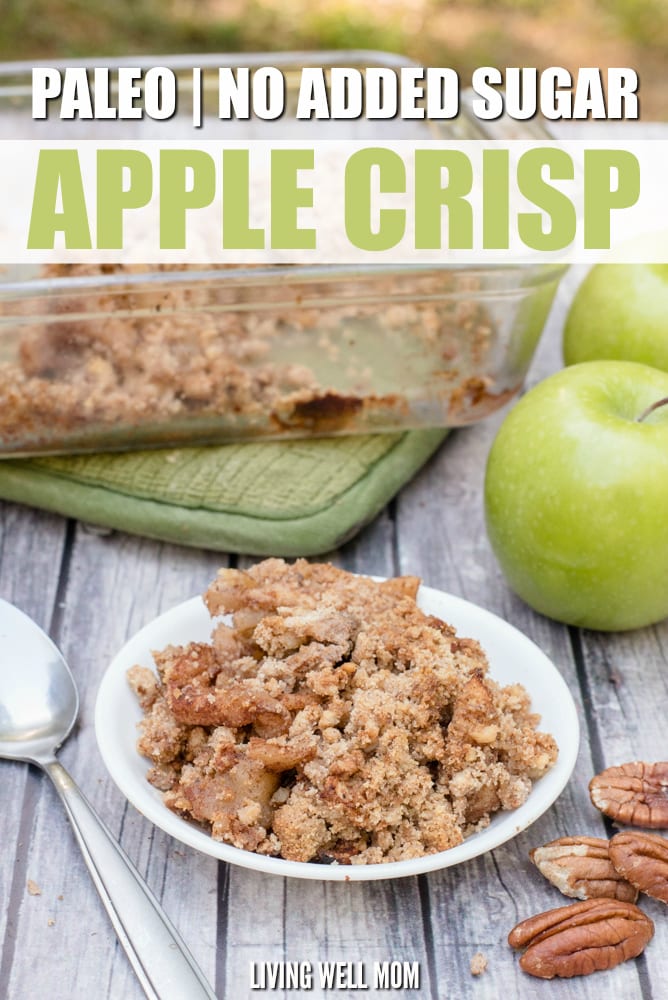 This recipe is just as easy to make as the classic Apple Crisp recipe and even better for you with less calories and far less sugar. 
It's melt in your mouth good with all the favorite apple-crisp spices plus the "secret" ingredient my family has used in apple crisps and pies for years with rave reviews. 
Ready for this delicious Paleo Apple Crisp recipe?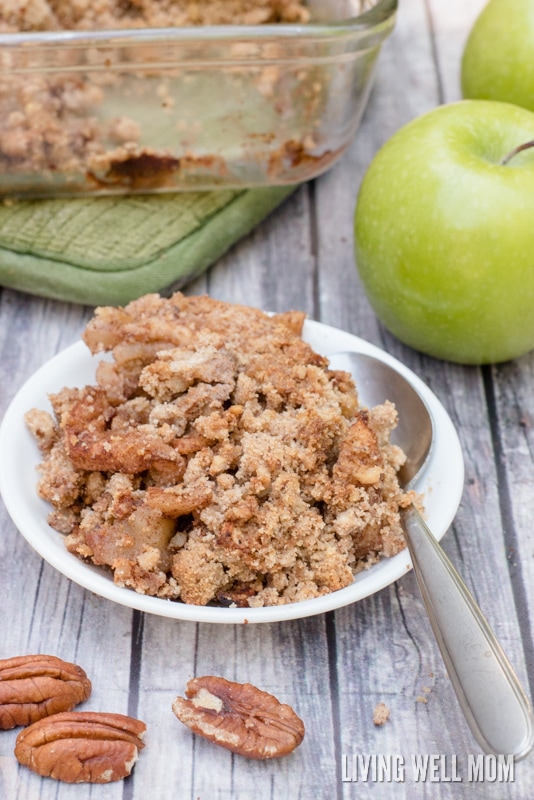 One quick note on the apples: because I try to go as low-sugar as possible, I typically use Granny Smith apples for this recipe. While the apple crisp isn't as juicy as when made with other apples, it's truly something I enjoy guilt-free. But if you prefer a juicier apple crisp (and who doesn't), you can use your favorite Cortland, Macintosh, Gala, or whatever apples you prefer for baking. 
If you or your family have a sweet tooth and aren't sure about the "no added sugar" aspect of this recipe, you can try adding 1/2 cup coconut sugar to the almond flour crumble mixture. I have not tested it but I believe it would be a good substitute for the common brown sugar used in most crisp recipes.

Grain-Free Apple Crisp
This easy recipe has all the deliciousness of your favorite fall dessert without the gluten, grains, dairy, or sugar!
Author:
Erika at Living Well Mom
Instructions
Preheat your oven to 400 degrees.
Core, peel, and thinly slice the apples. Toss the apples with the lemon juice and 2 tsp vanilla extract. Add 2 tsp cinnamon, and nutmeg and toss again. Place in an 8x8" baking dish.
Melt the coconut oil, then mix in the almond flour, pecans, and 1 tsp cinnamon.
Sprinkle over the apples, then sprinkle the remaining 1 tsp vanilla extract over everything.
Bake at 400 degrees for 20 minutes covered, then another 10-20 uncovered. The apples should be somewhat soft and bubbling when it's finished.