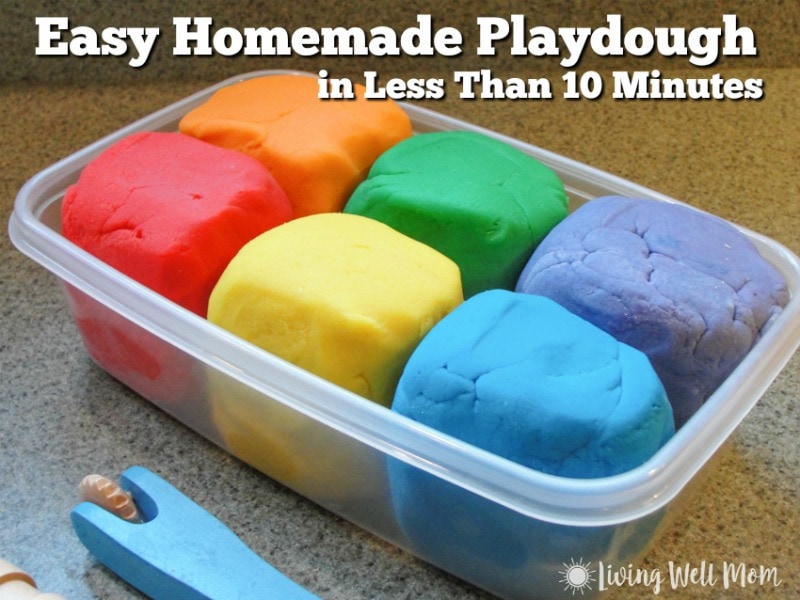 I love doing fun things with my kids, but I don't do stuff as often as I'd like because of time and the mess. The Lord knows I have enough messes to clean up as it is without purposefully adding to it!
I look on Pinterest and see all those cute craft projects and ideas for kids. I pin that glitter project that's momentarily caught my eye and for a fleeting moment, I contemplate actually attempting it. And then the realist in me takes over and I know it ain't gonna happen.
How many of you do the same? Come on, admit it. We'd all love to be those fantastic crafty moms but the simple truth is most of are just too tired with too many other things to do.
If that's you – or even if you are an amazing crafty mom (my hat's off to you!) – then this post is for you.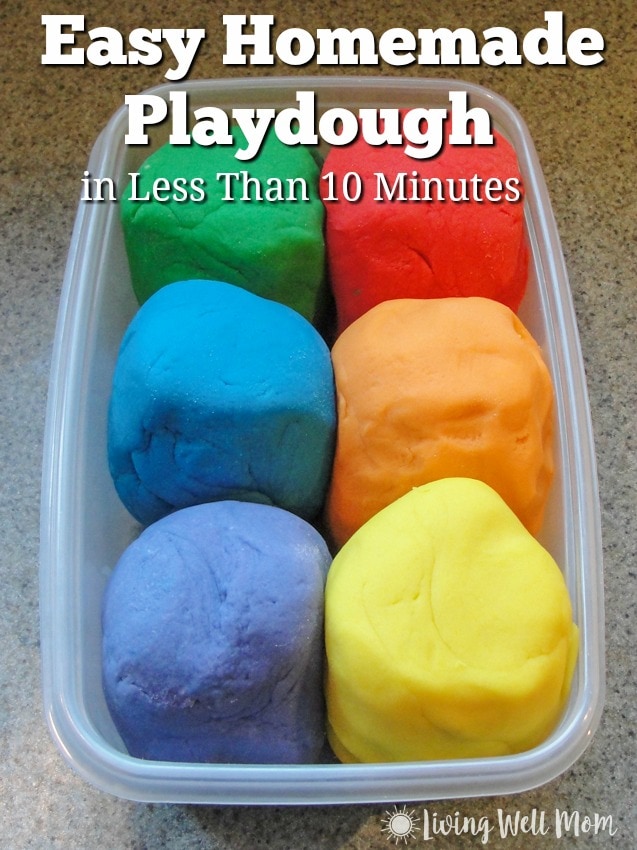 This is such an easy recipe for making homemade playdough. I found this recipe online about 2 years ago and since then, made a couple modifications.
This easy homemade playdough recipe uses common kitchen ingredients, is cheaper than store-bought playdough, and takes less than 10 minutes to make. I made 6 batches in 30 minutes. Pretty awesome, huh? And in my experience, it doesn't crumble and make as big of a mess as the stuff from the store. It's also hardier and lasts longer – I have a batch from well over a year ago that's still going strong! And of course, it's non-toxic?
(I get so many comments and questions that I can't answer all of them. I recommend checking out the link above for frequently-asked-questions. And if you still need help, you can email me. Thanks for reading!)

What you'll need to make Homemade Playdough:
This easy homemade playdough recipe makes a large amount, probably equal to 2-3 containers from the store. So you might want to halve it or make it in 2 saucepans. I made 6 batches of the full recipe because with 3 kids wanting to play with it, it's good to have more to go around. More = less fighting.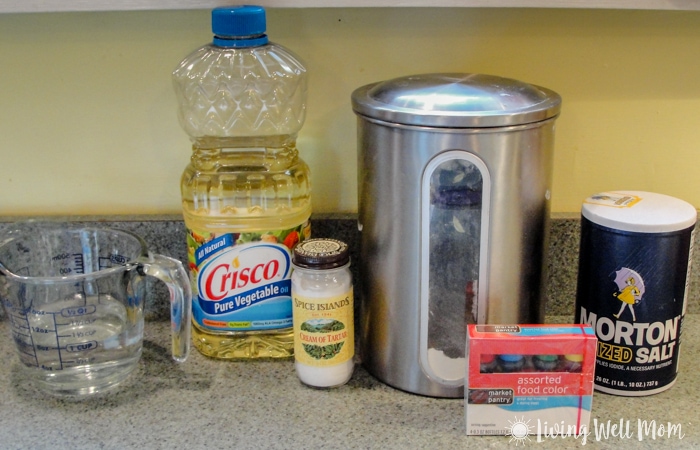 In a 2 quart saucepan, add 1 cup of flour, 2 teaspoons of cream of tarter, and 1/3 cup of salt. Yup, that's 1/3 cup of salt. Don't make my mistake and misread it to mean teaspoon. I could blame my toddler because he was hanging on my leg. Yeah that's it. I ended up with a very sticky ball. Apparently the salt keeps it from sticking and also helps preserve it, so you definitely want that in there.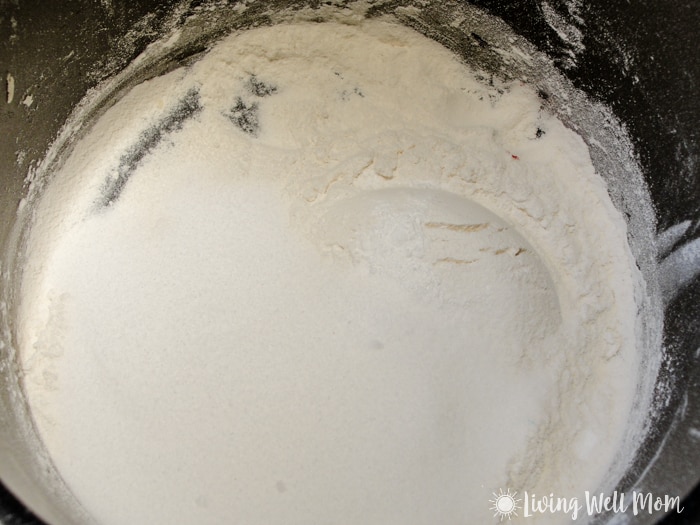 Add 1 cup of water and 1 tablespoon of vegetable oil.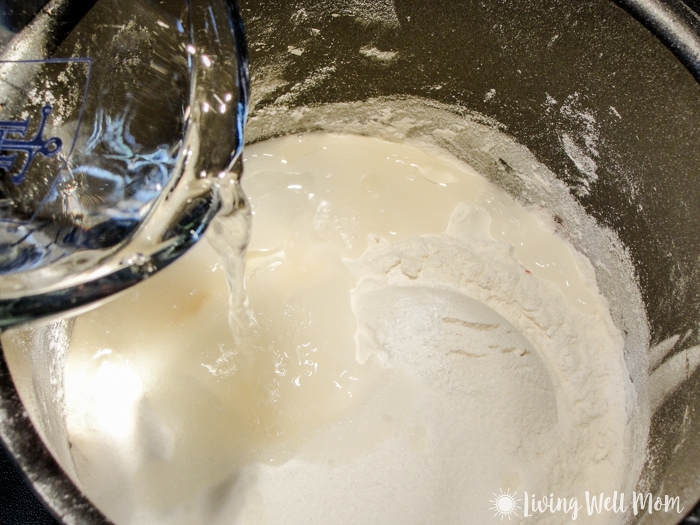 Turn your burner on medium/low and stir. It will be a little lumpy. That's okay.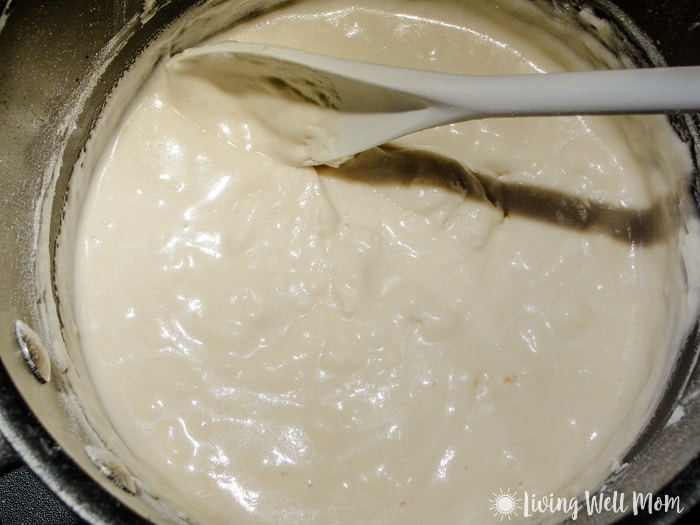 Keep stirring until it starts getting a little solid. If there are still a few lumps, that's ok – you can work them out later. If your stove is already hot, this may only take 20-30 seconds, but it may take 2-3 minutes if it's still heating up.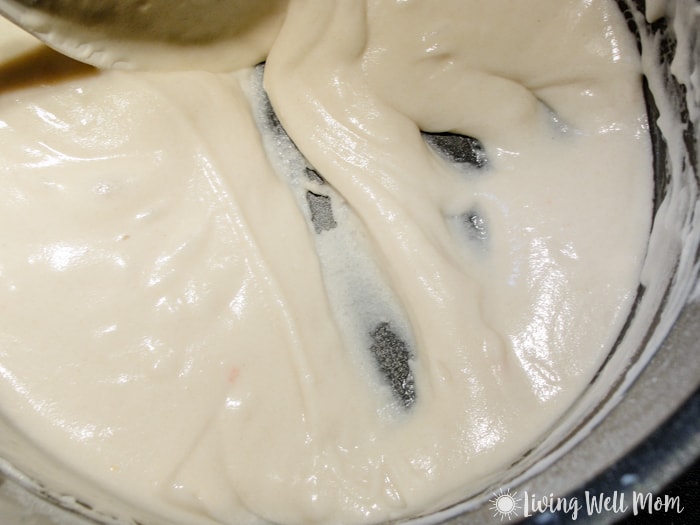 Once it reaches that point, add the food coloring right away. It will be much easier to mix up if you do it now. I showed the regular food coloring you can get from the grocery store in the ingredients picture (because it's easier to identify) but I prefer to use AmeriColor Soft Gel Paste Food Color
 – this food coloring is amazing – a little goes a long way and you get such rich colors easily. I rave about this every chance I get.
Stir in your food coloring – my kids wanted orange here, not that can you exactly tell the color from the picture below: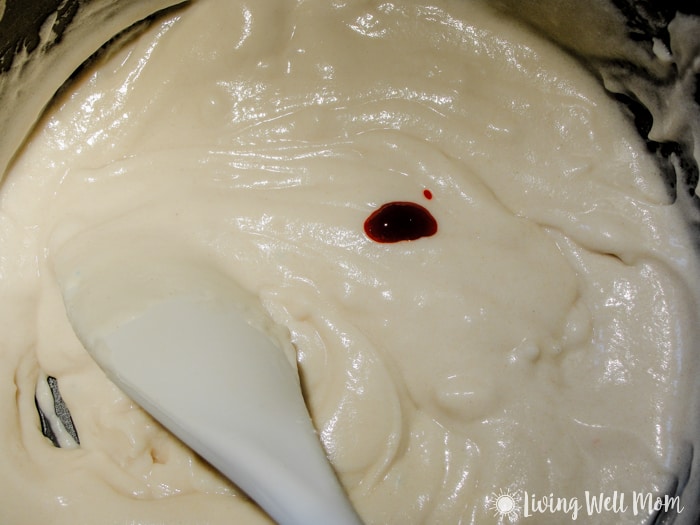 Ahh..there it is!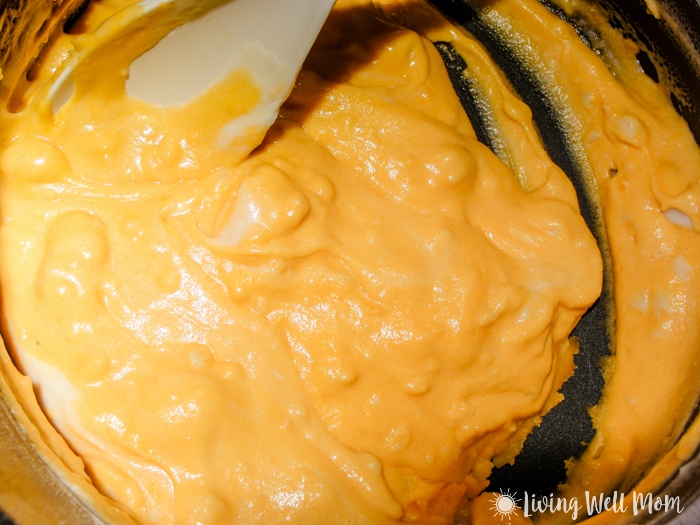 Now the dough will start getting thicker and a little lumpy. Just keep stirring.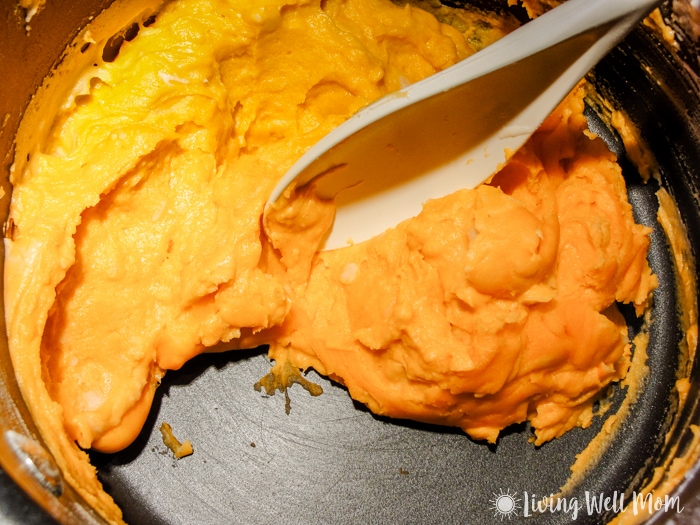 Once the dough starts gathering together around the spoon you know it's done. This may be 20 seconds or 2 minutes from the time you put the food coloring in, again depending on how hot your stove is. My first batch was longer, but once I whipped together more batches, it literally only took a few seconds and a total of 2 minutes on the stove from start to finish.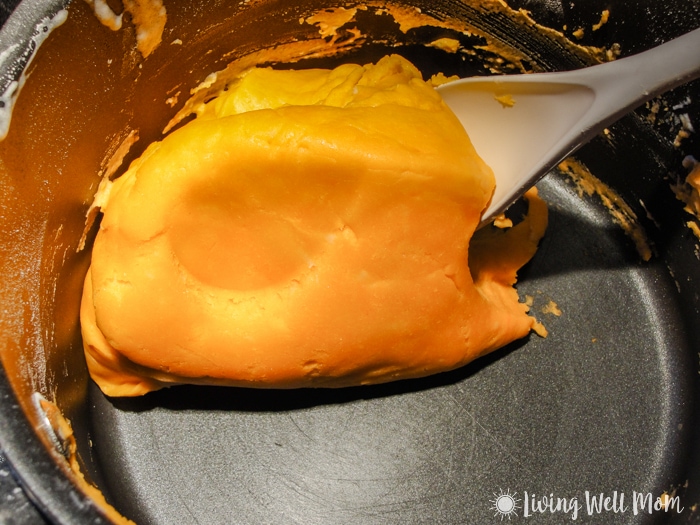 Remove your homemade playdough from the saucepan and put it on some waxed paper or a plate to cool.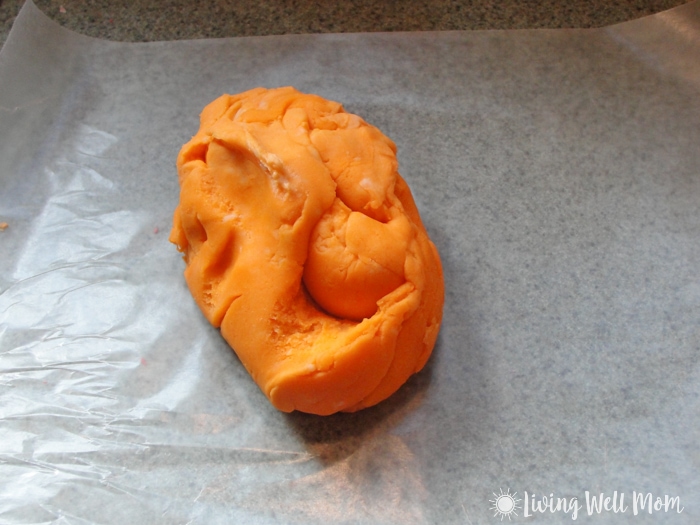 Once it's cooled, I like to knead the playdough for a minute or two to get out any lumps and to get it to a better consistency. Then again it could just be my excuse to squish it myself before handing it over to the kids…it is kind of fun.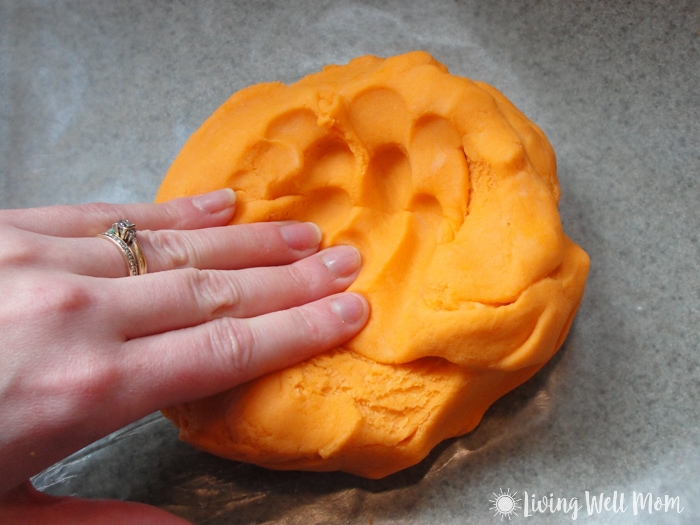 Doesn't it look fun?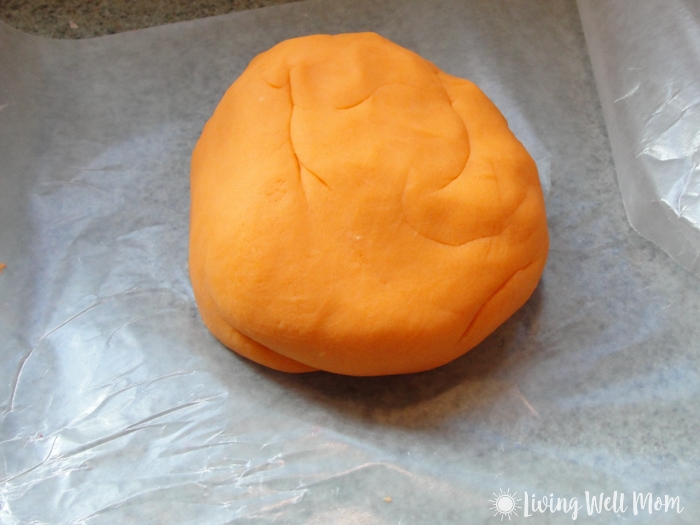 Now don't you want to make some easy homemade playdough and squish it?!
For storage, I have the kids put their homemade playdough in a ziploc bag. It seems to be hardier than the store bought stuff and doesn't dry out as easily. If it does become dry, you can work a few drops of water into it.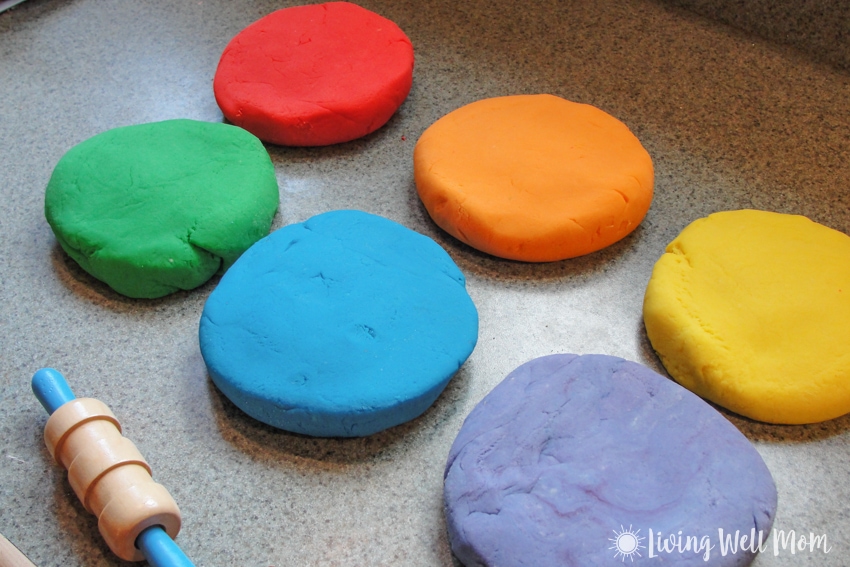 Print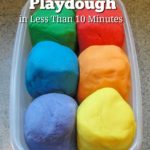 Easy Homemade Playdough
Author:

Prep Time:

5 minutes

Cook Time:

5 minutes

Total Time:

10 minutes
---
Description
Less-crumbly, less-junk, and more fun, this homemade playdough recipe can be made in less than 10 minutes!
---
Ingredients
1 cup flour

1 cup water

2 teaspoons cream of tartar

1/3 cup salt

1 tablespoon vegetable oil

food coloring
---
Instructions
Mix together all the ingredients, except the food coloring, in a 2 quart saucepan.

Cook over low/medium heat, stirring. Once it begins to thicken, add the food coloring.

Continue stirring until the mixture is much thicker and begins to gather around the spoon.

Remove the dough onto wax paper or a plate to cool.
---
Notes
Store in a ziploc bag or sealed container.
Even More Fun with Homemade Playdough: