You've just learned your child has food sensitivities or allergies and their diet will have to change. It could be one food you have to restrict or maybe it's a few.
Either way, it's overwhelming and even scary to get this kind of news. What exactly does it mean? The implications could be huge!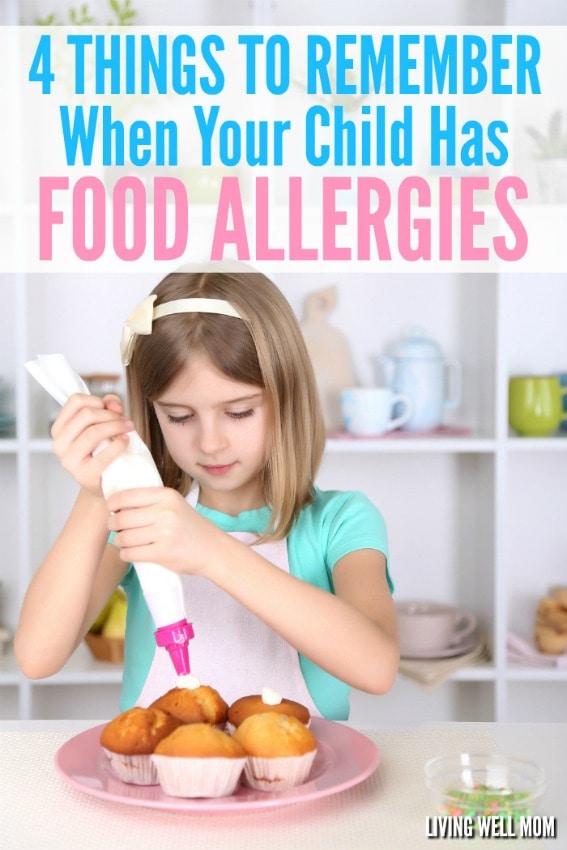 I know this first hand because all four of my kids have food restrictions. Last fall, our family doctor let me know the kids' lab results had come back positive for food sensitivities and we needed to make some big changes to our family diet. We had to go gluten-free, dairy-free, soy-free, and corn-free.
It's been over seven months since we made these changes and the results have been nothing short of amazing, especially for Joshua, who's had asthma and allergies (constant congestion, stuffy nose, etc.) since he was a toddler. Joshua hasn't had a single asthma attack all winter, his congestion has almost completely disappeared, and he no longer requires daily medications (previously he was on three!)
I say this to give you hope that these changes are worth it!

I've also learned a few things along this journey I want to share with you.
Four Things to Remember When Your Child Has Food Restrictions:
1. Educate yourself
The first thing you need to do is find out exactly what your child can and can't eat. It might be fairly simple if it's just one common food sensitivity or it could be more challenging, with multiple foods.
If you have questions, be sure to ask your child's doctor to clarify. If you're overwhelmed and not sure how you'll make these changes, it's okay to tell the doctor too. He/she might have access to support and resources that can help.
In our situation, the doctor said my kids needed to avoid regular soy, but soy lecithin was okay. That made a big difference because soy lecithin is in almost all processed foods. I still chose to stick with mostly homemade foods for the first several months, but at least I had the option to buy the gluten-free, dairy-free granola bars with a little soy lecithin.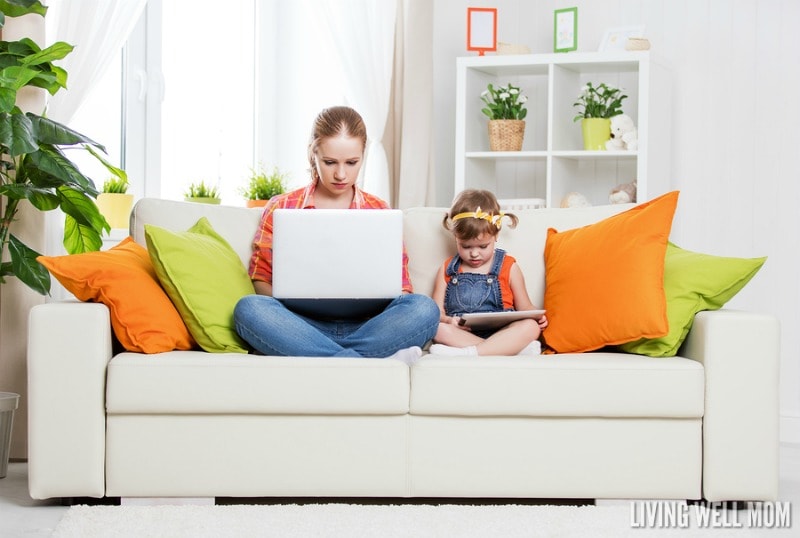 2. You're not the only one.
Whatever happens, remember this isn't the end of the world and you're not alone. There are lots of people with food allergies, sensitivities, and restrictions these days.
Do a google search for food restrictions and look for bloggers with kids who have similar issues. You can also look on Facebook for groups with others in similar situations.
Chances are your child might even have a friend at school who has to avoid certain foods already, you just might not know it!
3. Make a plan.
When your child has a minor food restriction, it may be simple, but if it's one of the common issues, like a gluten &/or dairy sensitivity, you'll have to figure out how to tackle the new changes.
It's okay to give yourself a little time to get used to the idea and do some research.
When my children were diagnosed with food sensitivities, I took a week to figure things out before we made any changes. Because my kids had so many sensitivities to foods we ate frequently, it meant completely overhauling my kitchen pantry and most of our meals, something I couldn't easily do overnight.
Of course in some cases, you might need to make immediate changes; always discuss with your child's doctor.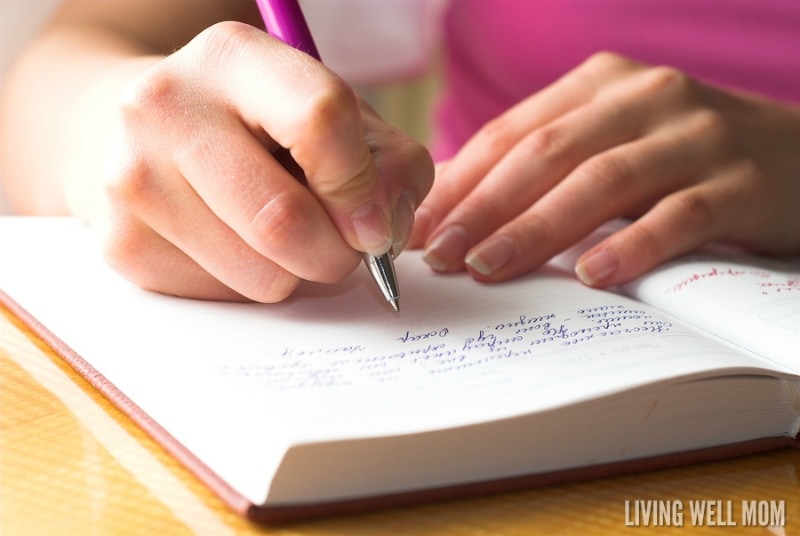 4. Look for alternatives.
We're lucky to live during a time when there's so many options, with many delicious gluten-free, dairy-free, nut-free, egg-free, etc. alternatives.
Once you get past trying to figure out what to do, you'll realize food restrictions aren't as limiting as you once though.
If I can't find something in the store, I search online and chances are, someone has figured out a recipe for what I want. I've tried  many recipe make-overs myself, including my kids' favorite Dairy-Free Peanut Butter Cups! Or this 3-ingredient gluten-free, dairy-free homemade hot chocolate mix.
My kids have learned they can have almost everything their classmates can, just in a different version. They've proudly shared treats with friends at school who were quite surprised to find out it was gluten-free, dairy-free, refined sugar-free, etc.
And again, there's some pretty amazing ready-made substitutes.
We recently discovered Perfectly Free™, a delicious frozen treat with an soft outer shell and coconut cream center.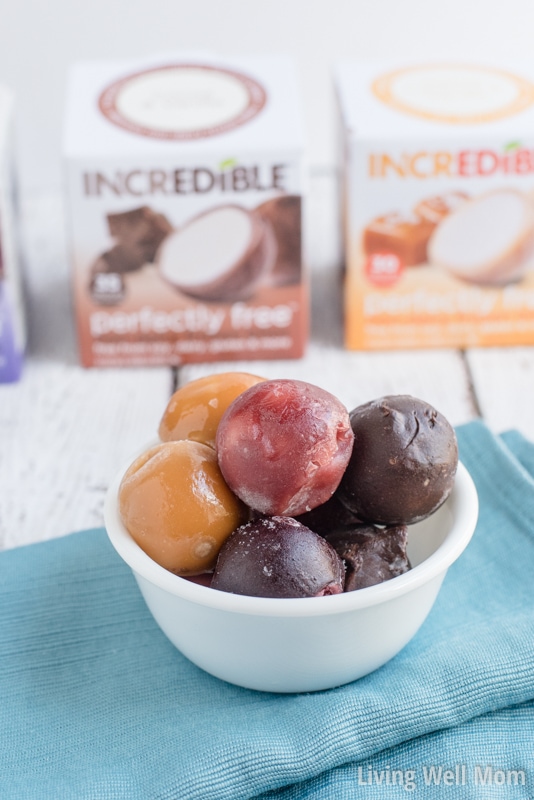 I would have never guessed these frozen treats have just 25-35 calories each because they're that good. I also love they're not a diet food and have real food ingredients!
Best of all? Perfectly Free™ frozen treats are free from the "Big 8" food allergens, so they're dairy-free, soy-free, wheat-free, peanut-free, egg-free, fish-free, shellfish-free, and tree nut-free!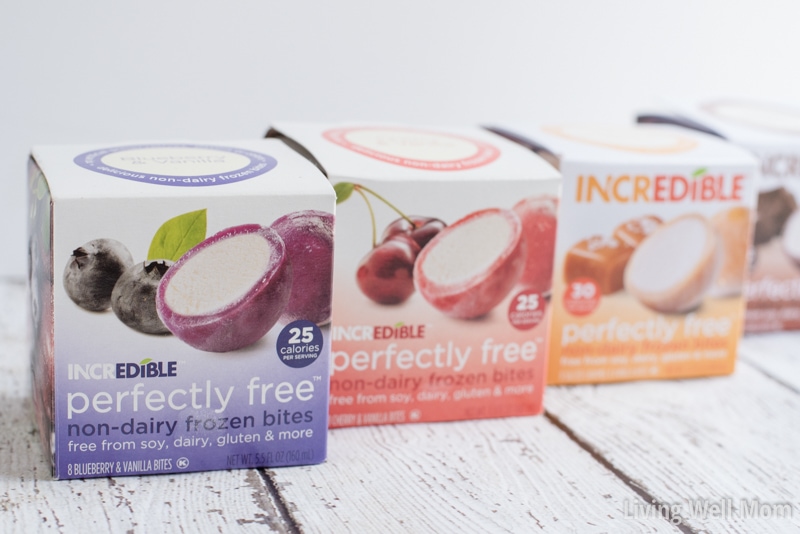 Since we can no longer eat regular ice cream, my kids were over-the-moon excited to discover these tasty frozen treats! While sometimes, favorite kid-treats aren't as appreciated by us adults, Nate and I love Perfectly Free™ frozen treats too.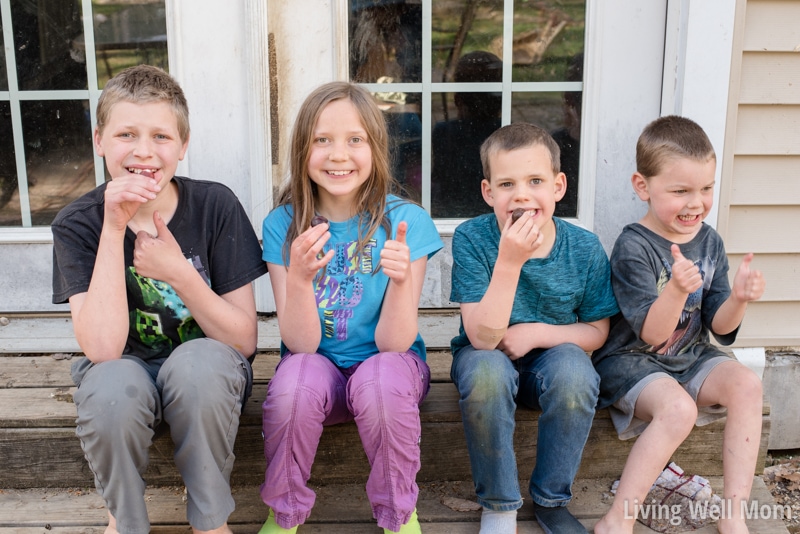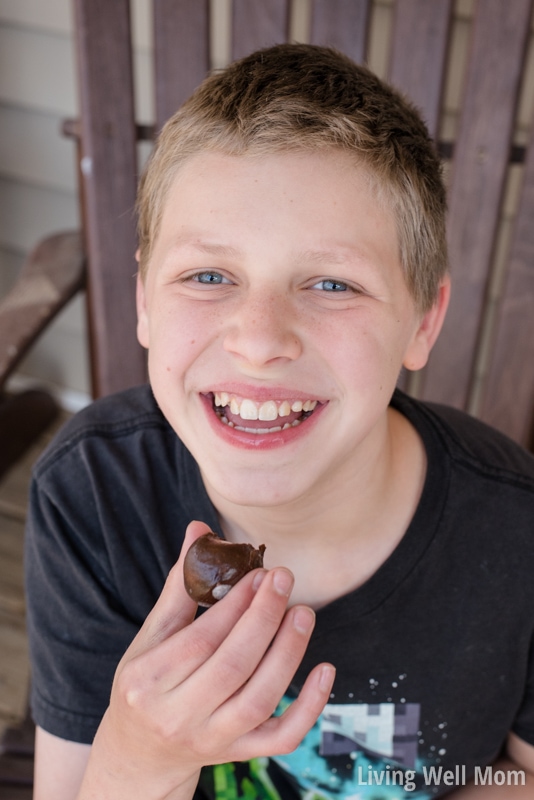 There are four varieties: Perfectly Free™ Cocoa & Vanilla, Perfectly Free™ Salted Caramel & Vanilla, Perfectly Free™ Cherry & Vanilla, and Perfectly Free™ Blueberry & Vanilla.
Each one is delicious and I can't pick a favorite!
Perfectly Free™ frozen treats are a wonderful example of an allergen-free delicious food families will love. Even if you don't have food allergies, Perfectly Free™ frozen treats are a great alternative to the usual ice cream treats.
Click here to find a store near you that carries Perfectly Free™ frozen treats.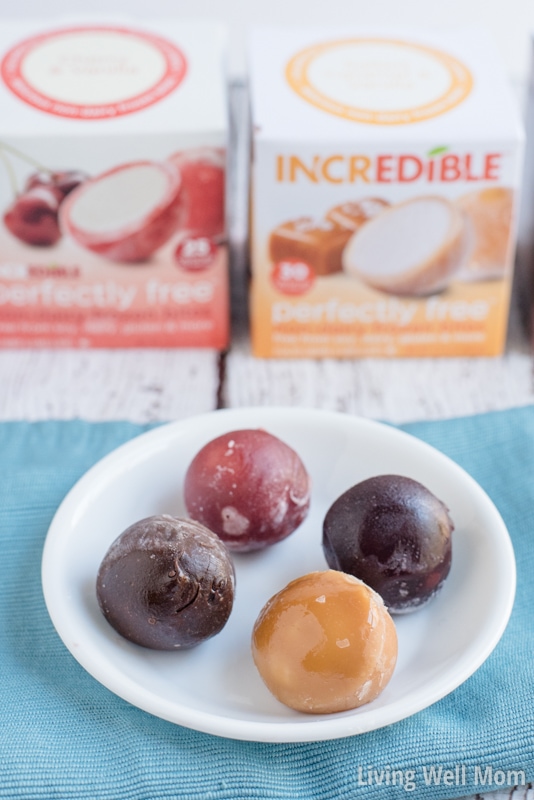 If your child has food restrictions, it will be okay. Give yourself a chance to figure out the details, make a plan, and most of all, remember you're not alone and there are some pretty tasty options available, like Perfectly Free™!
This is a sponsored conversation written by me on behalf of Perfectly Free™. The opinions and text are all mine.